Hands-On with the Pentax DA 55-300mm PLM WR RE
Do all those acronyms add up to a better lens?
Pentax K-70 with the 55-300mm PLM set at 55mm
For years, the SMC and HD Pentax-DA 55-300mm f/4-5.8 have been faithful companions for Pentaxians who want big telephoto reach but don't want to spend a bundle. The original's most glaring flaw was a lack of weather sealing, which was fixed with a WR version that debuted alongside the Pentax K-3. The other big issue? Slow autofocus due to an antiquated screw-drive motor. Well, a few months ago, Ricoh Imaging unveiled the fix for that problem, too: the all-new HD Pentax-DA 55-300mm f/4.5-6.3 ED PLM WR RE with silent AF.

Yikes, that's a mouthful. Here's what all those letters and numbers mean:
HD refers to Pentax's premium "High Definition" optical coating

DA means this is an APS-C lens, so if you want to use it on your shiny new K-1, you'll need to turn on the crop mode.

55-300mm means the focal length hasn't changed—great news, since it's an extremely useful range.

F/4.5-6.3 is the range of the widest aperture, which narrows as you zoom in.

ED means there's at least one extra-low dispersion element involved in the lens's new 14-element, 11-group optical design. In theory, this should minimize aberrations. (The original design had two ED elements, for what that's worth.)

PLM means this lens uses a pulse motor, which is near-silent and substantially faster than the older screw-drive design.

WR means it's just as weather-resistant as its predecessor.

RE means the lens is retractable; to extend it and shoot, you need to press a button on the lens body and turn.
But there's more to this new 55-300mm. For one thing, it's 10% lighter than the lens it replaces. That's not a huge difference, but it's not nothing, either. For another, the lens now uses a "rear-focus" system that also helps boost autofocus speeds. Ricoh says this lens is 8.3 times faster than the old 55-300mm at full wide-angle and 1.7 times faster at max telephoto. That's a pretty big bump. Last and certainly not least, the lens can be used for continuous AF during video recording when paired with the new K-70 DSLR, and—in theory—its near-silent operation makes it a particularly good choice for that application.

Action photography with the new 55-300mm (click to enlarge)
But do all these acronyms add up to a real improvement for everyday users? We took the lens into the field to find out.
Build Quality
First off, we should point out that while this lens is smaller and lighter than its predecessor, it's definitely not a small lens. Retracted, it's about ⅝" longer than the Pentax DA 18-135mm WR, and it's about ⅛" wider, too. With caps attached, it tips the scales at 464g, compared to the 18-135's 426g. Compare that to the 158g DA 18-50mm RE kit lens, or the 122g DA 50mm f/1.8 prime—this is still a lens that'll add noticeable weight to your bag.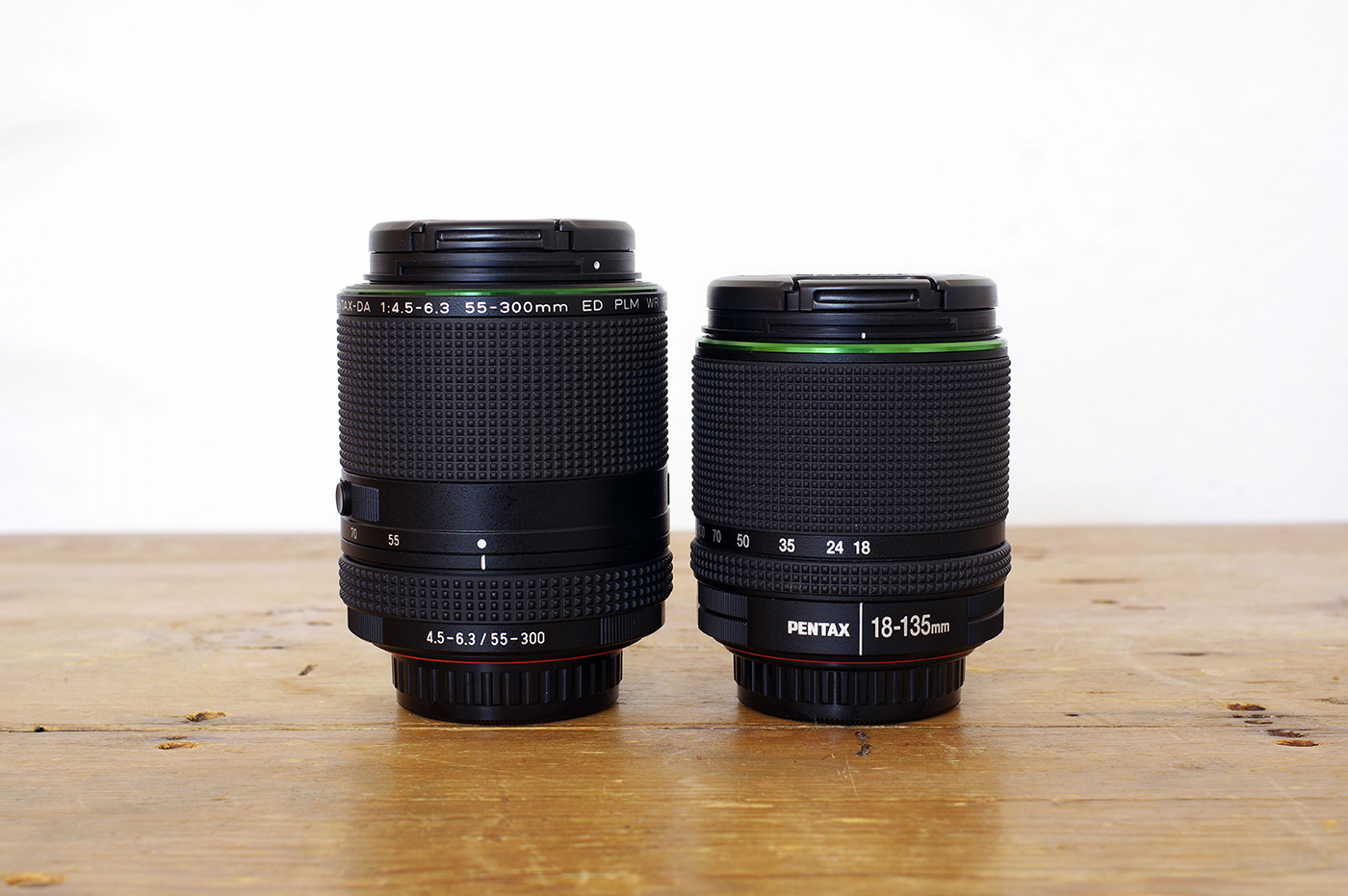 But with that said, it's also far better built than either of those ultra-lightweight lenses. While the retraction-release button on the 18-50mm RE feels plasticky and cheap, the 55-300 RE's has a pleasing tactility. The zoom ring is smooth and well-damped, very much like the 18-135mm WR's. As with virtually all other lenses designed for autofocus cameras, the AF ring is loose and doesn't provide much feedback, but it's good enough in a pinch.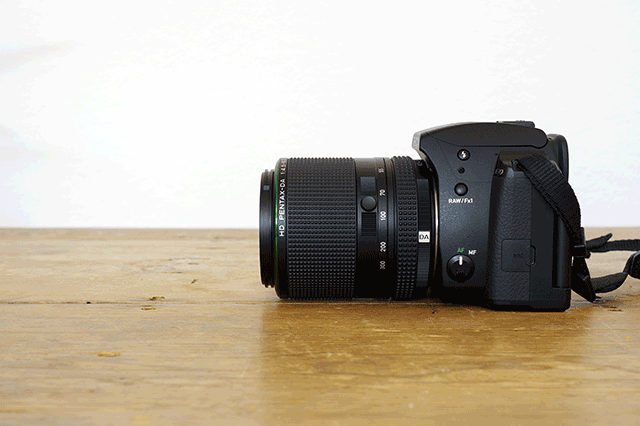 The lens has a density that imparts a sense of quality, as does the metal lens mount and the red WR ring on the base. Ricoh says the lens has 11 seals to keep out water and dust, and we suspect they'll be just as effective as those in other WR lenses.
Looking at the back of the lens, notice how the 55-300mm (left) lacks the aperture stop-down lever: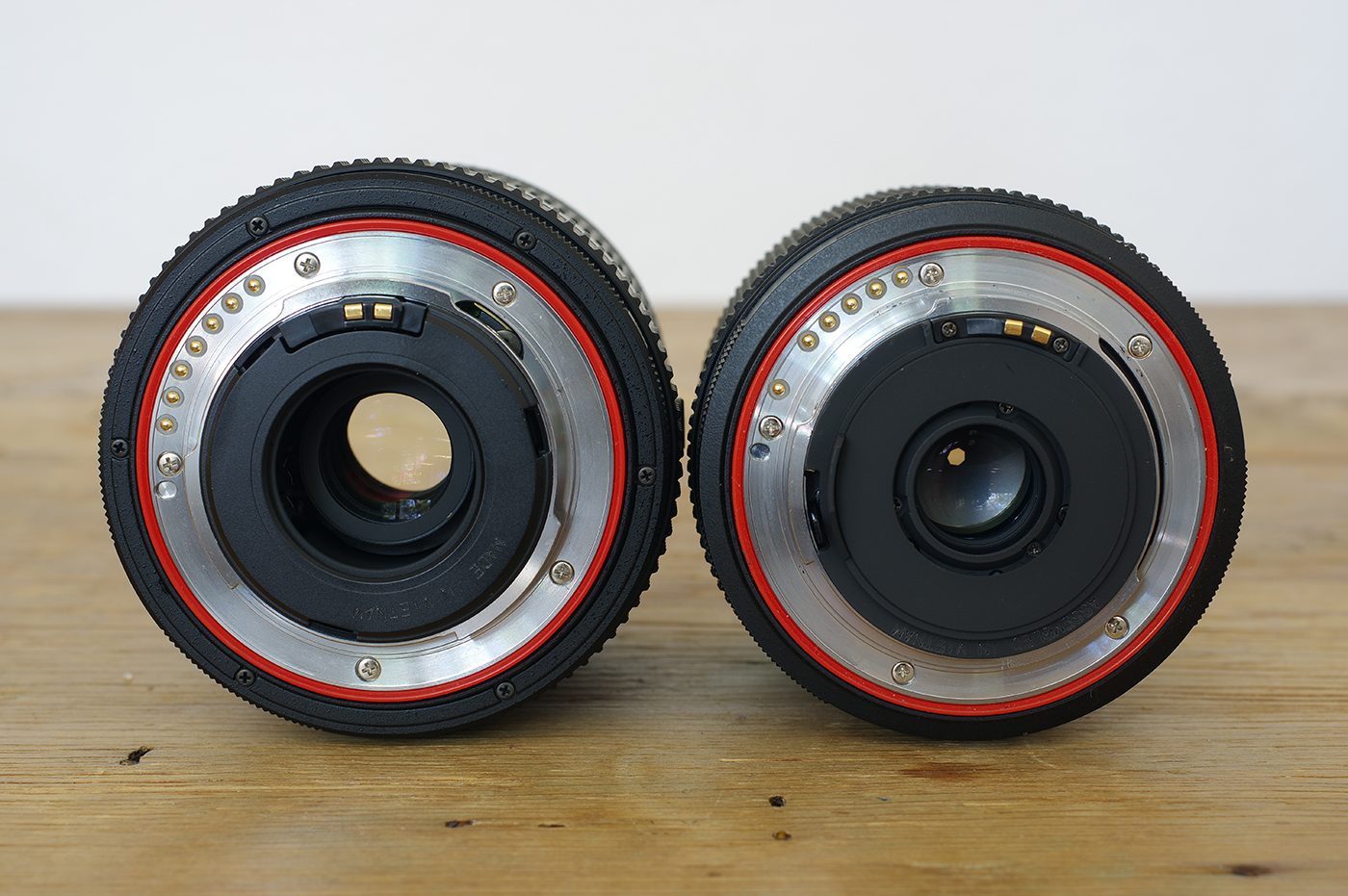 DA 55-300mm PLM (left), DA 18-135mm DC (right)
This is part of the new KAF4 mount designation, which debuts fully electronic aperture control. Since the lens has no stop-down lever, it can only be used by cameras that recognize it: the K-1, K-3 II, K-S2, K-S1 (only with the latest firmware) and of course the K-70 and all future bodies.
Autofocus
With a new type of focusing motor, the AF performance of the 55-300mm is one of the key areas we wanted to evaluate.
Stills
First, the good news: The new PLM focusing module in the DA 55-300mm f/4.5-6.3 is both faster and quieter than the old screw-drive motor. It's just as silent as Pentax's DC lenses, and—in my anecdotal experience, anyway—feels faster. With stationary subjects and a clear field of view, the 55-300mm PLM locks on with startling speed and absolutely zero hunting. Focusing seems equally fast whether you're at full wide-angle or full telephoto. You can feel the motor working through the camera body, but to your ears it's the subtlest of hums. Overall, it's a huge improvement over screwdrive lenses, and a noticeable step up from DC glass, as well.

The 55-300mm PLM tracks lateral movement fairly well, as in this example where Illa jumped straight up.
Full-size

Here, she's running perpendicular to the camera, and the lens picks her up effectively.
Full-size
Now, the bad news: Fast and accurate as it is, the new PLM focusing module can't do anything overcome Pentax's other longstanding autofocusing woes, especially when it comes to action photography. To put the new lens to the test, we strapped it to a K-3 II (equipped with the latest v1.10 firmware) and tried to shoot a particularly speedy dog (Illa, who you might recognize from the K-70 gallery) at the local park. Unfortunately, I have to report that even in the bright New Mexico daylight, the pair struggled to produce the kind of results my Nikon D700 and Sigma 100-300mm f/4 consistently pump out.
The K-3 II and 55-300mm PLM were especially unable to keep up with the dog as she ran toward or away from the camera (where 3D trarrcking comes in handy), consistently focusing behind the desired point and resulting in blurry images. It fared better when the dog was running perpendicular to the camera, or when she jumped straight up, but even then the results were disappointing in comparison to other systems I've used.
If you want to adjust the focus manually, you can do so at any time simply by turning the manual focus ring. This is known as Quick Shift. Note that the new 55-300mm focuses by wire, so the camera must be powered on for focusing to work.

Often, however, the lens/camera can't keep track of the subject, even when she's filling most of the frame.
Full-size

And when she's running toward the camera, pretty much all hope is lost.
Full-size
I know what you're going to say: Comparing an mid-range APS-C DSLR to a professional full-frame model isn't exactly fair, and a lens like the Sigma 100-300mm f/4 has a big advantage over a smaller, lighter, cheaper design like the DA 55-300mm f/4.5-6.3. That's all fair, but consider this: The D700 was released in 2008, and the Sigma 100-300mm f/4 dates back to 2005. It's at least a touch disappointing that a newly released camera and lens can't keep up with a pair that's roughly a decade old, regardless of category.
Video
There's a lot of hype around the continuous focus option that the Pentax K-70's video mode brings to the table, and for good reason: it's the first in any Pentax DSLR. But is it, you know... any good? Unfortunately, the answer is a clear no (despite the occasionally poor camerawork).

See for yourself:
Image Quality
In exchange for its smaller and lighter design, the new DA 55-300mm trades the old 4-5.8 aperture range for a narrower 4.5-6.3 arrangement. That's only about a third of a stop difference, but it's still lost light. The new lens also has 14 elements and 11 groups, to the old model's 12/8 configuration. In other words, internally it's a whole new lens. So how does it fare?
In short, pretty well. Like the old 55-300mm WR, this isn't a professional-grade lens, but it's capable of delivering crisp results under the right conditions—meaning lots and lots of bright light. (Given the narrow aperture range, you definitely need that illumination to avoid ramping up the ISO.) It can be tough to extract the most out of the lens due to the inherent difficulty of eliminating motion blur at long focal lengths, but when you do, the results are worth it.
Sharpness
Sharpness is fairly consistent throughout the zoom range, though it appears to peak around 200mm. 55mm and 300mm seem to be the weakest points, with the latter offering plenty of green and magenta CA and slightly softer output. There's not a lot of resolution falloff toward the edges of the frame, either.
Note: All sharpness tests were shot on a tripod.
Bokeh
Bokeh is smooth enough at 55 and 70mm, with nicely rounded specular highlights, but it goes totally creamy at 100mm through 300mm—particularly when shooting at or near minimum focusing distance and at maximum aperture.

55mm f/4.5 @ MFD

70mm f/4.5 @ MFD

100mm f/4.5 @ MFD

200mm f/5.6 @ MFD

300mm f/6.3 @ MFD

Flare
The new optical design seems pretty flare-resistant, though it's honestly difficult to induce flare (particularly when using the hood). The field of view is simply so narrow with the 55-300mm focal length that you'll rarely find the sun in the frame unless you're shooting a sunset.
Samples
Pricing
The new DA 55-300mm PLM is priced at $399.95 in the US and £399.00 in the UK. This is about $50 below the launch price of the old 55-300mm, though slightly above its current street price. The price is in line with what competitors charge for comparable lenses.
If you'd like to add this lens to your kit, follow the links below to support the forum:
Verdict
Despite its reduced aperture range, the new DA 55-300mm f/4.5-6.3 ED PLM WR RE is every bit as good a value as its predecessor. It's just as sharp (if not sharper), the autofocus is faster and quieter, it's lighter and smaller, and it's still just as water-resistant. At $400, that's a heck of a bargain.
Still the lens does have its foibles. The narrow aperture range means you need good light to shoot handheld without motion blur, and even with the pulse motor, the 55-300 PLM can't keep up with frantic action like some rivals can. Then there's the compatibility problem: If you own a Pentax body older than the K-S1, you're out of luck—your camera won't be able to adjust the aperture setting.
Ultimately, while the new lens is an excellent value for Pentax shooters—or at least those with new enough cameras—it's not the kind of exciting lens that's going to win anyone over to the system from another brand. It's a workhorse designed for everyday shooters, not pros, and in that role it excels.
If you decide to get this lens, you may wish to leave your own review in our lens database.
Tags
55-300mm, action, continuous autofocus, da 55-300mm, hd pentax 55-300mm plm, pentax, pentax 55-300mm, plm, telephot zoom lens, telephoto, video