Say farewell to the Pentax Q and Optio VS20
Both cameras now discontinued and stock is thinning out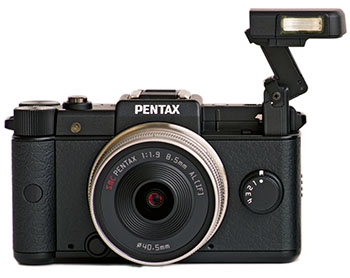 With the imminent availability of the Pentax Q10, the Pentax Q (launched in July, 2011, see review) has officially been discontinued, and stock at US retailers is starting to thin out. We believe that the $385 black Q prime kit will be the first to go, followed by the zoom and dual-lens kits.
Fortunately, the Q10 only costs $100 more than the old Q, and even this price is well below the original MSRP of the Q (which was an astronomical $799 back in 2011). To learn more about the Pentax Q10, please see our Photokina Q10 preview. The Q10 is expected to start shipping late this week or early next week. If you're interested getting one or upgrading your old Q, it is already available for pre-order.
Red Pentax Q10 (an iconic color)
Similarly, the Pentax Optio VS20 "vertical shooting" point-and-shoot camera has also been discontinued. Originally announced in January, it hasn't been on the market for very long, as is typical in the obligatory point-and-shoot lineup of most camera manufaturers. We expect Pentax to announce the new lineup of point-and-shoots during the first quarter of 2013.
Nevertheless, if you for any reason still want to get your hands on one of these, the white VS20 is still available at Adorama.
Tags