The 7 Biggest Pentax Stories of 2016
A look back at the year that was
While it was a tumultuous year for the world at large, 2016 was a banner year for Ricoh Imaging and the Pentax brand. New cameras, new lenses, and a renewed focus on enthusiast photographers made last year a great time to be a Pentaxian, whether you just hopped on the hype train or you've been riding it for years.
Join us as we count down the biggest stories of the year that was.
#7. A Silver Anniversary
At CP+ in Yokohama last year, there was a whole lot to keep track of: new bodies, new glass, and new firmware galore. But Pentax's older models got some love, too. At Japan's biggest trade show, Ricoh brought out shiny new special editions of the cult favorite Ricoh GR II advanced compact and the tried and true Pentax K-3 II DSLR to celebrate 80 years of the Ricoh company.
Both cameras were available in extremely limited numbers—just 500 for the silver K-3 II and 3200 for the silver GR II—and both came in commemorative packaging. The GR II even included a special power-off screen illustrating the history of the GR camera line. Most of our commenters weren't so taken with the GR II's styling, but there's no denying the silver K-3 II when paired with silver Limited lenses. Mmmmm.
#6. Lomography Comes to K-Mount
Pentax has a long and enviable history in lens-making, and its DSLRs make best use of it with superb reverse compatibility. But last year, Pentaxians gained access to a kind of lens never seen before in K-mount.
Announced in May, the Lomography Daguerreotype Achromat 64mm f/2.9 Art Lens brought a whole new look to Pentax photos, with swirly bokeh and alluringly soft focus that's perfect for retro-style portraiture.
At an asking price of $500 for a two-element design, there's plenty of room for debate as to whether Lomography's efforts are an admirable attempt to resurrect photographic traditions or a crass cash-grab. But one thing's not up for debate: you're not going to get these kind of shots out of any other lens.
#5. Sigma Scratches SLRs
Pentax released two winning SLRs in 2016, but both were losers in one rather annoying sense: they were susceptible to scratches from oversized Sigma lens mounts.
But credit where credit's due: Sigma owned up to the issue, immediately offered to fix affected lenses, and then went one step further, paying for repairs to scratched Pentax bodies. Nicely done.
#4. An Old Lens Gets a New Lease on Life
You might not be able to teach an old dog new tricks, but last year Pentax proved you can redesign an old lens and make it a whole lot better.
In June, the all-new HD PENTAX-DA 55-300mm F4.5-6.3ED PLM WR RE (got all that?) replaced the twice-revised original DA 55-300mm and upped the ante with a new silent motor, a totally new optical design, faster autofocus, and a more compact, lighter physical design. It also allowed for autofocus during video recording on the K-70 and future bodies—a notable first for the Pentax brand. (Though it's worth noting that our initial testing revealed less than stellar results.)
Best of all? The drastically improved new lens sports a lower MSRP than the old one: just $399.95.
#3. Mid-Range Done Right
The K-S1 and K-S2 are fine cameras. They can take fine photos and they're equipped with most of the features entry-level and intermediate shooters need. But they're not really exciting or inspiring, despite Ricoh and Pentax's oddball attempts at courting millennials with, um… LEDs.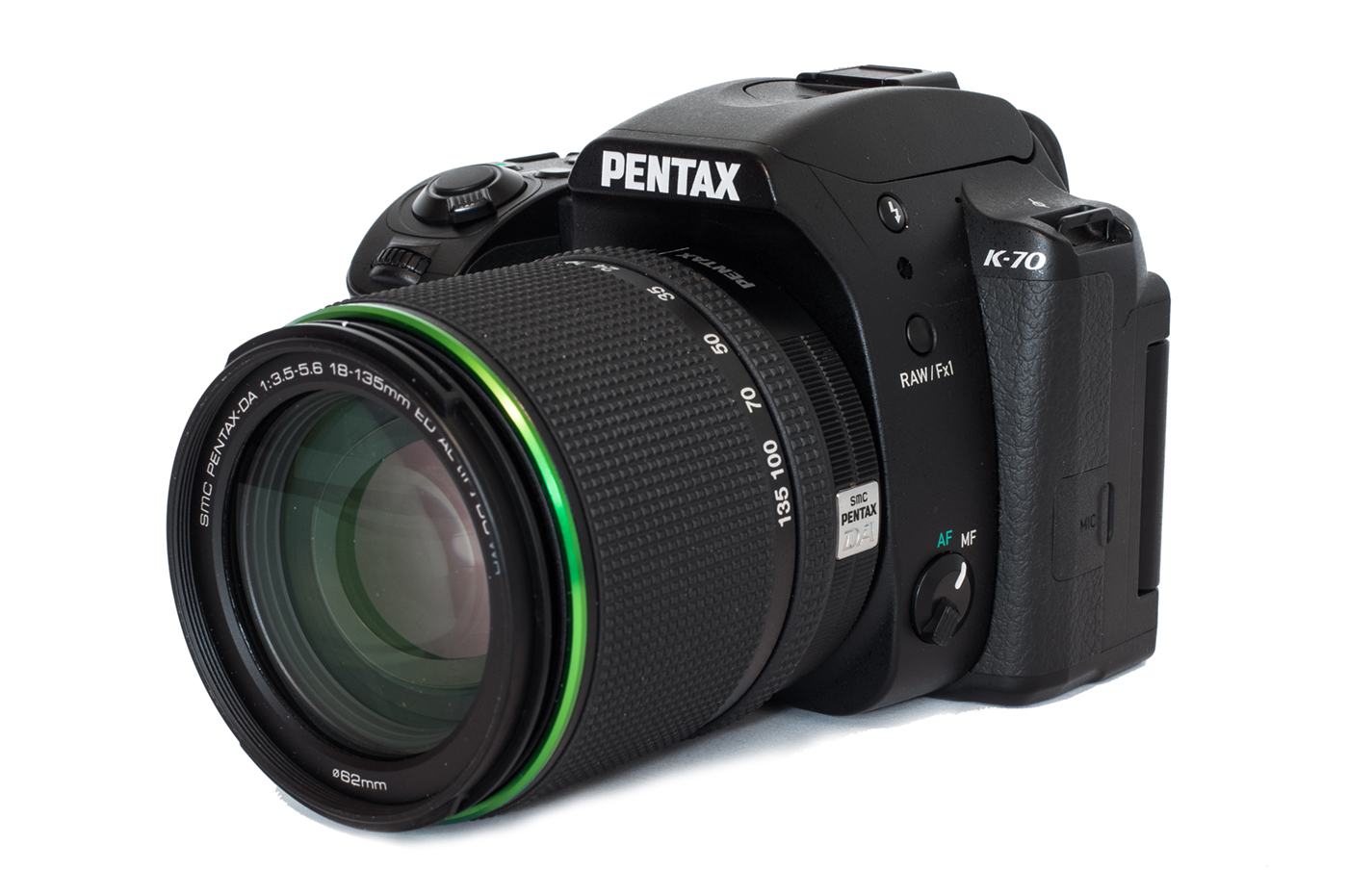 This summer, Pentax returned to what it does best with the K-70, a new midrange APS-C DSLR with a back-to-basics approach to design and features. Offering an all-new 24-megapixel sensor with 14-bit RAW and Pixel Shift mode, a great flippy screen, on-sensor phase-detection autofocus pixels (a Pentax first), and a chunky ergonomic grip. We tested it and loved it, and thus far owner response has been equally enthusiastic. And at a list price of $649.95 (or, better still, its current price of $599), it's a heck of a deal.
Half a year later, the K-70 was followed by the even more impressive Pentax KP, but that's another story for another year-in-review.
#2. Full-Frame Fiesta
Heading into 2016, we all knew that a full-frame Pentax DSLR was on the way, but what's a full-frame body without lenses to match?
Aside from the FA Limiteds and a few D FA lenses that had made their way into production since the demise of film, the Pentax lens ecosystem wasn't exactly hospitable to 35mm-sized sensors.
That all changed in February, when Ricoh announced two new D FA zooms—the HD Pentax-D FA 15-30mm F2.8 and HD Pentax-D FA 28-105mm F3.5-5.6—in addition to the 24-70mm F2.8, 70-200mm F2.8, and 150-450mm F4.5-5.6 lenses announced in 2015.
More importantly, the company laid out a roadmap for future full-frame lenses, showcasing five designs already in development: ultra-wide, wide-angle, normal, and short telephoto primes, as well as a fisheye zoom.
#1. The Holy Grail
Obviously, the biggest story of the year for long-time Pentaxians was the much-anticipated arrival of the brand's first-ever full-frame DSLR. (Or its first-ever released full-frame DSLR, anyway.)
Though it had been rumored for years and confirmed to be in development more than a year before, the K-1 officially arrived at CP+ in February, where it was undoubtedly one of the stars of the show.
Not only did the Pentax K-1 satisfy long-suffering Pentax users with its impressive sensor, thoughtful design, and long list of features, but it served as a shot across the bow for other full-frame DSLR makers. Offering image quality comparable with cameras that cost upwards of $3,000, the K-1 arrived at an asking price of just $1,799.95—the lowest price ever for a professional-grade full-frame camera.
The K-1 alone may not be enough to lift Pentax and Ricoh into direct competition with the likes of Canon and Nikon, but it's a promising start to a new era in the brand's history.