The Pentax Booth Report
Report on Pentax-related news at Photokina
The Ricoh/Pentax booth at Photokina was located in the same spot as in the previous years. While the booth was quite lavish last time with a waterfall and a wall of colorful cameras, it was more down-to-earth this year.
The centerpiece was the K-1 exhibit, which also presented the K-70, the K-3 II and the K-S2, and had a good-sized stack of K-mount lenses on display.
360-degree view of the Pentax booth taken with the Theta S (click to pan and zoom)
The overall layout consisted of five stations with the K-mount and Theta stations being the most prominent:
Waterproof show case with the current WG-M2 and accessories on display
K-mount station
Sports optics (binoculars)
Theta station with rest area
As in previous years there was also a private area for interviews and for Pentax/Ricoh reps to hang out.
Before we move on to the various stations let's cut to the chase: What's new and where is Ricoh going? Mr. Kazunobu Saiki, senior manager at Ricoh Japan, was kind enough to show us around and also granted us an interview where we got various questions from our users answered (we will cover the interview in a separate post). Mr Saiki confirmed that there would be no announcements of new Pentax products at Photokina.
The news for this show was the significant firmware upgrade to the K-1, developed in response to user feedback. The most significant new feature is the option of using an electronic front curtain shutter in live view mode. This addresses the issue of soft images due to vibrations from the first shutter curtain, most prevalent at speeds in the range from 1/60s to 1/180s. We tip our hat to Ricoh for addressing this issue. The other improvements are the 1:1 aspect ratio crop mode as was seen on the K-1 prototype, an improvement in the usability of the exposure bracketing feature of the function dial, and a two frame AA filter bracketing option. The new firmware is slated to be released on September 29th.
While we're happy about and impressed with Ricoh swift response to the shutter vibration issue we would like to see a solution for viewfinder mode as well and we do have some hope that this will be addressed in the future.
The future direction of Ricoh/Pentax is to focus on premium photographic products as well as on the application of these products. In particular, the 360-degree Theta line holds some promise for as of yet unseen applications. It is Ricoh's goal to stay at the forefront technologically. This will all be covered in the interview with Mr. Saiki to be published shortly.
Now for the various product stations. First up is the Professional station (click to enlarge):
The pro station with 645Z, K-1, and the GR
K-mount station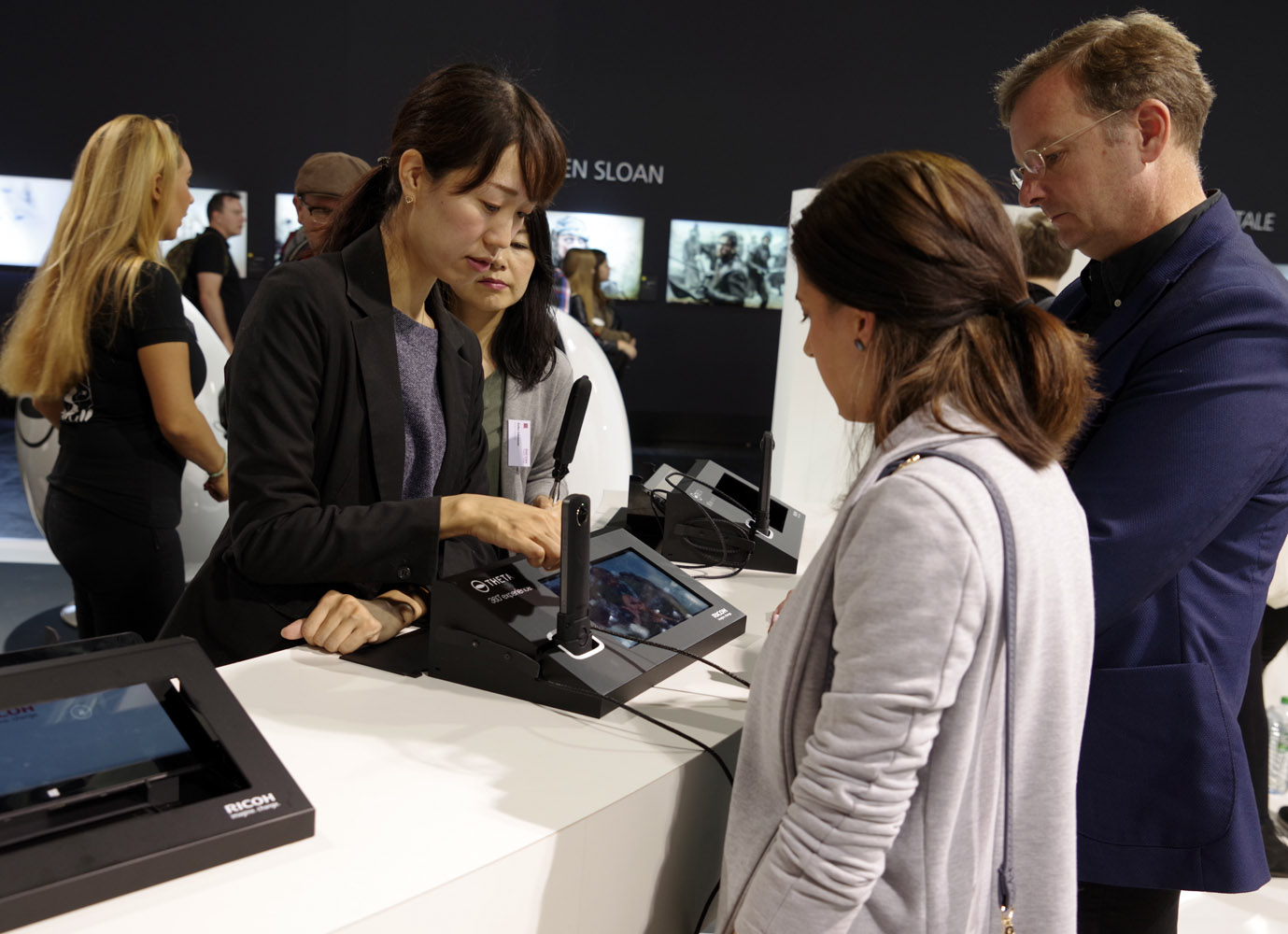 Dedicated docking station for Theta S demo
We love those chairs!
The adventure and action products cover sport optics and the WG cameras: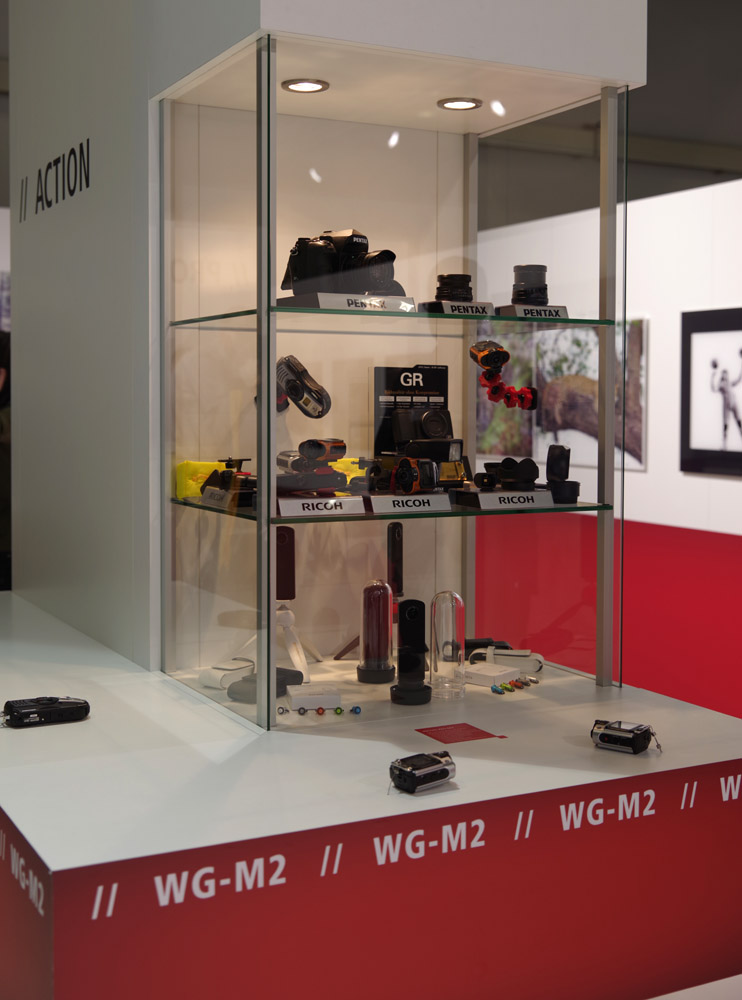 Related third-party products
Schneider-Kreuznach: At a previous Photokina we reported on a series of tilt/shift lenses of very high quality (and price) from Schneider-Kreuznach. Sadly, these lenses have been discontinued, not just in Pentax mount, but in all mounts. We're thus down to the one offering from Samyang, in 24mm focal length, when it comes to tilt/shift.
Samyang: Samyang has a strong offering in manual focus lenses in K-mount, the most recent addition being the 20mm F1.8.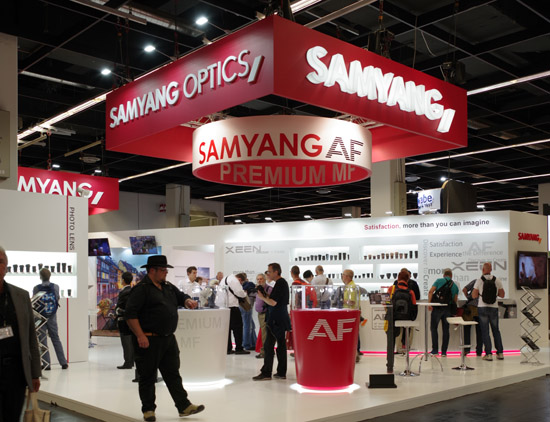 Metz: Metz is a much appreciated and reliable source of flash guns that are compatible with Pentax P-TTL. They presented a new, very compact model called the mecablitz M400. Despite being compact it has a commendable guide number of 40 (in meters) at ISO 100 and 105mm focal length, and the flash head tilts and swivels.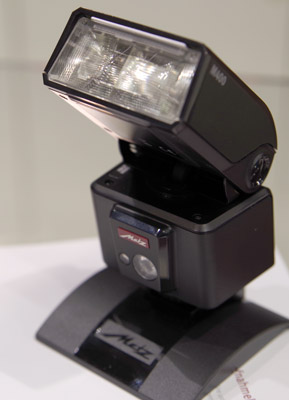 The flash supports rear curtain sync and is compatible with Pentax wireless flash.
A Few Observations
Ricoh Imaging was not the only company that was short on new product announcements at this show. Another prominent brand in the same situation was Leica. Leica usually has an entire exhibition hall (hall 1) to themselves showcasing their products. They also had this hall this year and had reserved it to a presentation of some incredible photographic art work by Leica photographers. If you wanted to see their products you'd have to seek them out at a spot in the basement of hall 2!
We're impressed that Leica spends this kind of money on showing photography over equipment.
Canon of course had their mirrorless M-5 to show off. It was nevertheless our impression that they had significant less booth space this year. They share the entire hall 3.2 with Panasonic, but there was an awful lot of bare floor in that hall. And Panasonic hadn't shrunk, they as usual had an impressive presence. Sony over in hall 5.2 had an unusually subdued presence even though they surprised us all with a new fixed-mirror DSLR, just as we thougt they were going all mirrorless.
We will cover third-party announcements in a separate post.
For now, let's close out this report with a 360 image of the Pentax/Ricoh booth, this time seen from the back of the K-1 station.
360-degree view of the Pentax booth taken with the Theta S (click to pan and zoom)