DA 21mm Limited Review
A most useful focal length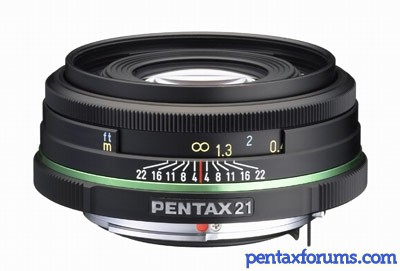 Cameras with a non-interchangeable, fixed focal length lens most often have a 35mm lens (in 24x36mm format terms). One recent example is the Fujifilm X100, and in the film days before super zooms became the norm, point and shoot cameras would typically have a 35mm lens.
The reason of course is that 31mm (eqv.) is a very versatile focal length for travel photos, indoor photos, cityscapes and more - this focal length is by many considered more versatile than the so-called "normal" focal length of 50mm (eqv.), which the FA31mm limited (reviewed earlier) delivers.
The smc Pentax DA 21mm F3.2 Limited lens therefore deserves a closer look as it on the Pentax K-01 or a Pentax DSLR corresponds to approximately a 35mm (eqv.) lens. It might be considered the ideal walk-around compact prime lens. With that in mind we have updated our in-depth review of the DA 21mm Limited lens.
Continue to the DA 21mm in-depth review
You may also want to check out the many user reviews of this lens!