Pentax 35mm F2.8- Macro and Normal Lens All-in-one
Dual-purpose lens with excellent image quality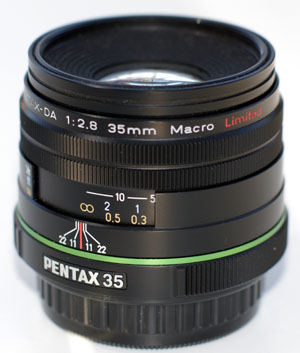 The smc Pentax-DA 35mm F2.8 Macro Limited is a versatile lens. The focal length of 35mm is close to what is considered a 'normal' lens (like a 50mm lens on a 24x36mm film camera). In addition to this useful focal length this lens also provides macro capability down to 1:1.
The DA 35mm Limited at the time of writing has 75 user reviews in our user review section, making it one of the most popular Pentax lenses despite its price tag. Its average used price range is $400-$450 and after the recent price hike the price as new is a hefty $699 in the USA. Despite the high price we find that the lens is worth a second look if you're after a 'normal' walk around lens with full macro capability and with exceptional build and image quality. If you're primarily after the Macro capability our advice is to go for a lens with a lens with a longer focal length, around 100mm or even more, which allows you to put some distance between lens and object being photographed.
We've recently revised our in-depth review of this lens, and we hope you'll find it helpful!
Read our review of the DA 35mm F2.8 Macro Limited