Pentax D FA 100mm Macro WR Review Posted
An all-metal weather-sealed macro lens
Today we are glad to present our latest in-depth review in which we take a close look at the popular SMC Pentax-D FA 100mm F2.8 Macro WR prime lens! Note that this review replaces our aging and less comprehensive 2011 review of the same lens. We are currently in the process of refreshing old reviews and you can expect more such updates in the coming months.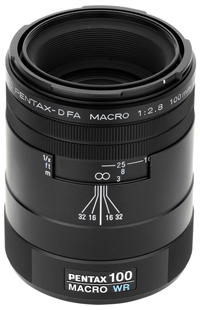 Macro is an important part of photography, and Pentax has long kept a tradition of offering excellent macro lenses. Many consider the company's latest macro lens a classic in its own right. With weather sealing, a compact metal body, super protect coatings and very high sharpness, it certainly has the makings of a great lens.
Is it just hearsay or can it be confirmed by experimentation? We have 14 pages of pictures, tests and analysis to answer this question. Sharpness, bokeh, aberrations will all be tested. Two dozen sample images will also let you see how the lens performs in real life.
Don't hesitate and head to the review now!
Continue to the in-depth review of the Pentax 100mm Macro
Tags
100mm, 100mm macro, close-up, d fa, dfa, macro, pentax 100mm, pentax-d fa 100mm, photography, review, smc, tele, telephoto, weather resistant, wr