D FA 100mm WR F2.8 Macro Review Posted
Is it worth the new, higher price?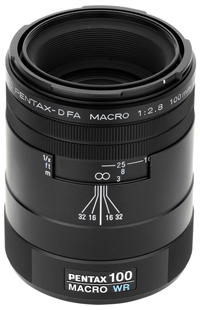 The SMC Pentax-D FA 100mm F2.8 WR Macro has become expensive in the USA after the price hike in the spring of 2012, but if you do a lot of macro photography in the outdoors you should in our opinion still take this lens into consideration. If you do not need the weather-sealing or if you want to use a wider range of close-up accessories you could instead try to hunt down one of the earlier Pentax macros, or take a look at the Tamron 90mm Macro, which is available for about half of that of the Pentax. Regardless of its price, we've found the 100mm macro to be one of the sharpest Pentax lenses out there!
For more about this lens read our in-depth review of the 100mm macro , or our comparative review of the Tamron 90mm vs Pentax 100mm.