Aug 27, 2011
Canon 7D vs. Pentax K-5
Introduction
In the first comparative review for PentaxForums.com, we take a side-by-side look at two of the current titans in the APS-C dSLR scene, the Pentax K-5 and Canon 7D.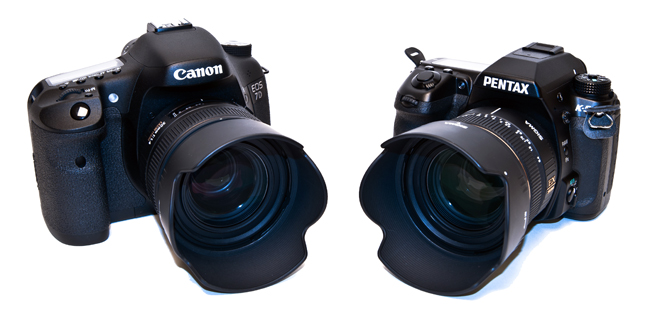 Table of Contents
Introduction
Though released almost exactly a year apart, the Canon EOS 7D and Pentax K-5 have been relentlessly pitted against each other in innumerable forum and blog discussions. The two represent the top-of-the-line APS-C offerings from their respective manufacturers, and compare quite well in terms of raw specifications, but they also differ in many significant and characteristic ways. In this article we'll explore the pros and cons of each camera, how they compare to one another, and their ultimate value proposition.
In addition to the K-5 and 7D bodies, for this review we've used the Canon EF-S 18-135mm f/3.5-5.6 IS and Pentax DA 18-135mm f/3.5-5.6 DC WR zoom lenses, as well as the Sigma 30mm f/1.4 EX DC prime in each mount. (Note: the Canon-mount Sigma lens employs in-lens HSM focusing, while the Pentax version uses traditional in-body screwdrive autofocus.)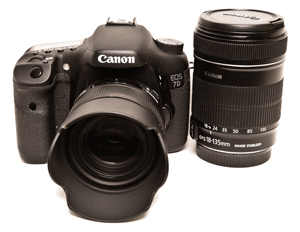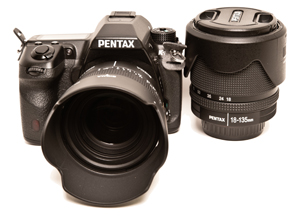 The 7D was a somewhat groundbreaking camera for Canon when it was released in October of 2009. Though aesthetically similar to the midrange 50D, it presented a huge number of internal upgrades that brought it closer to the performance of its big brother, the 5D Mark II. On the list of improvements were a new in-house 18-megapixel sensor, an improved AF system, 8fps continuous shooting, and a viewfinder with 100% coverage and 1.0x magnification. The 7D's HD video capabilities in many ways match those of the 5D Mark II, making it a strong option for indie videographers as well. In short, this is a camera that was designed to rocket straight to the top of the high-end APS-C market.
The K-5 followed in October of 2010. While it retained its predecessor's superb ergonomics, it more or less did away with the K-7's internals. To begin with, the geriatric Samsung-sourced 14.6-megapixel CMOS sensor was replaced with a new 16.3-megapixel unit from Sony that significantly increased the camera's dynamic range and high-ISO performance (topping out at a truly stunning maximum of ISO 51200). The AF system and continuous shooting performance were also upgraded, and a true 1080p shooting mode was a welcome addition to bolster the K-5's HD video options. The K-7's class-leading weather sealing remained intact, confirming the K-5's status as a natural go-to for outdoor/adventure photographers. The K-5 is, without a doubt, the best and most feature-rich dSLR ever produced by Pentax.
The question is... with a year to play catchup, did the Pentax engineers produce a camera better than the 7D?