Jul 8, 2014
Datacolor Spyder4 Express
Introduction
So you decided to take that big step: you want to calibrate your monitor. Maybe you have been told that everybody does it. Maybe you made prints of those fantastic images, and they looked nothing like on your monitor. The reason is not important, but where to start? How to proceed?
In this article, we will walk you through the steps necessary to properly calibrate a monitor by using the Datacolor Spyder4 Express. First, the unit will be presented and described. Then, we will focus on the actual calibration, offering a step-by-step guide that should answer most questions about the process.
Datacolor hold a quasi-monopoly on the consumer screen calibration market. Some other players (for instance Pantone) have offered calibration solutions in the past but none is as commonly used as the Spyder products from Datacolor.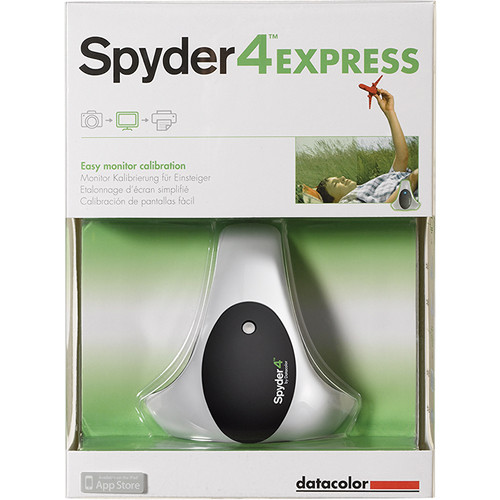 The following table summarizes the differences between the current calibration tools, from a photography point of view.
Features

Spyder4 Express

Spyder4 Pro

Spyder4 Elite

Spyder4 Elite HD

Number of screens
(per PC)


1

Unlimited

Unlimited

Unlimited

Gamma choices

2.2

1.8 , 2 , 2.2 , 2.4

Unlimited

Unlimited

Color temperature

6500K

5000K,
5800K,
6500K,
native

Unlimited

Unlimited

Projector
calibration

No

No

Computer

Computer and video

Ambient light
measurement

No

Simple

Advanced

Advanced

Faster
re-calibration

No

Yes

Yes

Yes

Custom B&W
luminance control
via software

No

No

Yes

Yes

Display history
(aging)

No

No

Yes

Yes

Match group of
displays

No

No

Yes

Yes

Gamma curve
editing

No

No

Yes

Yes

Continuous
calibration check

Yes

Yes

Yes

Yes

Color sensor

7 filters detector

Initial calibration
time

5 minutes

Mounting methods

Counterweight

Counterweight, tripod mount

Counterweight, tripod mount

Counterweight, tripod mount
Datacolor has (as the name of the Spyder 4 implies) reached the fourth generation of its calibration sensors, improving accuracy and consistency over the previous versions. In addition, the color filters used on the calibration unit will show less degradation over time, ensuring a longer life for the unit. Version 4 was released in 2012.
In this review, we will be looking at the Spyder4 Express. The more advanced units offer both hardware and software perks that can be useful for some people, but the basic calibration process will be the same for each. One caveat is that people intending to use more than one monitor at the same time should look at the Spyder4 Pro (calibrating different monitors on different computers is still possible with the Express).
Table of Contents