Sep 16, 2011
DA* 16-50mm vs. Sigma and Tamron 17-50mm F2.8 Comparison
Introduction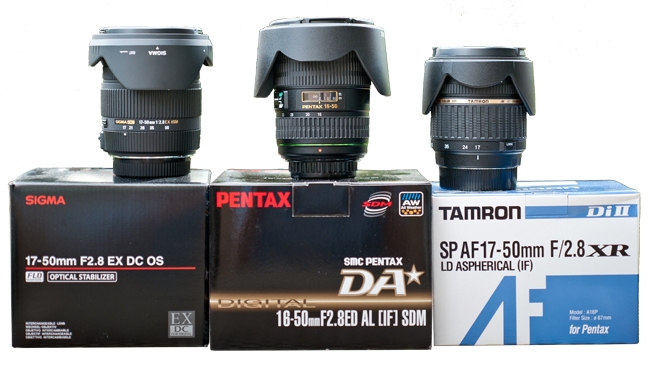 Sigma 17-50mm F2.8 vs. Tamron 17-50mm F2.8
vs. Pentax DA* 16-50mm F2.8
While every photographer has a different shooting style—some love fast primes, some prefer a do-it-all superzoom, and some will shoot with whatever is given to them—a fast normal zoom is a workhorse lens that most shooters would love to have in their bag.
Covering everything from a standard wide angle to a short telephoto focal length, these lenses are virtually de rigeur in event shooting, as their wide apertures and useful range allow photographers to work quickly and without interruption. Their relatively limited range, when compared to do-it-all superzooms, allows manufacturers to avoid too many compromises in their optical designs. Ideally, this means that shooters can trust that no matter the focal length or aperture chosen, the results will be high-quality.
In the Pentax digital system we have a number of normal zooms to choose from, both manufactured by Pentax and by third-party manufacturers. In this review, we'll examine the most important aspects of three of the most popular fast normal zooms for the Pentax system, including the Pentax DA* 16-50mm f/2.8, the Sigma 17-50mm f/2.8 OS, and the Tamron 17-50mm f/2.8.
Table of Contents