Sep 19, 2011
Pentax 645D Review vs. Nikon D3x
Introduction
In this article we review the flagship model from Pentax, the Pentax 645D medium format camera. We contrast it to Nikon's top model, the Nikon D3x, and discuss which areas of photography the two cameras excel in. The Pentax is a medium format camera with a 33 x 44 mm sensor with 40 megapixels, and the Nikon has a 24 x 36 mm sensor with 24.5 megapixels. It may seem odd to compare these two cameras but since they represent the top model of each manufacturer and since they both are aimed at the professional market we find the comparison relevant for photographers considering parting with this sort of money, particularly photographers specializing in landscape, architecture, studio, or portrait photography.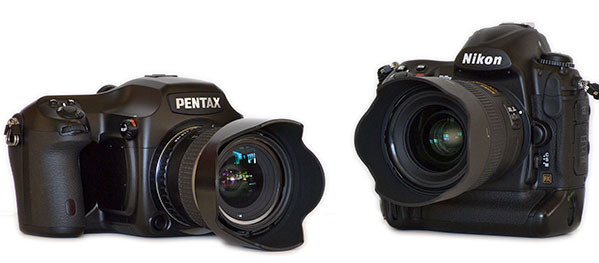 Table of Contents
Background
PENTAX introduced the medium format PENTAX 645D digital SLR in March, 2010 in Japan. It was later introduced in USA and Europe. The camera boasts a 40MP Kodak sensor with an image area of 44mm x 33mm, is weather resistant, and specified to work down to -10 degrees C. It is fully compatible with the film era Pentax 645 A and FA lines of medium format lenses (listed in our lens database). It can also use the PENTAX 6x7 lenses in Av and M exposure modes with open aperture metering. The camera won the "EISA European Professional Camera 2011-2012" award in August 2011.
Pentax has introduced two new lenses for the camera, a 25mm F4 and a 55mm F2.8, both are weather sealed and have built-in auto-focus motors. None of the new lenses were available for our review, however, so we had to resort to some of our 645 FA and 645 A lenses.
In the Box
Camera Body with Body Cap, Standard Eye cup, Hot-shoe cover FK and Triangular Rings with Protective Cover
Battery D-LI90
Battery Charger D-BC90
Power Cord (Country Specific)
USD cable I-USB107
Large Eye cup O-EC107
Strap O-ST107
CD with Pentax Digital Camera Utility 4
Manual
Menu Reference
Serial Number Card
Specifications
The complete specifications of the 645D can be found in our camera database so in this article we will just present the main specifications and with a comparison to the Nikon D3x:
Feature
Pentax 645D
Nikon D3x
Sensor
40 MP CCD
24.5 MP CMOS
Sensor size
33 x 44 mm
24 x 36 mm
Image size
33 x 44 mm
24 x 36 mm, 24 x 30 mm,
16 x 24mm (with APS-C lenses)
ISO (expanded)
200 - 1000 (100 - 1600)
100 - 1600 (50 - 6400)
Shutter speeds
1/4000s - 30s, B
1/8000s - 30s, B
Flash synch
1/125s
1/250s
Continuous shooting
1.1 fps up to 13 frames (RAW)
5 fps up to 28 frames (RAW 14 bit)
Dimensions (W x H x D)
156 x 117 x 119 mm
159.5 x 157 x 87.5 mm
Weight w/o battery and cards
1,400 g
1,240 g
Comparable Focal Lengths
The table below shows focal lengths with approximately the same field of view for three formats of interest (note that the Nikon D3x can use APS-C lenses as well as full-frame lenses). When the Nikon is used with APS-C lenses, a frame is displayed in the viewfinder outlining the edges of the smaller recorded image.
| | | |
| --- | --- | --- |
| Pentax 645D (33 x 44mm) | Nikon D3x (24 x 36mm) | APS-C (16 x 24mm) |
| 25 mm | 21 mm | 14 mm |
| 35 mm | 28 mm | 20 mm |
| 45 mm | 35 mm | 24 mm |
| 65 mm | 50 mm | 35 mm |
| 100 mm | 85 mm | 55 mm |
| 160 mm | 135 mm | 85 mm |