Aug 27, 2011
Pentax AF200FG Flash
Review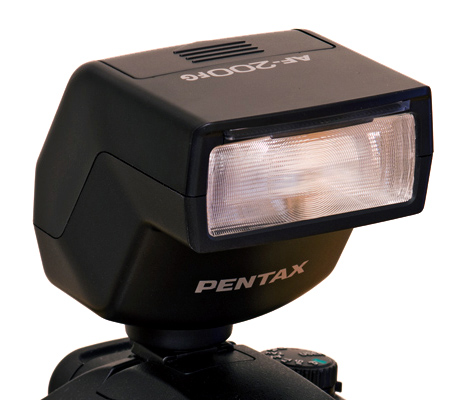 Table of Contents
Introduction
The PENTAX AF200FG flash is reasonably priced, compact and refreshingly simple to use. It is primarily intended as a shoe mounted replacement for the built-in flash but can be used off-camera if wired to the camera hot shoe. It supports P-TTL as well as TTL flash, and can be used with digital and film cameras.
What's in the Box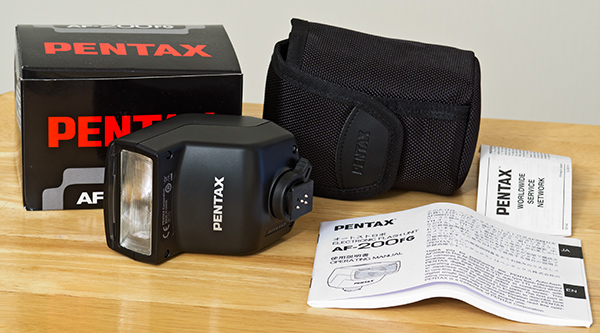 The package includes the flash, a case for same, an instruction booklet and a description of the PENTAX worldwide service network.
Specifications
Guide number: 20 (ISO 100/m)
Recycle time: 4 seconds
Number of flashes per set of batteries: 300 (Alkaline), 400 (Ni-MH), 450 (Lithium)
Flash modes: P-TTL auto, TTL auto, Manual
P-TTL/TTL flash automation compatible with these cameras:

Pentax digital SLR
Pentax MZ/ZX film SLR
Pentax 645N, 645NII, and 67II

Flash coverage angle:

APS-C: 19mm lens, 16mm with diffuser
24x26mm: 28mm lens, 24mm with diffuser

ISO range: 100 to 1600 in P-TTL mode
Red-eye reduction: Yes (if the camera is autofocus and has this feature)
Power source: 4xAA (Alkaline, Ni-MH or Lithium)
Dimensions: 68mm (W) x 83.5 mm (H) x 93 mm (T) (2.7" x 3.3" x 3.7")
Weight: Approx 190 g (6.8 oz) without batteries
Flash Overview
Handling and Operation
The flash is compact and light and camera with flash balances well in the hand; we tried it with a K10D and a K-5. With its fixed flash head this flash is primarily intended for on-camera use as a replacement for the built-in flash. The flash can be used off camera, wired, but the required 5P synch cord and hot-shoe adapters are somewhat expensive. The flash does not support wireless operation.
TThe flash takes 4 AA batteries, and can be used with alkaline (LR6), Ni-MH rechargeable, or lithium (FR6) batteries.
The flash is refreshingly simple to use with only four controls:
1 - a lever to lock the flash securely in the hot-shoe
2 - on/off switch
3 - test button which lights up when the flash is charged, and fires a test flash
4 - mode dial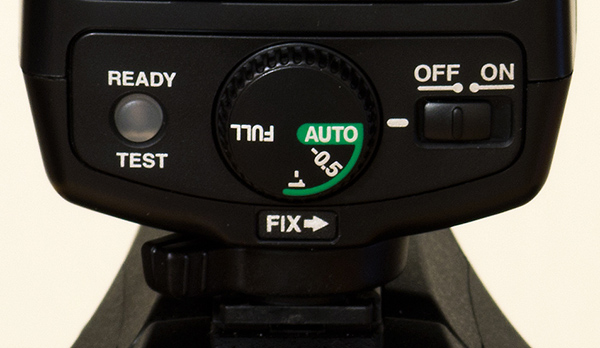 The flash has two modes which are selected on the mode dial: AUTO and FULL (Manual). In AUTO mode one can optionally dial in -0.5 and -1 EV flash exposure compensation. If you also dial in flash exposure compensation on the camera, the two adjustments will be combined. In FULL mode the flash fires at full power and you must calculate and set the appropriate f/stop manually.
The AUTO mode is compatible with P-TTL as well as TTL flash automation. TTL flash automation is found on the *istD, DS and DS2 (and on many film cameras), and makes it possible to use flash automation with any lens, also M/K lenses and extension tubes. With cameras supporting TTL, the flash automatically switches to TTL mode when an M/K lens is used
There is no built-in light sensor, so flash automation is based on the camera's light meter (or TTL sensor if available). The flash also has no autofocus assist light. The next models up in the PENTAX flash line-up, the AF360FGZ and AF540FGZ, do have these features.
The AF200FG powers off if left unused for 3 minutes. A light press on the camera's shutter button turns the flash back on.
The flash has a built-in diffuser/wide-angle panel. With the diffuser pulled out the flash coverage increases from covering the field of view of a 19mm lens to that of a 16mm lens in the APS-C format. On a 24x36mm camera the coverage increases from a 28mm lens to a 24 mm lens. Nothing is free, of course - the guide number and hence range decreases by 25% when the diffuser is in use.
Power and Reach
The guide number is 20 at ISO 100 and 28 at ISO 200. As highlighted in the following table, the AF200FG provides almost two extra stops of light compared to the built-in flash of the K-x/K-r cameras.

The guide number does not vary with the focal length since the flash head doesn't have a zoom feature. This of course means that light gets wasted at longer focal lengths since the angle of coverage then is wider than the angle of view of the lens. Had it been a zoom flash it would have had a longer reach with longer lenses. On the other hand, a flash with a fixed guide number is much easier to use in manual flash mode since there is one less thing to take into account when calculating the proper f/stop for a given distance. At ISO 200 we simply have the following formula with the distance in meters: f-stop = 28 / distance.
Image Coverage
According to the specifications the AF200FG covers the entire APS-C frame from a focal length of 19mm (16mm with the diffuser). The following comparisons show how the flash covers the frame at various focal lengths from 12mm to 24mm. For the test we used the smc PENTAX-DA 12-24mm on a PENTAX K-10D.
Benefits over the Built-in Flash
The AF200FG offers several benefits over the built-in flash:
More powerful and hence more reach
Wider angle of coverage
The flash head sits higher which reduces/eliminates shadows cast on the subject by lens hoods or long lens barrels
The higher flash head position also helps reduces the red-eye effect
Can be used off-camera in a crunch
The Operating Manual
The operating manual is very instructive and easy to follow and includes distance tables for P-TTL/TTL and manual flash.
Sample Image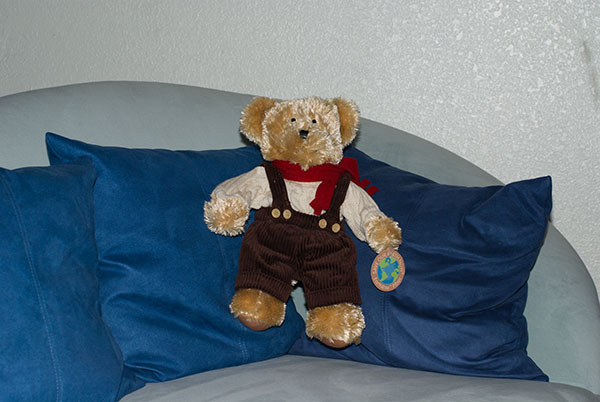 No exposure adjustments were made in camera/on flash, and no post-processing other than sharpness. K10D with FA 50mm/1.4 at f/5.6, ISO 100.
Who is it For?
If you want an easy to use external flash primarily for on-camera use and with more power than the built-in flash, this unit may be for you. If we take the K-x as an example: The built-in flash at ISO 200 and f/5.6 has a reach of just 2.9 meters (9.4 ft), whereas the AF200FG has a reach of 5 meters (16.4 ft), or, put differently, with the AF200FG you get about the same reach at f/5.6 as would require an f/2.8 lens with the built-in flash. If you want to use the flash off-camera a lot you might be better off with a unit that supports wireless flash photography. Also, if you need a flash that emits an autofocus assist light the AF200FG is not for you.
The other key benefit over the built-in flash is the coverage angle. The AF200FG covers the entire APS-C frame from a focal length of 19mm (16mm with diffuser), whereas the built-in flash only covers the entire frame from 28mm.
Conclusion
This little flash does what it is supposed to do, and does it well. It is a big step up from the camera's built in flash in power (giving almost a two stop advantage) as well as in coverage (covers the field of view of a 19mm lens (16mm with diffuser) rather than just 28mm). Build quality is more than adequate for casual use and the flash is very simple to use. It is even backwards compatible with the TTL flash mode of the *ist D/DS/DS2 and of many PENTAX film cameras. If you need a flash that tilts and/or swivels, or a flash for regular off-camera use or more range, you should check out the larger units in the PENTAX flash line-up.
It is hard to not like this little flash and we consider it to be very reasonably priced at about US $120.
Rating
| | |
| --- | --- |
| Handling | |
| Value | |
| Features | |
| Overall | |
Ready to get your PENTAX AF200FG Flash? B&H has it in stock! Also, if you currently own this flash and would like to write your own review, please visit our Accessories user reviews section.