Pentax-D FA 100mm F2.8 WR Macro Review
Construction and Handling
The outer lens barrel and focus ring are made of metal and the design is close to that of the DA Limited lenses. The inner barrel, which extends as you focus closer, is made of plastic, but fits tightly in the outer barrel and, opposed to the earlier D FA model, there is hardly any wobbling of the inner barrel. The lens feels like a precision optical instrument. The lens hood is made of plastic and fastens to the outer lens barrel using a bayonet. When the hood is mounted, the length does not change as you focus closer since the inner barrel extends within the hood. The front element does not rotate when focusing, making use of a polarizing filter convenient.
This lens is weather-sealed and thus well protected against dust and rain. The image below shows the seal on the lens mount. In addition to this visible seal, there are several seals inside the lens.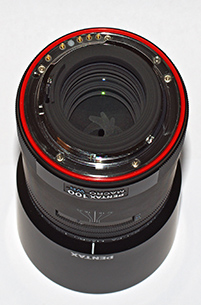 The lens focuses down to life-size magnification (1:1). There is no aperture ring, so the aperture must be set on the camera or by the camera. This means that the only practical way to get more than life-size magnification is to use close-up lenses attached to the filter ring in the front. Extension tubes and bellows units available today require an aperture ring for stopping down the lens and can therefore not be used.
Some older macro lenses have a clamp to prevent focus shift as you move the lens about your object, and some also had a focus limiter to prevent hunting. The PENTAX-D FA MACRO 100mm WR has neither and we didn't miss them during our test. The focusing ring is sufficiently damped that there is no focus creep so a focus clamp is definitely not needed. We didn't experience any hunting when using the lens as a short telephoto lens with the K-5, but it does take a while for the lens to move from a close-up setting to a far distance setting; such travel could be reduced with a focus limiter.
The following figure shows the lens at infinite focus distance, at 1:1, and contrasts it with hood to the non-weather-sealed D FA 100mm Macro. The new lens looks more elegant and has a more solid construction.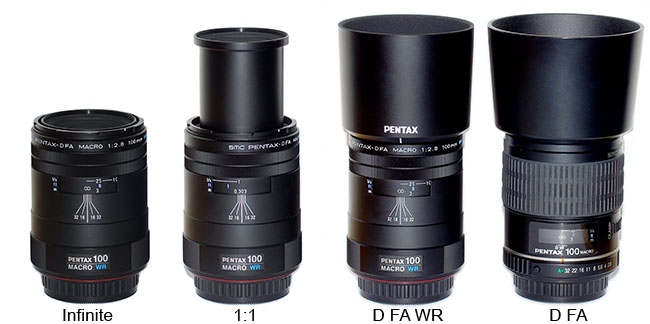 The SMC Pentax-D FA MACRO 100mm F2.8 WR is Pentax' fourth 100mm auto-focus macro lens. All four of these lenses share the same optical design but differ in other areas:
| | | | | |
| --- | --- | --- | --- | --- |
| | D FA WR | D FA | FA | F |
| Aperture Ring | | | | |
| Rounded Blades | | | | |
| Weather-sealed | | | | |
| Focus Clamp | | | | |
| Focus Limiter | | | | |