Pentax-DA 21mm F3.2 Review
Lens Overview and Handling
The DA 21 uses the KAF mount, which means autofocus is achieved via a slotted drive screw. It can thus be used on any AF Pentax SLR. It has no aperture ring (the small size of the lens would prevent it). It has an APS-C image circle, which means corner shading will occur if the lens is mounted on film cameras. Like all DA lenses, it features quick-shift manual focus override.
The lens features an engraved distance scale in meters and feet, and a depth of field scale for apertures ranging from f4 to f22. It has a metal push-on cap, whose interior is lined with black felt. The cap stays snugly in place, even with the lens hood attached.
The build quality of the lens is impressive, the finish is elegant and it is obvious that much attention has been put in the design and assembly of the lens. It looks and feels like a quality product.
Size
The DA 21mm is called a pancake lens, and this is no exaggeration. Being only 25mm thick, it barely clears the flash bump when mounted on a K20D.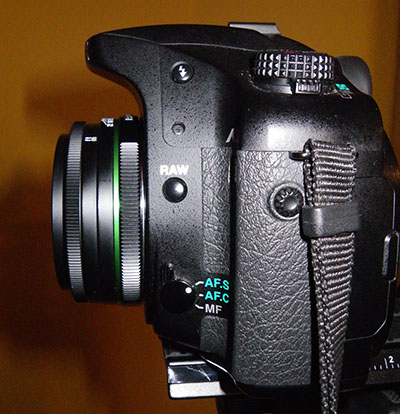 The lens extends 3mm (1/8 inch) when focused at close distances. The included lens hood is very different from the standard barrel or petal hoods found on most lenses. This hood is a thin metal ring with a rectangular window cut out, to perfectly frame the field of view of the lens. The hood adds 6mm (1/4 inch) to the thickness of the lens when attached.
The lens accepts 49mm filters with the hood removed. The inside of the hood can accept one filter with a 43mm thread. Polarizing filters cannot be mounted this way, since there is no access to the filter with the hood in place. This unusual system allows the lens and hood combo to remain very small. However, the lens hood is not necessary in most situations, since the lens exhibits no visible flare even when directly pointed at a light source.