Aug 27, 2011
Pentax-DA 21mm F3.2 Review
Introduction
The SMC Pentax-DA 21mm F3.2 Limited is a fixed focal length lens, part of the pancake group. Like other Limited lenses, it features an all-metal body, tight manufacturing tolerances and high optical qualities, in a small and light package. Most of the assembly is done manually. It is generally available for around $650 USD at B&H and Adorama, and 650$ CND from major Canadian retailers.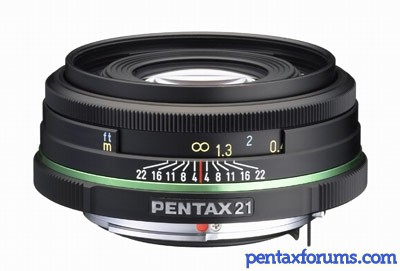 The field of view of the lens, in 35mm equivalent, is that of a 32mm lens, near the classical 35mm focal length often associated with street photography. It can thus be regarded as an evolution of the FA 31mm F1.8 AL Limited.
Table of Contents
What's in the Box
The package includes the lens, lens hood, lens cap, carrying pouch, user manual and warranty papers.