Aug 27, 2011
Pentax-DA 35mm F2.4 Review
Review
Pentax's latest prime lens offering, the DA L 35mm F2.4 AL, is a lightweight budget lens designed with the amateur photographer just beginning to explore the use of prime lenses in DSLR photography.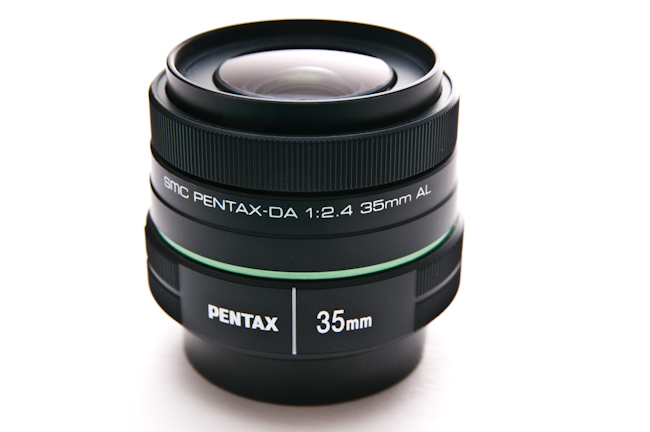 Announced September 8, 2010, this little workhorse of a lens is (with the exception of the glass optics and metal contacts) constructed entirely of plastic, mount included. For good or for bad, this makes it an extremely lightweight and low-cost lens. Shown below are images of the DA 35mm's plastic mount compared to the metal mount of the DA 18-55mm AL II.
DA 35mm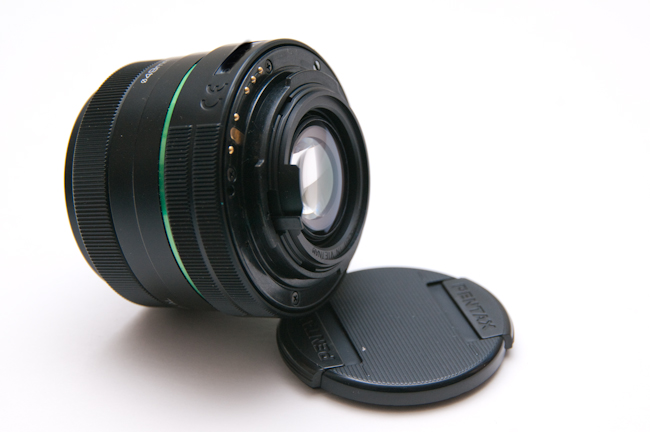 DA 18-55mm AL II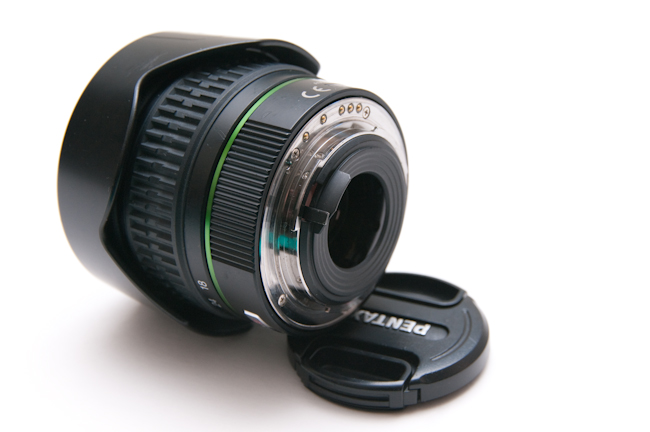 The focusing motor is screw-driven and like other DA lenses, there is no aperture ring. However, probably the most notable, is the lack of focusing distance markers. As for the technical nitty gritty, the specifications as published by Pentax, are as follows:
Optical Construction: 6 elements in 5 groups
Angle of View: 44 degrees (with Pentax DSLR camera body
Maximum Aperture: F2.4
Minimum Aperture: F22
Lens Mount: K bayonet
Number of Aperture Blades: 6
Minimum Focusing Distance: 0.3m/0.98ft
Maximum Magnification: 0.17x
Weight: 124g/4.4oz
Maximum Diameter & Minimum Length: 63x45mm/2.5x1.8in
Filter Diameter/Cap Size: 49mm
This is a very nice, versatile lens. With the cropped sensor in Pentax DSLR cameras, the 35mm length translates to 53.5mm when compared to 35mm film or full-frame cameras. The coating used in this lens is the SP, or super-protect coating, which according to Pentax, is designed to repel grease, water, and dust - thus making it easier to clean.
What's In The Box
The lens used for the purpose of this review was part of the K-r kit (Pentax K-r Review). A no-frills piece of equipment, this lens comes with a rear push-on cap and a front pinch snap-on cap. It is possible that the rear cap is the push-on style to protect the plastic mount. There is no hood nor protective pouch. However, available accessories specified for this lens are the case S70-70, and hoods PH-SA49 (plastic square-edged, spring type) and RH-RC49 (rubber, round shaped threaded type).
Use, Handling, and Size
Unlike other DA lenses, the DA 35/2.4 does not have the quick-shift focusing option. When the AF is selected on the camera, the focusing ring does not allow for any manual adjustments. Any manual focusing must be done with the camera's focusing selection placed on manual. The throw of the lens for manual focusing is approximately 90 degrees, which makes it rather difficult to make fine adjustments to focus. The short throw does however, make for fast auto-focusing.
The lens is very small and light weight. As can be seen it is slightly smaller than the DA 18-55 kit lens (shown on the K-r).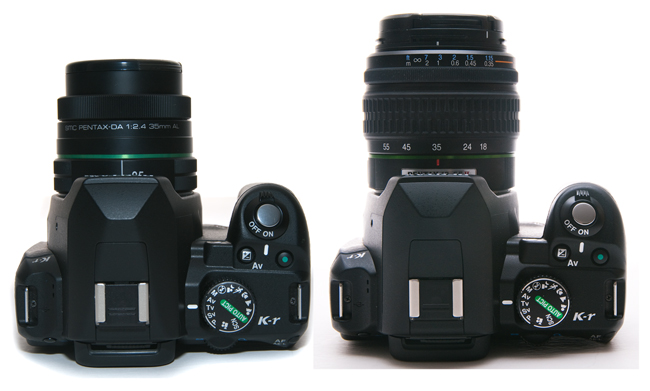 Image Quality
As this lens on the wider end of the spectrum, distortion of subjects is a possibility. To check for distortion, comparison images were shot using the DA 35mm and two zoom lenses that cover the 35mm distance: DA 18-55, and DA* 16-50. There is a bit of barrel distortion apparent in the DA35 compared to the other two lenses. However, when the brick image is placed over a grid (using the image rotation grid in Lightroom), it is difficult to see when following the lines of the superimposed gridlines.
Chromatic Abberation
This can be a tough issue to test for as the lighting conditions need to be right for the fringing to show up. However, in the conditions at the time of the lens use, and in everyday, walking around shooting, there were really no significant abberations apparent.
Sharpness and Color
Sharpness is not bad for such an inexpensive lens. There is a noticable loss of sharpness at the edges of the images at larger apertures, but it is diminshed as the aperture is stopped down (more bricks -- sorry). Diminished, not eliminated. However, when we move away from shooting flat brick walls - which may or may not be perfectly lined up with the camera's sensor - and move into shooting real life subjects, it is apparent that this lens does indeed show decent sharpness in the subject under focus. Again, it seems to be a bit sharper stopping down some, but in a variety of settings, other than the loss of sharpness on the edges, the DA 35mm F2.4 seems to get the job done. Animal fur is an excellent indicator of detail rendering. The two dog images show the lenses capabilities at F2.4 and F8. While they are fairly sharp and detailed (you can see dust particles on the fur), there just isn't the cutting sharpness that a truly sharp, higher-end lens would have (and yes the dog is annoyed). But again, this is a budget-priced lens.
Color rendering in this lens is very nice and true to life in a variety of lighting conditions. Going back to the distortion examples, the image created by the DA 35/2.4 gave what was probably the most realistic colors for that particular wall out of the three lenses used.
Bokeh
Pentax does bokeh quite well. For the price this lens renders the out-of-focus areas reasonably well for a 6-bladed aperture, although, the background - if busy - can become rather choppy. While not as creamy smooth as higher-end lenses, or those with a greater number of blades, it demonstrates decent performance for a 6-bladed aperture budget lens.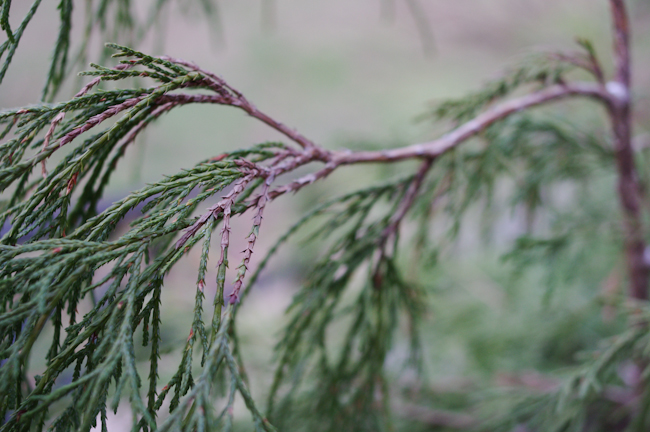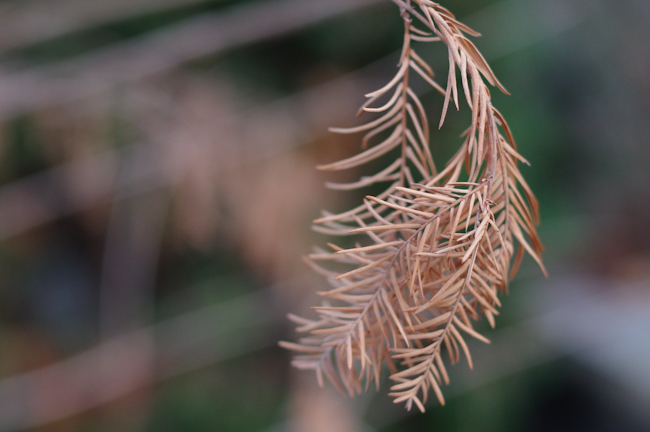 Conclusion
While examing the images for consideration, it is important to keep in mind the price tag on this lens. It is not an expensive lens, and therefore is not going to give the image quality of one of the limited primes or a DA* lens. But bearing this in mind, it is clearly a capable little prime. Its compact, lightweight build, along with a fairly fast aperture of 2.4, makes it handy for a variety of uses, including landscapes, portraiture and street-style shooting. Although it may have room for improvement in some areas, it's a decent little lens for the money. It can give the budget-minded hobbyist or beginner a faster, lower-light prime option.
Rating
The overall rating shows that this lens holds its ground! It scored very close to the new 18-135mm lens.
| | |
| --- | --- |
| Sharpness | |
| Distortion | |
| Bokeh | |
| Aberrations | |
| Autofocus | |
| Build Quality | |
| Features | |
| Value | |
| Overall | |
The DA 35mm F2.4 AL was launched at B&H Photo and Video at a price of $219.95.