Aug 27, 2011
Pentax-DA 35mm F2.8 Macro Review
Introduction
The SMC Pentax-DA 35mm f/2.8 Macro Limited is a fixed focal length lens. The lens is relatively compact and provides one-to-one magnification in a normal focal. The DA Limited lenses are constructed of high grade aluminum and feature quality optics with tight tolerances. The new price for the lens starts at just below $700 in the USA. The used price is considerably cheaper, with an average of $450. The DA 35mm lens has an equivalent field of view of 53.5mm, which is the closest thing to the old 50mm normal lens you can purchase in a prime lens for a digital SLR.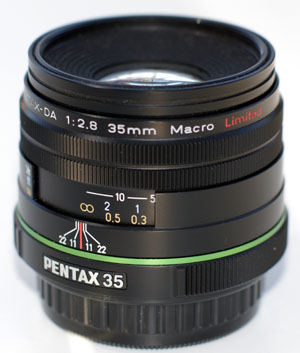 Table of Contents
Lens Overview and Handling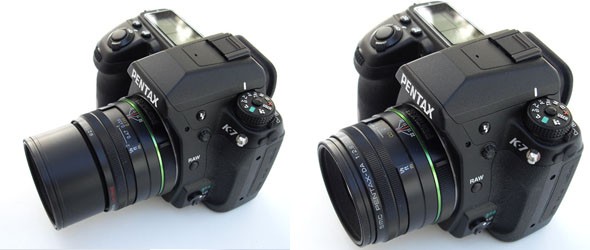 The DA 35mm is a dedicated Advanced Photo System type-C (APS-C) lens with a KAF lens mount. The KAF lens mount relies on a slotted drive screw operated by the camera for auto-focus. The lens cannot be used on a film camera, because it was designed to fill a 23.4 x 15.6 negative; a 35 mm negative is 36 x 24 mm. In addition, the lens lacks an external adjustable aperture ring. The lens is designed as both a macro and a normal prime lens. The dual role necessitates that the focus ring turn approximately 140 degrees from infinity to 1-to-1 magnification. The lens lacks a focus limiter, which would ideally limit the travel in both macro and non-macro use. The DA 35 mm lens does feature a Quick-Shift mechanism that allows manual focus before or after autofocus AF.S (Single shot mode). The DA 35mmf/2.8 lens features an engraved distance scale in meters and feet, with a depth-of-field scale for apertures f11 and f22. Since the lens is also a macro, it includes a reproduction ratio alongside the meter and feet distance scale. The lens has a slip-on felt- lined aluminum cap that fits over the built-in lens hood
What's in the Box
The package includes the lens, lens hood, lens cap, carrying pouch, user manual, and warranty papers.