Pentax-FA 31mm F1.8 Limited (APS-C)
Rendering Quality
The very reason of this lens, if there is only one to point out, is its rendering quality. Among all my lenses collection (although I do not own any star lenses yet) only the the FA Limited live up to that quality. Sharpness is razor sharp from 1.8 (which is very impressive as all other lenses I have ever tried are usually soft wide open) Contrast is excellent. Color rendition is the best. But let's have a look to see what it is.
Sharpness
As said, it is razor sharp from wide open. That can repulse some portraitist in fact, as you will get all the details, from the skins and else, which is not really looked for in portrait lens. But If you are good at manual focusing and love playing with depth of field, open up your lens, get that eye perfectly in focus and the rest will be slightly soft and your background will be composed of lovely blended colors.
At high apertures, the lens holds sharpness very well and is minimally subject to diffraction
Testing Results
The following results provide a comparison to the set of lenses covering or close to 31mm focal length (shown in the Size and Weight comparison picture).
Bokeh
To obtain a nice Bokeh, it is necessarily a bit more difficult than with a longer focal length, such as the FA 77mm Limited. Wide-angle implies longer DOF. To reduce it you have to get closer, and open up more the aperture. However the 45mm equivalent makes it ideal to play with that background even for portrait as you will get a good part of the scene you are shooting at.
The following pictures shows a crop of the center of the images with focus on an object hold at arm length (60cm)

This lens is considered by many as having the best Bokeh out of any equal focal length lenses out-there. With its 9 aperture blades and fine glass and coating it does provide a very pleasant blend of light . This can be read again and again in many forums. What can I say more? I love those smoothly blended colors, I often end up looking more at the background of the picture than at its subject... Have a look at the samples to judge for yourself.
Color Rendition
You have here a Pentax lens. Pentax has a reputation for its particular color rendering and although the digital post-processing in camera does a lot, the lens provides a certain quality of color saturation and contrast. This being an FA-Limited, it is probably the best you can get for that aspect.
Vegetable markets are a good exercise for colors, especially at night with artificial lighting. Do you want to join us for dinner? We are having Brussels-sprouts in peanuts sauce and sun-dried tomatoes...

Distortion
Chromatic Aberration
I could not find much color aberration with this lens. At f8 in a complex scene it is good and sharp. At f1.8 the foreground was necessarily somewhat blurred, and at f22, diffraction causes a loss of resolution. But not much chromatic aberration can be found, except maybe for some slight purple fringing.

Purple Fringing
Yes, you can get a lot of purple fringing with this lens... oh but you really have to want to get it. It will happen essentially wide open with a very strong light. In the following samples, at f1.8 for a very well lit scene (iso 100 1/1250s) that is best shot at f8, purple fringing is visible in strong contrasted regions, e.g. branches of trees over a snowy roof. Worst purple fringing I obtained was with overexposed focusing chart, using a big flash.. Now do you really shoot that way to get any good pictures?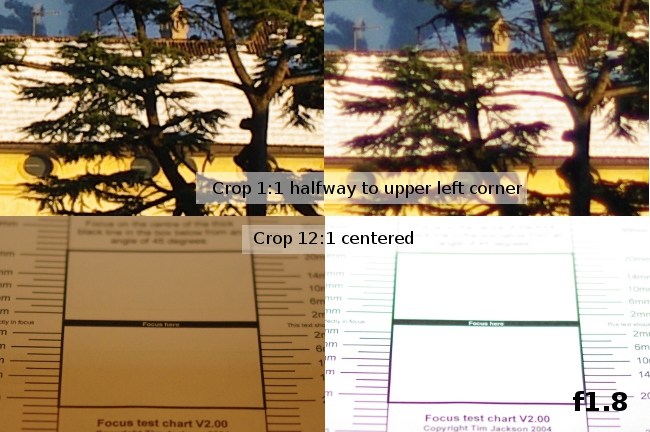 Flaring
Ah ha! I made it flare... So in the following sunset, shot at different exposures, you can effectively see a faint greenish flare, essentially because it is over a dark part of the scene. At normal exposure this flare is very faint, but the scene is also overexposed to get the sunset right. 1.3 stops lower, if you look hard, you can still see a faint reddish flare. Thus, you can make this lens flare (or exhibit fringing) by over-exposing, but under normal shooting conditions, its anti-ghosting coating holds to its reputation.