Pentax K-70 Review
Shooting Modes & Settings
Next we'll take a look at the K-70's various shooting modes, settings, and features.
Drive Modes
The Pentax K-70 has the full suite of drive modes that you would also find on high-end bodies like the K-3 II and K-1, and offers a few new options compared to the K-S2. The drive modes are accessed via the right button on the 4-way pad, and they include:

Single frame

Continuous high (6 FPS) and low (3 FPS)

Self-timer: 12s, 2s, bracketing

IR remote: single shot, 3s delay, bracketing

Bracketing: standard, with self-timer, with IR remote

Mirror Lock-up Shooting: standard, with IR remote

Multi-exposure: standard, burst (high or low), with self-timer, with IR remote

Interval shooting: standard, interval composite, interval movie, star stream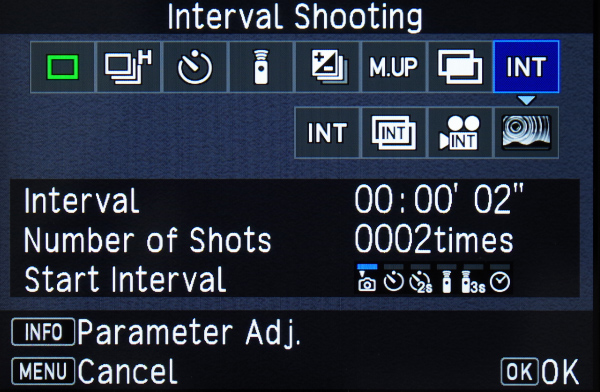 The K-70 certainly isn't lacking in terms of drive mode options, but this menu can be overwhelming for beginners. There is also some duplication/redundancy, as some of the sub-options found under interval shooting, composite, and bracketing could be placed in a separate grouping.
Flash
The Pentax K-70's on-board flash has a mechanical release button, so it will never fire unless manually opened by the user. Thus, there is no "off" setting in the flash menu, which is accessed via the left button on the 4-way pad. Flash modes include:
Flash on

Red-eye reduction

Slow speed sync

Slow speed sync + red-eye reduction

Slow speed trailing curtain sync / trailing curtain sync (depending on mode)

Manual flash discharge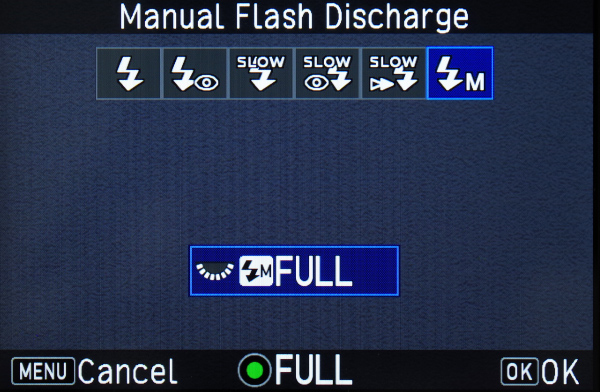 In the first 5 modes, the flash power can be compensated by -2EV to +1EV. In manual flash mode, the flash always fires at the specified power, which can be adjusted from full to 1/128th power and reduced by a factor of two with each click of the e-dial.

As in the K-S2, one key mode is missing from this menu: wireless flash. This means that the K-70 cannot be used to wirelessly trigger an external slave P-TTL flash (i.e. the AF 360 or 540 FGZ II) using its on-board flash. A hotshoe flash that supports wireless master mode can be used for this purpose, however.
While the Pentax K-50 did have the wireless flash option, it lacked manual flash discharge. It makes sense for the wireless option to be limited to flagship DSLRs, though we do miss it in the K-70.
Exposure Modes
For novice users, the K-70 offers both a full auto and a scene mode setting on the mode dial. The various scene modes configure not only the program line for shutter speed and aperture, but may also change other camera settings to suit the desired application.
Auto (green) mode works like P mode but limits access to many camera settings, including program line shifts.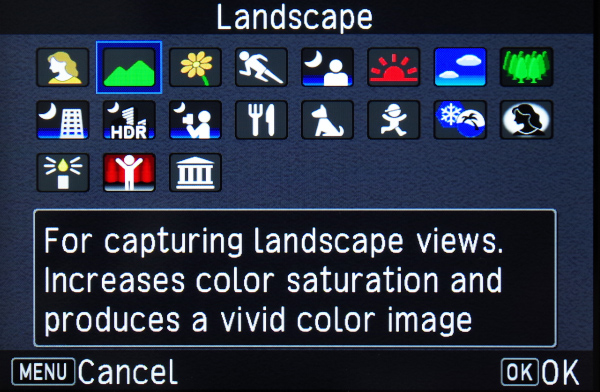 Of course, you'll also find the big 4 shooting modes on the mode dial: program (P), shutter priority (Tv), aperture priority (Av), and manual (M). A bulb (B) mode is also available.
New to the K-70's Bulb mode is a timer function that lets the user set an exposure of anywhere from 10 seconds to 20 minutes. You can set this time in increments of 10 seconds, from 10s to 5 min, or increments of 1 minute from 5 min. to 20 min. Along with the new Night Vision LCD mode, this is a huge benefit for owners interested in night-time shooting, and something you can't get with the K-3 II or even the K-1.
One unique feature of P mode is Pentax's Hyper Program, which allows instant switching to Av or Tv simply by turning the corresponding e-dial to dial in a shutter speed or aperture setting. The camera will respect your selection and only adjust the opposite exposure parameter to compensate. Note that Hyper Program can be disabled via the e-dial customization menu and replaced by more traditional program line shifts if desired.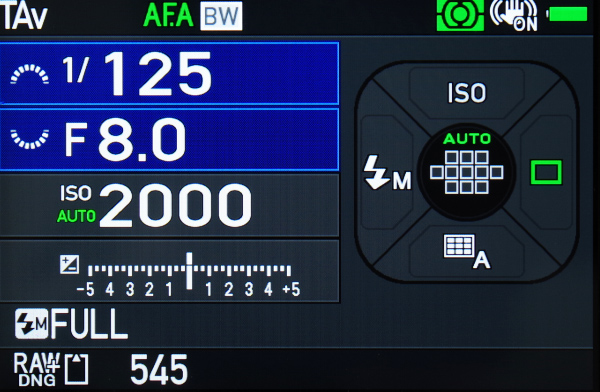 The Pentax-unique TAv (shutter and aperture priority) and Sv (sensitivity priority) exposure modes are also available. TAv is essentially M mode with auto ISO, while Sv is essentially P mode with manual ISO. Having a separate mode to control ISO is convenient, however, as it carries the added convenience of exposure compensation and the ability to quickly switch between different sensitivity presets.
The U1, U2, and U3 settings on the mode dial correspond to three fully customizable user settings (an improvement from the K-S2, which only offered two. These user settings store not only the exposure mode, but also most of the settings shown on the control panel.
User mode settings (K-S2 menus shown, functionally identical in K-70)
Missing from the K-70's mode dial is the K-S2's A-HDR (advanced HDR) mode, which we consider no great loss. On the K-S2 (where it debuted), we found that it tended to exaggerate the HDR effect too much. However, A-HDR is still available through the control panel if you like it more than we do.
While any modern lens and any legacy lens with an "A" setting on the aperture ring will support all these shooting modes, fully manual lenses only allow the use of Av and M. M-series K-mount lenses should be used in M mode, while M42 lenses or lenses with manual diaphragm can be used in either. More details on manual lens metering can be found on the forum.
Advanced Settings
The main menu, 4-way pad, and control panel provide access to a host of advanced image capture settings including metering mode, noise reduction (JPEG mode only), shadow/highlight correction (mostly JPEG), and lens corrections (JPEG only). The standard suite of lens corrections is available: distortion, vignetting, aberrations, and diffraction. Together, these corrections can essentially undo the flaws found in budget lenses and make for technically impressive out-of-camera images. Just keep in mind that distortion corrections add extra processing time for each image, and may in some cases slightly reduce the field of view.
One addition inherited from the K-S2 that's worth noting is an "auto" setting in the vignetting (peripheral illumination) correction sub-menu. This setting works similarly to auto ISO reduction: it generally performs moderate corrections except when either stronger or milder corrections are appropriate. This is especially convenient for users of superzoom lenses, as these lenses tend to exhibit much more pronounced vignetting at a particular range of focal lengths.
Metering and lens correction settings
GPS Functionality
When paired with the O-GPS1 GPS unit, the Pentax K-70's Shake Reduction system can be configured to track the movement of stars, allowing for hassle-free slow shutter speeds astrophotography (i.e. star trails).
Verdict
While it's priced like a budget DSLR, the K-70 certainly offers image capture settings and shooting modes to rival both Pentax's own high-end DSLRs and those of other manufacturers. Indeed, the only thing missing compared to the Pentax K-3 is that camera's wireless flash mode, which will frankly be irrelevant for a good portion of owners. All in all, this is a body that's powerful enough to satisfy advanced shooters, but also provides a great platform for beginners to grow with.