Pentax K-5 Review
Accessories
Pentax offers several accessories that will help you get most out of your camera, and we've picked a handful of those that we feel are the most useful. The remote control is a must-have for everyone, while the remaining accessories below fit a variety of special-purpose applications. With the exception of the grip, which only fits the K-5 and K-7, all these accessories are interchangeable and will work with any Pentax DSLR, as well as with certain film SLRs. This accessory list is by no means comprehensive; for a complete listing of Pentax accessories, visit our Accessory Database.
Remote Controls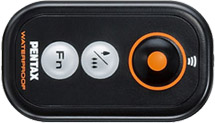 The Pentax infrared Remote Control F (pictured to the right) costs just $20, and allows you to release the K-5's shutter wirelessly in a variety of modes, including instant single shot, continuous shooting, mirror-lock-up, and self-timer. The K-5 features infrared sensors in both the front and the back for convenient operation; the rear sensor is especially useful for when you want to avoid shaking your camera while on a tripod.
Recently, Pentax announced a watertight Remote Control WP (model number O-RC1, pictured to the left), which can be acquired directly from the Pentax Web Store for $30. However, despite not being weather sealed, we believe that the Remote Control F can safely be used in light weather without any problems.
Battery Grip D-BG4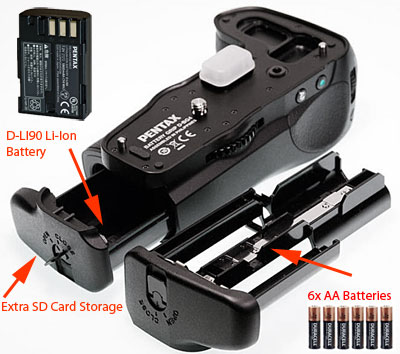 The K-5 D-BG4 battery grip is a must-have for anyone who does a lot of traveling or shoots many verticals, and fortunately for K-7 owners, it's the same grip that was used for the K-7. The D-BG4 has four key advantages:
Extends battery life
Allows use of AA batteries
Provides full vertical controls
Makes the camera easier to hold
When you
buy your D-BG4
, you'll notice that it comes with two inserts. This is because the grip supports use of both an additional D-LI90 rechargeable battery, or 6 AA batteries to provide additional power for the camera. The latter option is ideal for photographers who spend long periods of time in the field, and don't have easy access to a power outlet. It's also worth noting that the D-LI90 insert also features a slot for convenient storage of an additional SD card, while the AA insert does not.
Like the K-5 body itself, the D-BG4 grip is fully weather sealed, making it safe to bring along wherever your K-5 goes! It sturdily attaches to the K-5 body and provides it with power while also transmitting data from the 9 additional controls found on the grip: shutter release, front and real e-dial, EV shift, ISO, AE-L, Green, AF, and DOF preview. The buttons on the grip can be disabled using an on/off switch when not in use. The grip also features a tripod socket underneath, allowing you to mount your camera with grip attached on a tripod as you normally would. Finally, the grip makes heavier lenses easier to control, as it adds some mass to your camera. The grip can currently be acquired new for only $180, and aftermarket non-weather-sealed imitations can be found for as little as $49.
AF-360 FGZ and AF-540 FGZ Flash Units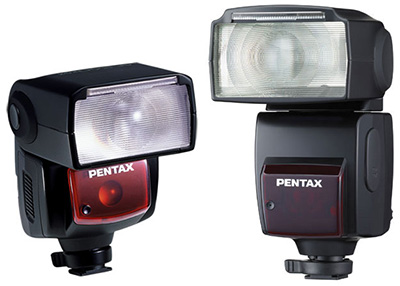 An external flash is a useful accessory. When mounted on the camera the flash sits that much higher than the built-in flash that shadows from the lens hood or lenses with long barrels is avoided, and the risk of red eyed look is reduced. Moreover, an external flash has a much farther reach than the built-in flash. More important, though, is the ability to use the flash off camera so as to avoid the traditional flat look of flash photos. The AF360GZ and AF540FGZ can be used wired or wirelessly using the K-5's built-in flash as a wireless flash controller. These external flashes can be used with or without the built-in flash, and more external flashes can be combined. When wired to the camera, the built-in flash and an external flash (or two external flashes) can be used in a contrast control mode, where one flash outputs twice the amount of light as the other.
The AF360FGZ has a reach of more than twice of the built-in flash. The flash head tilts but doesn't swivel.
The AF540FGZ has a flash head that not just tilts, but also swivels. This flash has a reach of about 3.5 times that of the built-in flash.
More details on these flash units can be found here: AF-360FGZ AF-540FGZ.
AF-160 FC Ring Flash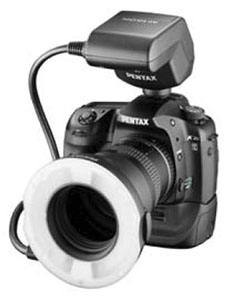 A ring flash is primarily designed for macro work. The flash can be set to emit light only from one side which gives some depth to the image.
More details on this ring flash can be found here.