Pentax K-5 Review
Image Tests
Shake Reduction Test
The K-5's shake reduction system means business. It reduces rotational as well as translational motion blur, as the SR mechanism allows the sensor to shift and rotate freely. The net result of this is a compensation for up to 4 stops of light! We recommend you keep the SR system on at all times while shooting hand-held, but make sure that you allow it to arm before shooting - the little hand icon must be visible in the viewfinder before you shoot. See below for examples of how effective the SR system is:
ISO 80 vs ISO 100
The K-5 introduced the lowest ISO in the Pentax system to date: ISO 80. It is at this ISO that the K-5 obtains its maximum dynamic range of 14.12 EV (it falls to 13.70 at ISO 100) and has the least noise. The practical difference between ISO 80 and ISO 100 is minimal, but it's there. The best way to compare the two is to take a look at the DxO sensor dynamic range tests performed on the K-5. You'll be able to see how this ISO fits the regression line for sensitivity and dynamic range. If you're looking to get the absolute best image quality out of your K-5, you would want to use ISO 80 whenever possible. However, since this ISO requires a relatively fast lens, it's probably not practical for everyone. Most can safely use ISO auto from 80-800 for daily shooting, without having to worry about noise or poor image quality. We've taken some sample photos to compare ISO 80 and 100, and the full size raw files may be downloaded later in our review as well.
High-ISO: K-5 vs. K-7
We ran through all major ISO steps on both cameras including ISO 80 on the K-5. We ran two series: one with noise reduction turned off, and one with noise reduction set to medium. The subject was illuminated by a halogen light, the lens used was FA* 85mm F1.4. The camera settings were as follows:
White balance set to Tungsten
Manual focus
Custom image set to natural, with all parameters including sharpness and contrast at their default settings
Color space sRGB
Auto-exposure as per the meter, Av mode at F8, no EV compensation, multi-segment metering
Dynamic range extension off (highlight as well as shadow were off)
Camera on tripod, shutter triggered with the Remote F with mirror up and 3 seconds delay
We have created the table so that not only can you compare the two cameras but you can also compare shots from the same one camera.
The overall conclusion is that the K-5 gives you about two stops better noise handling. That is to say, for example, that an ISO 6400 shot with the K-5 compares noise wise to ISO 1600 with the K-7, and ISO 12800 on the K-5 to ISO 3200 on the K-7 and thus is perfectly usable in many situations. See below for more tests of the K-5 high ISO noise performance.
High-ISO Noise Reduction Test
Now, let us take a look at how the in-camera High ISO Noise Reduction system works. The K-5 features a setting which allows you to control the degree of noise reduction (Low, Medium, or High) for each ISO setting, as well as completely disable it. You can also leave the setting on "Auto" and let the camera choose what it thinks is best. In our tests of this system, we took a photo for each of these settings (except for "Medium") at all full-stop ISOs between 80 and 51200 (inclusive).
According to these results, it looks like when the High ISO Noise Reduction option is set to "Auto", the camera typically disables Noise Reduction for ISO 80, 100, and 200, and chooses between "Low" and "Medium" for ISOs above that. It does not seem to ever apply the "High" setting on its own, likely because this setting results in loss of detail. Thus, we can recommend the "Auto" setting for the typical JPEG shooter, as seems to pick the optimal NR setting for each scenario. More advanced users may want to shoot in RAW and use a noise-reduction program when post processing to handle the noise instead: this should yield the same, if not better results, but will be more time-consuming than using the in-camera option. Since the K-5 does a great job of handling noise in general, the loss of detail due to in-camera NR may not be an issue for most users. Another important thing to note is that if you're using Noise Reduction, there's a huge drop in image quality from ISO 12800 to ISO 25600 (as you enter the expanded ISO area). Thus, ISOs above 12800 shouldn't be used when you're looking to preserve details in your images. This can more clearly be seen in the "Sample photos" section of our review, but it's also visible in the test above.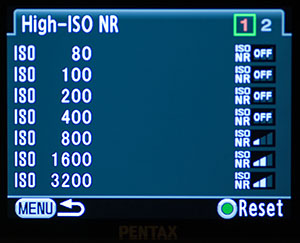 The NR system seems to be particularly effective at the "Low" setting, as it reduces color noise and grain without significantly degrading sharpness. We think it'll be best if you see these results for yourself, so feel free to browse through the test photos to see how the NR system works for all the different ISOs and intensities! We feel that the results will positively surprise you, so we'll let the images do the talking! Keep in mind that in that menu, you can always selectively choose at which ISOs the camera performs Noise Reduction.
Slow Shutter Speed Noise Reduction Test
Another noise-related setting on the K-5 allowed you to control whether or not Slow Shutter Speed Noise Reduction is enabled. When conducting the below tests, we noted two interesting facts: first, that Live View seems to always operate at maximum ISO when there is minimal ambient light, and second, that when the noise-reduction setting is enabled, the camera spends several seconds processing the photo. The duration of this processing depends on the shutter speed used. We found the processing time to be roughly 2/3rds of the exposure time, so a 30-second exposure resulted in 20-second processing. Furthermore, we found Live View very useful in conducting the test, and were surprised at the clarity of the preview image! Not only was it very sharp, but the colors were almost true-to-life, and the image was brighter than that perceived by the human eye.
In this test, we took a series of photos at ISO 80, 200, 400, 800, 1600, and 3200 using both the "On" and "Off" setting for Slow Shutter Speed Noise Reduction. The shutter speed was fixed at 30 second, and the aperture was varied from F3.5 to F22 as needed. We also tested "Auto" mode, and found that the camera chose to reduce noise for every ISO setting, suggesting that it is primarily affected by the shutter speed.
Note that the test chart was illuminated with a very faint green LED light for this test.
The results here are somewhat surprising. At first glance, it looks like there's barely any difference between the "On" and the "Off" setting. However, after a closer look you can see that the Slow Shutter Speed Noise Reduction is successful in eliminating stray hot pixels. Unfortunately, it also seems to alter the white-balance slightly and remove detail in contrasty areas. Therefore, unless you're shooting in Bulb mode at shutter speeds above 30 seconds, we recommend that you leave this setting off, shoot RAW, and clean up any inconsistencies in your favorite photo editor.
In conclusion, the regular High-ISO Noise Reduction system seems to handle sensor noise very well. We recommend leaving that setting on "Auto". Slow Shutter Speed Noise Reduction seems to yield a degraded image, however, so we recommend recommend avoiding it. Further tests outside of the scope of this review would be appropriate to see how the Slow Shutter Speed Noise Reduction system works for scenarios with even less light, and those requiring Bulb mode.