Pentax K-5 Review
Overview
The Pentax K-5 is a feature-packed DSLR that we recommend for serious amateur or professional photographers; beginners should turn toward the Penrax K-x or K-r. The K-5 body is priced at an MSRP of $1599.95 (update as of September, 2011: MSRP reduced to $1499.95, $300 rebate launched), making it the most expensive Pentax K-mount DSLR since the *ist D. It is still much cheaper than comparable competing cameras, however, and continues Pentax's tradition of delivering compact & lightweight DSLRs and good value for your money. The K-5 can be purchased in a kit with the 18-55mm weather-resistant lens for $1749.95 ($1649.95 - $300 as of September, 2011), and in late November, 2010, we expect to see the new Pentax 18-135mm hit the shelves, as well as come in a bundle with the K-5 (update as of September, 2011: no such kit has been offered in the US).
Since the K-5 body features weather-sealing, we recommend you purchase at least one lens from among Pentax's weather-resistant lineup: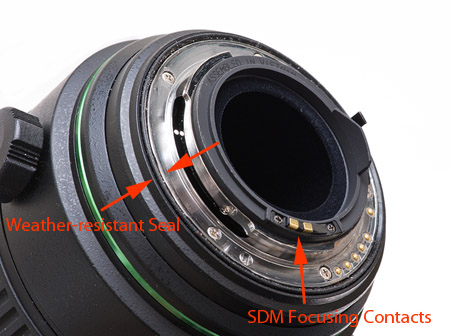 Weather-resistant lenses include special seals and coatings that protect them from rain and dust. The DA* lenses, as well as the upcoming 18-135mm lens, also feature SDM autofocus technology.
Currently, B&H Photo, an authorized Pentax retailer, is offering a $120 discount on the K-5 body ($1485.99 total), so we recommend you take advantage of that offer while it lasts! There have also been rumors of the availability of rebates on the K-5 within the US, as such rebates have already been made available in the UK, but no official statements have been made by Pentax USA to confirm this.
What's in the box
The K-5 comes elegantly packaged in a box designed just like that of the Limited Silver K-7, featuring a white lid with silver lettering rather than the standard design in black. We are not sure why this is the case, but chances are that Pentax decided it was financially wiser to recycle a current design rather than come up with a new one. Thus, K-5 owners will be able to feel a slight degree of exclusivity as they unbox their camera!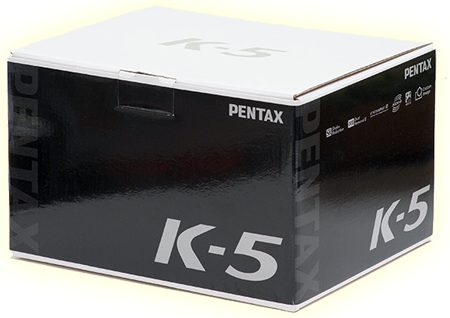 In the box, you will find Pentax's usual assortment of accompanying camera accessories: the manual, software CD (which includes the Pentax Digital Camera Utility 4.30), body and viewfinder caps, camera strap (O-ST53), USB (I-USB7) and AV (I-AVC7) cables, D-LI90 lithium-ion battery, and charger (D-BC90) with a country-specific power cord. While it might be tempting to get started with the camera right away, we recommend that you first charge the battery fully and install the strap, so that you don't risk accidentally dropping that camera and ruining your investment!

External Controls
Below you will find all of the K-5's numerous external controls clearly labeled.