Pentax K-5 Review
Pentax K-7 vs K-5
What's new since the K-7
The K-7 suffered from arguably sub-par image quality due to it's relatively old sensor; however, the K-5 makes up by delivering best-in-class sensor performance. That's right- the Pentax K-5's sensor scored higher than any other APS-C DSLR when tested by DxO Mark, and it also beat both the Canon 5D Mark II, and the Nikon D700 full-frame models. Most excitingly, the K-5's dynamic range performance seems to be exceptional, with about two stops of expanded sensitivity compared to previous Pentax models. This means that when photographing K-5, more detail will be retained around dark and bright areas of the photograph, resulting is a more natural and easy-to-manipulate image.
While the K-7 only featured a 100-6400 ISO range, the K-5's has been expanded to 80-51200. Not only is its top sensitivity 3 stops higher, but its noise handling has also been overhauled. Through our tests, it appears that the overall image noise levels are over two stops lower on the K-5 than on the K-7, meaning that ISOs as high as 6400 can now "comfortably" be used to deliver high-quality results, and that, at lower ISOs, the K-5's sensor also delivers much clearer images. That's not to say that ISOs beyond 6400 are unusable however, as we were also surprised to see that ISO 12800, 25600, and 51200 still delivered manageable levels of noise. For a more detailed treatment of the K-5's high-ISO performance, please refer to our ISO tests later on in the review. We've also done a side-by-side comparison with the K-7 to illustrate the jump in image quality.
The Pentax K-5 features a 7 FPS shutter- a 1.8 FPS improvement over the K-7. At maximum FPS, the K-7 could take up to 40 JPEGs and 17 RAWs in continuous mode; the K-5 can take about 34 JPEGs and 26 RAWs (after the v1.01 firmware update). We believe that the physical buffer size is the same, and thus, the JPEG capacity is smaller due to the K-5's larger filesize. Firmware improvements account for the increase in the RAW buffer. In "Lo" mode, the K-5 can shoot indefinitely in JPEG at 2 FPS, which the K-7 can do the same at 3FPS. We hope that Pentax can address this through firmware in the future.
One aspect of the Pentax DSLR system that has always been criticized is its autofocus speed. With the K-5, luckily, that's no more! The new SAFOX IX+ AF system, the same that was deployed in the $10,000 645D medium format body, features enhanced focusing algorithms, a more sensitive focusing sensor, and a light wavelength sensor that work together to speed up focusing and eliminate "hunting" as much as possible, especially in low-light scenarios. Through our tests we found the K-5 AF system to be remarkable. As advertised, it focuses faster and more accurately than the K-7, and is comparable to the other brands. We found that SDM lenses still focus slower than comparable screwdrive lenses (by about 10%) , but on the bright side, continuous autofocus for action photography is more responsive and stays on-target, and lamp-assisted focusing in the dark is practically perfect. The camera fires a burst of light, gets close to being in focus, and then fires a second burst and locks on. It only has trouble locking onto surfaces with little contrast, but that is to be expected of all cameras. The K-5 has a dedicated auto-focus assist lamp just like the K-7. It emits a green light aiding autofocus in low light situations. It work s in AF.S mode only, not in AF.C mode.
A few minor changes have been made to the K-5 body, all of which can be seen as being in response to user complaints about the K-7. The mode selection dial has been made bigger so that it is easier to move, the AF mode selection button has been redesigned to be easier to operate, and the RAW button can now be used for more than just switching RAW modes, so that it is of use to photographers who don't care about switching between JPG and RAW functionality. Furthermore, several exciting additions have been made to the firmware, which are described below.
Slow shutter speed noise reduction
can now be turned off also for exposures beyond 30 seconds. This feature is by the way shared with the K-r.
High ISO noise reduction
can be customized for each individual ISO setting, or one can use the same setting throughout or let the camera determine the setting based on the ISO value, sensor temperature and other factors. This feature is also shared with the K-r.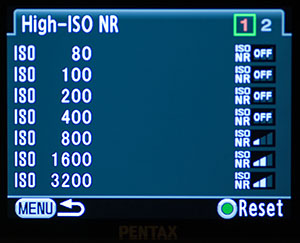 Five User modes:
Five sets of shooting parameters can be saved and easily recalled. The five sets can be given user defined names.
Customizable Auto-focus Function:
AF.S and AF.C can be customized for focus priority or release priority.

Two shot bracketing:
If you only need two shots when bracketing this mode can now be selected and you avoid having to delete that superfluous third image.
A 3D-enhanced electronic level
that was introduced with the 645D has been installed in the K-5. The level can not only detect if the horizontal edges of the sensor are aligned horizontally, but also if the sensor plane is vertical and not tilted forwards/backwards.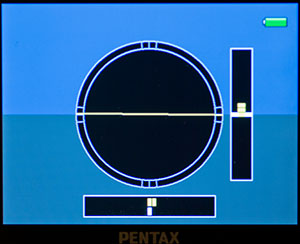 Live View Focusing Aid:
When using contrast autofocus in Live View, the image on the screen is enlarged during the focus operation so that correct focus can be verified.
Cross Processing:
Cross Processing simulates what happens when a film is developed in the wrong chemicals. We have some difficulty understanding what is hot about this new feature on a camera aimed at serious photographers but take a look at these sample images and form your own opinion.
HDR Capture with Auto-align:
In HDR capture mode the K-5 takes three exposures from -3EV to +3 EV of the meter reading and combines these into one high dynamic range image. This is best done using a tripod but the auto-align feature, which is new on the K-5, can correct for minor misalignments of the images in case the shots are taken handheld.
Digital Filters:
A filter can be applied when taking a picture in JPG format. That was also possible on the K-7, but the K-5 adds more control over the filter effect, and a color filter has been added for the movie mode. Perhaps these filters are mainly for creating fun results and not that useful but here they are anyway.
Toy Camera: Shading level, blur and tone break Red/Green/Blue/Yellow can be adjusted
Retro: Toning can be adjusted and a frame added
High Contrast: Five levels of adjustment
Extract Colors: The K-7 could extract one color only, the K-5 can extract two. The remainder of the image will be rendered monochrome
Soft: Blurs the image
Starburst: The K-5 has several options for the look of the highlights, the K-7 only had one
Fishheye: Simulates the effect of a fish-eye lens
Custom: Create a custom filter by adjusting the eight filter parameters: High Contrast, Soft Focus, Tone Break, Shading Type, Distortion Type, Distortion Level, and Invert Color
Color: This is new to the K-5 and only for use in Movie mode. 18 combinations of color and density
In our view a better option is to apply the filter effects
after
the image is captured. The changed image can be saved as a separate file and the original image will be available for further experiments with the filters. In addition to the above list of filter, these filters are available after an image has been captured:
Monochrome
Color: The color filter can be used outside of movie mode
Sketch: Creates an image that looks as if drawn with a pencil. New to the K-5
Water Color: Creates an image that looks as if painted
Pastel: Creates an image that looks as if it drawn with a crayon
Posterization. New to the K-5
Miniature
Base Parameter Adjustment: Lets you adjust brightness, saturation, hue, contrast and sharpness