Pentax KP Review
Movie Mode
The Pentax KP offers a dedicated movie mode which is well-suited for casual or semi-professional video applications. Videos are saved in the H.264 .MOV format and can be captured in full HD (60i, 50i, 30p, 25p) or HD (60p, 50p), with clips up to 25 minutes. The image area is cropped to to the 16:9 aspect ratio, or roughly 1.3x the sensor area. You have the choice of recording sound via the built-in stereo microphone, or an external microphone.
The superb high-ISO performance that we saw in the KP's still photos carries over to its video mode. On the KP, you can select ISOs up to 25,600 in videos— up from a prior maximum of 3200 on earlier crop models. Even the full-frame Pentax K-1 maxes out at ISO 12,800 for videos. What's most impressive about this ISO limit is that the level of noise only increases marginally as you increase the ISO. In other words, all settings are perfectly usable in practice.
We later compared the KP to the K-1 at ISO 3200 and in full HD mode, and found that the latter only marginally outperforms the KP in terms of detail and dynamic range, despite its larger sensor. This shows that the new noise-reduction hardware in the KP is really doing its job! Click on either frame grab below to compare the image quality at full size:
The full videos follow.
However, like other recent Pentax cameras, the KP suffers from strong video compression which results in a relatively low bitrate in its output files. Since raw video cannot be captured through HDMI, you are limited to making the most of what the camera outputs. The camera does give you some flexibility with respect to controlling the image quality: you can apply digital filters, change the image color profile, and set the exposure fully manually or semi-manually (if desired). All the basic exposure modes (P, Tv, Av, and M) are available through the main mode dial while in video mode. These features will satisfy many users, but those who crave exceptional video image quality will likely be disappointed.
For the best image quality, we recommend that you disable stabilization while shooting videos. Pentax's Movie SR is currently purely electronic and introduces a "jello effect" which can prove more distracting than beneficial. During a February, 2017 interview, Pentax representatives hinted that mechanical stabilization (using the sensor Shake Reduction system) would be enabled in the KP through a firmware update. As of mid-2017, this has not been done, though.
Speaking of HDMI, due to its small body size the KP does not have a dedicated HDMI port. Instead, a SlimPort USB to HDMI adapter is needed. While we attempted to test this feature ourselves, the SlimPort adapters we obtained did not appear to function with the KP. We will update this section with more details once we are able to confirm which adapters are in fact supported, and the quality/nature of the video.
Continuous Autofocus During Video Recording
Thanks to its hybrid CDAF system, the KP offers continuous autofocus during video capture. This feature is only available in conjunction with compatible lenses, including all DA-series DC lenses and PLM lenses (i.e. the new DA 55-300mm f/4.5-6.3 ED PLM WR RE). With other lenses, you can only access on-demand autofocus, which is slow but more decisive.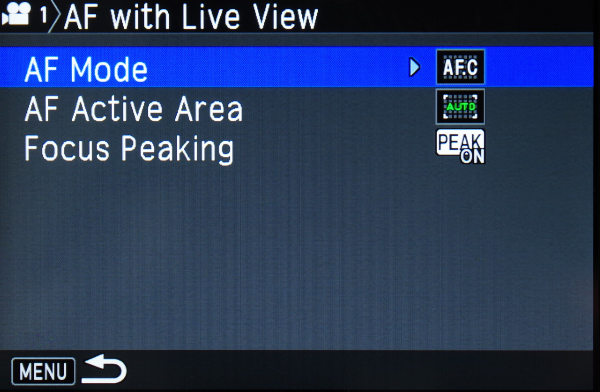 AF.C is now available in the video AF menu

To engage the AF.C mode in video recording, you need to either bring up the control panel by pressing the INFO button, or go into the video menu and the AF with Live View sub-menu. Continuous autofocus works with the automatic multi-point, SEL, and spot-focusing modes.
We previously tested this combo in the field with the K-70 and found that while it does indeed focus continuously, it's not very good at it. Our subject (a fast-moving dog) was out of focus more often than it was in focus, and the system hunted constantly. Autofocus tracking was a miserable experience, and the system would even hunt when trained on a static subject. We found the KP to behave just like the KP following a repetition of a similar test.
Focus Peaking and Magnification
As in stills live view, focus peaking and magnification can be used for precise manual focusing. These features are not available during video recording.
Verdict
While we're happy to see Pentax continuing its efforts to improve the brand's historically sub-par video options, it's clear that they still have some way to go to get anywhere near what Canon, Nikon, Panasonic, and Sony can offer. The biggest improvement in the KP was the increase of the maximum video ISO and reduction of overall noise. If Pentax were to enable to mechanical stabilization system, it would further increase the quality of hand-held videos.