Pentax KP Review
Performance & Burst Mode
In terms of general operating speed, the Pentax KP feels just as a modern camera should. The camera packs the latest PRIME IV image engine— the same used in the flagship Pentax K-1 full frame. It is thus quick to start up, shows no discernible shutter lag, offers a smooth framerate in live view, and has a responsive, easy-to-navigate user interface. In burst mode, the camera rarely shows the hourglass and doesn't lock up as long as a fast SD card is used. All in all, the KP virtually never keeps you waiting!
We've observed that the KP is faster to delete files than previous Pentax models. Single file deletions no longer show the hourglass, and bulk deletions take less time.
Burst Shooting
The Pentax KP has an advertised maximum framerate of 7 FPS in Continuous Hi mode. Based on our testing, this specification is correct when shooting through the viewfinder. However, in live view, the camera shoots at approximately 8 FPS— you can clearly tell it is faster if you pay attention to the shutter clicks. In a 2-second interval, we were able to capture two more photos in live view than through the viewfinder while shooting a burst. Pentax representatives at a recent trade show confirmed this discrepancy, though we were never provided with an official figure for live view framerate. Of course, we can't complain about better-than-advertised performance!
One weak point of the KP (and all other non-flagship Pentax bodies) is that its image buffer is comparatively small. Based on our testing, the APS-C flagship-series K-3 II captures close to twice as many JPEG files, and about three times as many RAW files before its buffer fills. However, the KP still lets you shoot fairly long bursts in JPEG mode, even at maximum FPS. Refer to our burst test below:
File Type

Pentax KP

PentaxK-3 II

JPEG
(Fine)
37 frames
17 seconds
55 frames
12 seconds
RAW
9 frames
12 seconds
24 frames
19 seconds
RAW+
8 frames
14 seconds
24 frames
26 seconds
Maximum number of frames & write time
in a single burst in Continuous High mode (viewfinder)
To further increase the number of photos in a burst, you can reduce the JPEG quality to normal or basic, or shoot at a slower framerate (Continuous Medium or Low).
Our framerate test was conduced with a U3-rated Sandisk Extreme Pro SD card (95Mb/s read and 90Mb/s write). This card delivers optimal performance with the KP, as it delivers the fastest speed that the UHS-I standard supports. The KP does not support faster speeds offered by the newer UHS-II bus, but can of course be used with such cards since they are backwards-compatible.
We measured the actual average write speed of the KP to be around 27 Mb/s. This is somewhat slower than what we found with the K-3 II, but around the same speed as the K-1.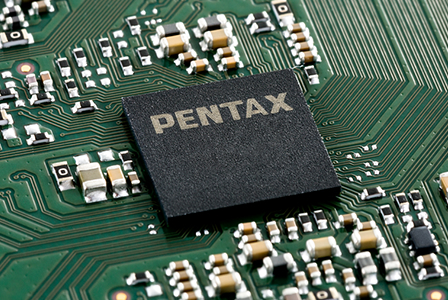 Accelerator unit
In-camera processing functions such as lens corrections, clarity enhancement, or skin tone correction seem slightly faster on the KP than other models— likely thanks to the new "accelerator unit" image processing chip. Still, they add a noticeable amount of overhead to each photo (if enabled) while it is being saved. We therefore don't recommend using these in burst mode as they will greatly reduce the effective framerate, and prevent you from further shooting while data is being processed.
Typical Filesize
With the 24-megapixel sensor, typical JPEGs (at maximum quality and size) range from about 11 to 14 MB, while RAWs (at base ISO) clock in at around 28-32 MB. RAW filesizes will be larger at higher ISOs.

Pixel Shift images take up substantially more space in RAW form, though the JPEGs aren't much larger than normal. You can expect file sizes of about 110 MB for Pixel Shift RAWs.
The KP supports both PEF and DNG file formats for RAW files. The contents are identical, though the latter format is generally easier to open since it's a universal standard developed by Adobe, and does not require any camera-specific profiles.
Shutter Life
The KP's shutter is rated for 100,000 actuations. This is short of the K-3 II's rating of 200,000, but it still shows that Pentax expects the camera to be more durable than lower models such as the K-70 or K-S2.
Desktop File Transfer
For those who don't have a fast SD card reader, or if you don't want to remove your memory card from the camera, you can transfer files from the KP to your PC using a USB2 connection. The Micro B USB cable must be purchased separately. Once you connect the camera to your computer, power it on and it should appear as a mass storage device in your operating system.
The overall transfer speed will depend on both your memory card speed and your desktop's bus/drive speed. However, since the USB2 standard is not very fast compared to the newer USB3 (unavailable on the KP), you should only expect transfers at about 19 MB/s. This is generally not an issue since the KP's files are not that big.
Dust Removal
Like the flagship series of Pentaxes, the KP features ultrasonic DR II dust removal, which is practically inaudible. This is a step up over the K-70 and older entry-level models, which make a rumbling sound during dust removal.
Battery Life
The KP takes the same D-Li109 rechargeable battery as the K-70, K-S2, K-S1, K-50, K-30, and K-r. This is a smaller and lighter battery than what's used in the flagship series and is good for 400-500 shots. If you want to extend your camera's battery life, you can purchase the optional D-BG7 battery grip which can carry a larger D-Li90 battery, or 6 AA's. The battery in the grip lasts roughly twice as long as the battery in the camera, so combined you can expect upwards of 1200 photos. When using the grip, we always recommend to drain the grip battery first so that there is always sufficient voltage for the camera to power itself on. This way, you also don't have to remove the grip as often.
A nice feature of the KP is its auto power-off setting. By default, the camera will turn itself off after one minute of inactivity, so if you accidentally forget to turn it off, your battery won't be drained. The auto power-off setting can also be disabled or set as high as 30 minutes.
Verdict
Thanks to the latest hardware, the KP does not disappoint when it comes to performance. While heavy shooters might be discouraged by the small battery in the body, this battery helps keep the overall weight of the camera low, and the optional battery grip can be used whenever more power is needed.
In burst mode, the KP does a fine job with its quick framerate and it has a fairly large buffer for its class, though in RAW mode bursts are limited to just over one second, and thus fall short of flagship models.
Overall, the KP feels responsive during everyday use and outside of burst mode, its general speed pulls ahead of the aging K-3 flagship series thanks to the new hardware.