Aug 27, 2011
Pentax K-r Review
Introduction
Welcome to our second in-depth Pentax DSLR review! We hope you enjoy it as much as you enjoyed our K-5 review!
Overview/General Remarks
Announced on September 9, 2010, the K-r is the new entry-level DSLR, designed with the new user in mind. The design and features are aimed towards the person who is beginning with their first DSLR experience from a point and shoot style of camera. The K-r features many of the settings and modes familiar to the point and shoot photographer, as well as the basic, more manual types of settings found on DSLRs aimed at advanced users.
The K-r is essentially the replacement body for the Pentax K-x, but as both cameras are geared for the new DSLR user, to say that the K-r is intended to be an upgrade for current K-x users would not be entirely accurate. It is still the step between compact cameras and the more advanced DSLR body. Keeping this in mind, while some comparisons to the K-x will be made where there are obvious new features added, point-by-point comparisons between the two cameras will not be made. Please see Beginner DSLR · $400-$800 · 10.2-12.4 Megapixels : K-r/K-x/K-m for a point-by-point features comparisons between the two cameras, as well as the K-m, for this information. Other feature-by-feature comparisons can be found at Pentax DSLR Comparison.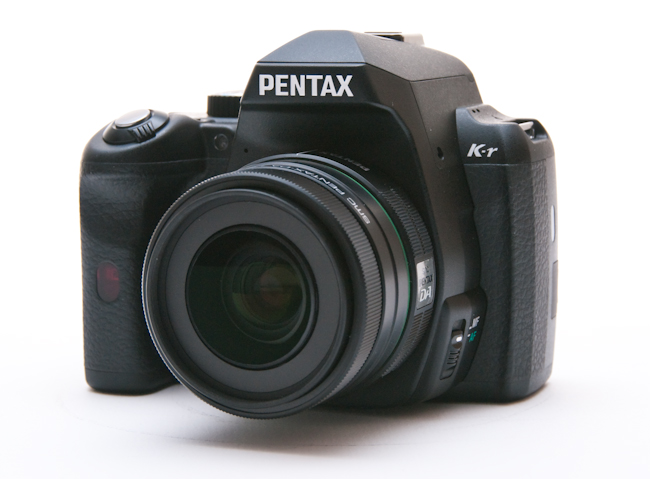 Table of Contents
First Impressions
The K-r is a rather small and lightweight DSLR. As with other cameras in its class, it has the convenience of a point and shoot with the image quality of a good DSLR. There are several scene modes to choose from, with multiple customization options within those modes for some basic control over what the camera is doing. However, when giving control over to the camera to make decisions on how to expose, it seems to be making good decisions usually results in a quality image.
Manual mode is very easy to use: the E-dial controls shutter, iso has dedicated button, then EV button controls aperture. Other modes are similarly controlled--with the rear e-dial and use of the EV/AV button.
There are also some things that could be better designed. The most noticable negative point is that the shutter could be much quieter. While shooting with it in a museum, the sound of the shutter was literally echoing throughout the room. There is also only one remote control receiver, on the front of the body, which can make tripod shooting with the use of a remote a bit cumbersome.
But in spite of these two points, this is a very nice, and deceptively powerful little camera. One feature that Pentax consistantly includes with their cameras that carry scene modes, is that when a scene mode is selected, there is a brief description of what that mode aims to accomplish. This is a fantastic feature, especially for those who are new to photography, or to cameras that give them multiple options, as one is not required to refer back to the manual to determine the use of the various modes. This feature is also found in Pentax compact cameras.