Pentax Q Review
Conclusion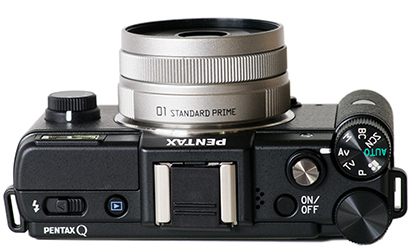 The Pentax Q is qute and definitely has the wow factor - it literally yells "buy me" when you first see it! The Q is a compact, capable and easy-to-use little camera. Its interchangeable lenses cover a good part of the most used range, from a fish-eye to a 100mm (equivalent) short telephoto lens. It is beautifully crafted, a real nice piece of industrial design made from quality materials. The key question, though, is the image quality satisfactory? We have provided a great number of image examples on the previous pages to help answer that question.
The image quality is very good but not quite at the level of what a four thirds or let alone APS-C sized sensor is capable of. The new sensor technology employed in the Q has raised the cap for the image quality possible from a small sensor, but size still matters, and the Q cannot produce the same resolution and low noise as the 8 times larger sensor of our four thirds camera, the Olympus E-PL3. We chose to compare the Q to a four thirds system camera since the price is about the same and this is the closest interchangeable lens competitor in sensor size. Not that we specifically recommend the E-PL3, it is far from user friendly, auto focus is unreliable and there is definitely no wow factor, but there are other, worthier options in this format and prize segment.
One disadvantage of a small sensor (that Pentax tried to solve with blur control) is the inability to create a shallow depth of field. Blur control is not ready for prime time, though - it basically produced arbitrary results.
Auto focus was fast and accurate, somewhat to our surprise since it uses the same technology (contrast detect) found in point and shoot cameras which have never impressed us. Pentax has improved the technology in this area to a level where, while not as fast as phase detect on a DSLR, auto focus is respectably fast and very accurate.
Could the Q be Improved?
Our main complaint with the Q is the lack of a viewfinder. In bright light the LCD monitor is no substitute for a view finder - we found it very difficult to frame an image with any accuracy in the Arizona sun. We would very much like to see either an electronic view finder (which could be an accessory fitting in the hot shoe) or a hybrid viewfinder like on the Fuji X100 (which of course would have to be built-in). The latter is challenging to create in an Interchangeable Lens Camera of course, so we would settle for an electronic viewfinder if we had to.
The other area of improvement is easy to fix: More lenses! A 100mm (equivalent) macro lens and either a 135mm (equivalent) auto focus telephoto lens or a 70-210mm (equivalent) auto focus zoom are on our wish list as is an auto focus version of the 03 Fish-eye lens and 05 Toy Lens Telephoto (100mm eqv.).
Who is the Q for?
The Q is a big step up from a point and shoot digital camera due to its responsiveness and better image quality and it is less intimidating than going directly for a DSLR.
The Q would also be a fine 2nd (or "travel light") camera for Pentax DSLR shooters. Since it largely has the same features and control layout as a Pentax DSLR it is easy to use and switching between the two is no head ache. The prerequisite of course is that you can accept the lower image quality.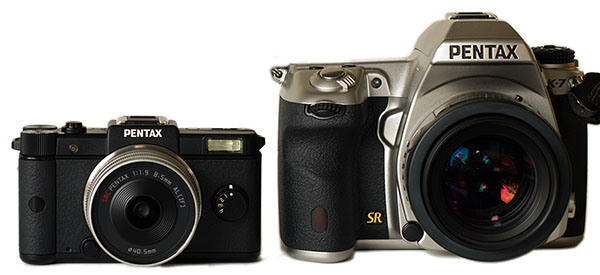 Due to its unobtrusive looks the Q would make a great companion for street photography.
Finally, the Q is a great "party camera". Not only is it an instant conversation piece, it will also deliver much better images and movies than your friends will get from their mobile phones!
Pros and Cons
There are a number of factors to consider in determining the relative worth of the Pentax Q and the Olympus E-PL5 which we used for comparison. At the time of writing the prices were $800 for the Pentax Q with the 01 Standard Prime Lens and $700 for the Olympus E-PL3 with the standard 17mm F2.8 lens. Both cameras are overpriced in our opinion and our Value ratings reflect this. $700 will buy you a Pentax K-r DLSR with a 18-55mm lens which is a much better value.
| | |
| --- | --- |
| Pentax Q | Olympus E-PL3 |
| Design | Build quality |
| Build quality | Responsiveness |
| Handling | Lens selection |
| Menu system and control panel easy to use | Image quality (although not at par with APS-C) |
| Accurate auto focus | In-body shake reduction |
| Built-in flash | Dust removal |
| In-body shake reduction | No view finder |
| Dust removal | Handling |
| No view finder | No built-in flash (although a small external flash is included) |
| Responsiveness can be sluggish | Cumbersome hard-to-read menu system |
| Only two real lenses | Unreliable auto focus |
| Low image quality for a 12MPs sensor | |
Rating
Pentax Q - Overall
| | |
| --- | --- |
| Ergonomics | |
| Build Quality | |
| User Interface | |
| Image Quality | |
| Auto Focus | |
| Responsiveness | |
| Lens Selection | |
| Value | |
| Overall | |
Olympus E-PL3 - Overall
| | |
| --- | --- |
| Ergonomics | |
| Build Quality | |
| User Interface | |
| Image Quality | |
| Auto Focus | |
| Responsiveness | |
| Lens Selection | |
| Value | |
| Overall | |