Aug 27, 2011
Sigma 50-500mm F4.5-6.3 APO OS HSM
Review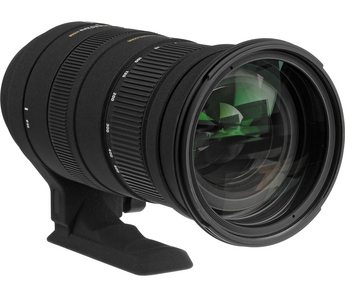 The Sigma 50-500mm APO DG OS HSM F4.5-6.3 is Sigma's latest version of their 50-500mm superzoom lens, commonly known as the "Bigma". Introduced in February, 2010, it replaces the old 50-500mm F4-6.3 EX DG HSM and features a slightly modified optical formula, losing half a stop at the wide end in order to facilitate the new built-in Optical Stabilization (OS) feature. This lens offers an unmatched 10x zoom range reaching all the way into the extreme-telephoto range, and features high-grade image quality in an affordable ($1659) and relatively-compact package.
Table of Contents
What's New
Most importantly, the new version of this lens features HSM autofocusing in the Pentax mount. Sigma's implementation of this seems superior to that of Pentax, and it delivers a fast and quiet internal focusing experience. Secondly, as mentioned above, another distinguishing feature of the new version is the added in-lens optical stabilization, which unfortunately isn't critical on Pentax DSLR's due to the in-body Shake Reduction (more on this in the Handling section) but is still quite effective. However, there is also a third added bonus: Sigma was able to significantly reduce the minimum focusing distance, increasing maximum magnification to 0.32x, up from 0.19x.
Optics
As you can see in the diagram below, the new Bigma, like the old, features 4 SLD (Super-Low Dispersion) glass elements. These elements reduce effective distortion and aberrations, and are quite effective on this lens. The new optical formula consists of 22 elements, 2 more than the old.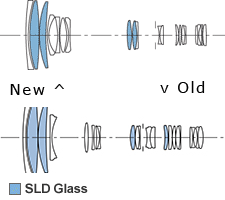 Construction
Although the new version has lost its "EX" designation (perhaps rightfully so, as there are better options for professionals), its barrel is nearly identical to that of the its predecessor, featuring the same tripod collar and layout. The rotation of the zoom ring has been reversed, however, and the new lens is about 320g heavier than the old due to the presence of OS. Lastly, the filter size has been increased to 95mm, up from 86mm. A 86mm step-down ring is supplied and usable whenever this lens is used on APS-C DSLRs (e.g. any Pentax DSLR).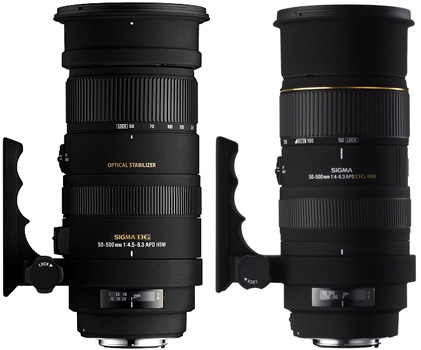 New version (left) vs. old version (right)
Overview
This lens is an excellent choice for wildlife photographers who are frequently on the go and need a flexible zoom range. Its unique zoom range also allows it to double as a landscape lens, although due to its size is not an ideal choice for exclusively this purpose. Finally, it can be used for daytime sporting events. We have observed that this lens is exceptionally sharp and does a very good job of controlling aberrations; thus, the only real sacrifice this lens makes is in its speed. At 500mm, the maximum aperture is F6.3, darkening the viewfinder even in broad daylight. This also means that when it is not bright outside, or when you are indoors, your camera's autofocus system may not get enough light to operate smoothly. As noted in our review of the Sigma 70-200mm F2.8, OS systems and high-ISO shooting is still not a permanent replacement for faster aperture for indoor action photography.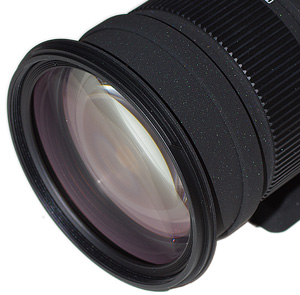 The 95mm filter thread means that filters for this lens will be expensive; quality filters of this size generally cost $100-$200. The included step-down ring, usable on whenever the lens is mounted on an APS-C DSLR, will allow you to use cheaper (but harder to find) 86mm filters. However, 86mm polarizing cannot be used, as they will cause vignetting.
Specifications
Focal Length
50-500mm (approx.)
Maximum Aperture
F4.5 @50mm - F6.3 @500mm
Angle of View
46.8 - 5 degrees
Minimum Focusing Distance
0.5m @ 200mm
Maximum Magnification
1:3.1
Minimum Aperture
F22
Aperture Blades
9 (rounded)
Mount Type
Pentax KAF3 (HSM-only autofocus)
Aperture Ring
No
Quick-shift
Yes
Internal Focusing
Yes
Optical Stabilization
Yes
Full-Frame Support
Yes
Filter Thread
95mm
Dimensions (DxL)
104.4 x 219mm
Extended Length
306mm
Weight
1970g (4.34lb)
Supplied Accessories
Carrying Case
Petal Lens Hood (LH1030-01)
Step-down Ring (95mm -> 86mm)
Shoulder Strap
Tripod Socket (TS-31)
Teleconverter Support
APO Teleconverter 1.4x EX DG
APO Teleconverter 2x EX DG
While the above teleconverters can be with with the Sigma 50-500mm in the Pentax mount, HSM (autofocus) and OS will not function! The lens is also available in Canon, Nikon, Sony, and Sigma mounts with OS and HSM support natively and with the teleconverter.
Handling
As would be expected of any 500mm lens, this lens is large and quite heavy.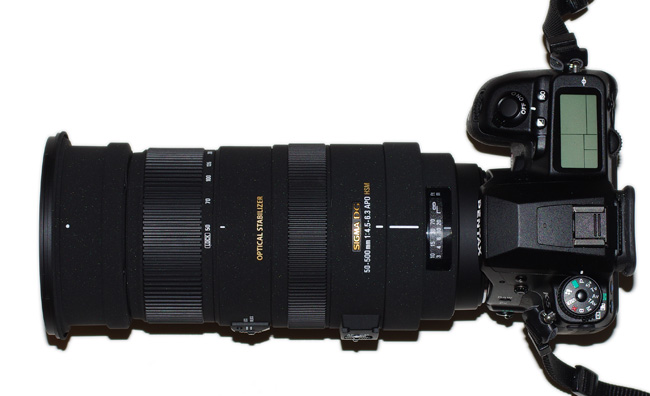 Its diamater of over 10cm makes it very easy to hold, however, and its tripod mount doubles as a carrying handle. Thus, this lens can be handheld, and even works quite well handheld for nature photography. You will receive a lot of attention when using it, however, as when zoomed all the way out, it stretches by another 9cm:
Unfortunately, the lens itself does not have strap lugs, meaning that you will have to hold onto it while carrying it. The camera strap alone doesn't balance out the weight of the lens and the camera, and strains your neck with the full combined weight of your system.
This lens feels very well-balanced when mounted on a tripod, and has a turnable and removable tripod collar. The collar has no notches, however, and provides no friction while the barrel is being rotated, making it hard to finely adjust the position of the lens or align it vertically.
Unlike the tripod collar, we found that the zoom ring is too heavy; there's too much friction, making it burdensome to zoom back-and-forth. This also significantly slows your ability to zoom during action photography. This isn't surprising, however, as by zooming you move a very large part of the lens. Internal zooming isn't to be expended of a lens this size.
We compared the Sigma to the Pentax F* 250-600mm F5.6, which does have internal zooming; however, its more-than-doubled weight is a large price to pay for this, as its requires a very sturdy tripod. Nevertheless, the Pentax professional zoom makes it possible to go from 250 to 600mm in a fraction of a second, a feature which serious sports photographers may prize. The lens that comes closest to it that's currently in production is the new Sigma 120-300mm F2.8, which when used with the dedicated 2x teleconverter corresponds to a 240-600mm with the same constant F5.6 aperture. Thus, this zoom may be a good alternative to the 50-500mm for professionals.
A lock switch is provided that keeps the lens locked at the 50mm position, but it doesn't work at any other focal length.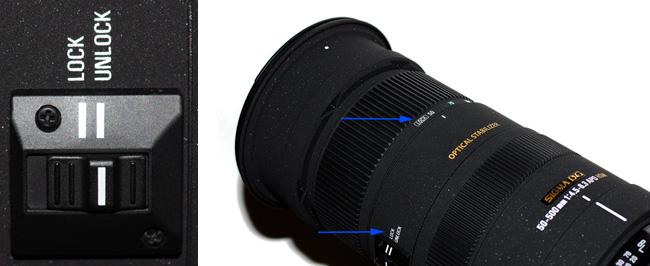 Just like on other OS HSM lenses, the in-lens optical stabilization can be enabled by using the first switch on the left side of the lens. Manual focusing mode can also be engaged here, also this is seldom needed due to the presence of Quick Shift.
The built-in OS mechanism adds weight to the lens and drains additional power when used. It is for the most part redundant given the presence of in-body Shake Reduction (SR) in all Pentax DSLRs. While most reviewers find that SR isn't as effective as Pentax claims (providing a 1-2 stop benefit at best rather than the advertised 4-stop benefit), we believe that SR can safely be used with this lens to achieve sharp photos, and that such claims are made in order to increase sales of OS lenses.
After conducting some practical tests, we found that the in-lens OS system was highly effective at 300-500mm, arguably more-so than the in-camera SR. However, we also found it to be less effective than SR during rapid lens movement, possibly introducing additional blur. Sample photos are provided later in the review.
One thing that in-lens stabilization provides that SR does not is a stabilized image in the viewfinder. However, being long-time Pentax photographers, we do not believe this is beneficial. With OS on, the image in the viewfinder has a tendency to "jump around" at random intervals whenever the OS system realigns itself, making it difficult to compose photos that need to be focused on a single spot. We found this to be a significant annoyance, and reverted to in-body SR after our OS testing was complete.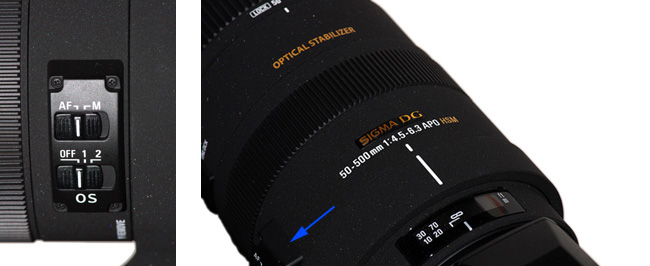 Due the heaviness of the zoom ring, looseness of the tripod collar, and lack of strap lugs, the Sigma 50-500mm loses 2 points for handling in our overall rating. Its ability to be hand-held cancels out its inconvenient length when zoomed all the way out.
Autofocus
As is optimal for rapid focusing, this lens has a very short focusing throw and its focusing motor is located at the very bottom of the lens so that it only acts on the lighter lens elements.
The focusing ring is located directly above the tripod collar, and uses gears to make very fine adjustments to the focus possible.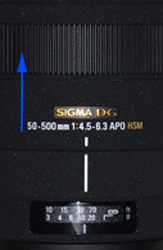 The Sigma 50-500mm incorporates Pentax's "Quick Shift" technology, allowing you step in and make manual adjustments to the focus at any time, without having to disable AF on the lens or on the body. It focuses internally and does so very quickly and quietly, and thus its autofocusing performance is on par with the best available technology for the Pentax system at the moment. We did take off one point in our overall autofocus rating, however, due to the presence of hunting in low ambient light (which is caused by the slow aperture).
Aberrations and Colors
Prior to reading on, please note that since all Pentax DSLRs currently feature cropped APS-C sensors, we are evaluating the optical properties of this lens based solely upon its performance on the Pentax digital system. It is a full-frame lens, however, and thus can be used with Pentax film SLRs or future (we hope) full-frame Pentax DSLRs. Its performance on full-frame bodies, especially in the corners, is expected to be worse than its performance on APS-C bodies, which, fortunately, we found to be very positively-surprising! Do also note that our tests are based on this lens's performance in practice rather than in a controlled lab environment, and that you should pursue other reviews for further technical data.
The Sigma 50-500mm quickly exhibits purple fringing in bright, contrasty, or overexposed areas of the image in any part of the frame. However, the fringing is almost always very minor, and hardly noticeable when not zoomed in to original dimensions. Therefore, it can also easily be corrected in Photoshop or other photo editing software, and isn't a big concern. Fringing appears in the corners of the image soon before it does in the center.
Minor distortion and worse fringing is also present near the edges and corners of the frame, especially at the extremes of the zoom range at larger apertures. Therefore, we recommend shooting stopped-down and at around 450mm rather than 500mm to get the best image quality. Distortion falls to acceptable levels at F8 and below, but never goes away fully. Furthermore, fringing can easily be observed in out-of-focus areas of the image, making the bokeh less appealing. Vignetting did not appear to be a problem.


Sigma @ 400mm F8, 400mm F11, 500mm F8, 500mm F11
Below is an example of chromatic aberration in the lower-right corner of the frame in a properly-exposed photograph taken in bright daylight.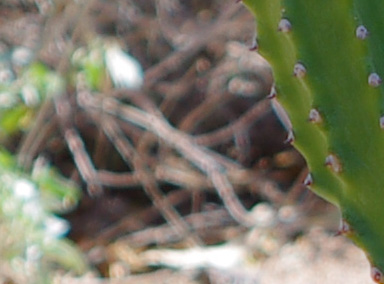 Distracting fringing in out-of-focus areas
The colors this lens delivers are sometimes washed-out, and it is prone to overexpose images. However, this again is to be expected of such a zoom, and can be corrected in post-processing software. Refer to our sample photos for details.
Finally, we'd like to note that the true focal length of this lens is somewhat short of the advertised 500mm. We found that at the long end, the focal length is approximately 458mm, and at the wide end, approximately 60mm. The discrepancy at the tele end is visible in the image below.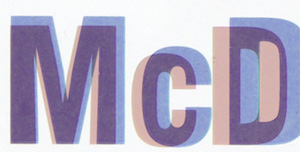 Pentax 250-600mm (blue), Sigma 50-500mm (red) @ 500mm
We are giving this lens an overall score of 6 for this category. Aberration control, while not perfect, is certainly better than that of many other superzooms and thus we only took off one point for it. An additional two points were lost due to distortion, and a fourth due to poor color reproduction.
Sharpness
The Sigma 50-500mm's sharpness is superb for anything nearby, up to several hundred feet. The lens is surprisingly sharp at all apertures, which isn't typical of such extreme zooms. Whether you're shooting hand-held or on a tripod, you'll see this lens deliver nice, crisp images.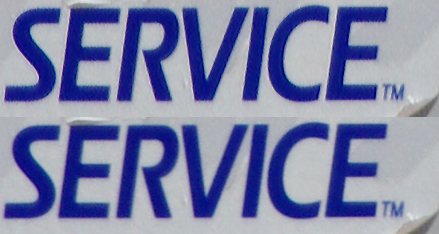 Distance: ~60ft | 500mm @ F6.3 | Bottom: Original 100% crop, Top: Post-processed
Below are a few sample photos illustrating good sharpness:
The only negative thing we noticed is that the lens's resolution isn't too great at longer focal lengths. While objects that are relatively nearby render perfectly, things in the distance may appear severely blurred or distorted, even at narrow apertures. While this may in part be due to shallow depth of field, we believe it's mostly caused by low resolution. For example, as you can see in the comparison below, not much detail is gained by shooting the same distant cactus at 500mm than at 250mm. Keep in mind that this is not a concern for close-ups.
Because of the resolution problem, we took two points off our otherwise-high sharpness rating.
Bokeh
The weakest aspect of this lens is its bokeh. Similarly to sharpness, bokeh is good for nearby objects, but can become very ugly in the distance or when fringing occurs in the background.
The full-size sample photos below illustrate this very clearly:
Value
At only $1659, the Sigma 50-500mm is a great buy, considering that it provides significantly more reach than any Pentax lens currently in production, and is just about as fast as the Pentax DA* 300mm F4 (the longest telephoto from Pentax) used with a teleconverter. Its zoom range is extremely flexible and allows for a broad range of compositions and setups, and, best of all, it can be hand-held!
To qualify just how much flexibility this Sigma lens provides, imagine that you also own a Pentax DA* 16-50mm. Combined, these two lenses alone would have you covered from 16 through 500mm!

Sigma recently announced plans to modernize all its lenses by making them weather-sealed. Weather-resistance is one feature we would have really liked to see in this lens, and can only remain hopeful that a future version will include it. We would have also liked to see some Sigma HSM teleconverters for Pentax. The presence of these two things would have bumped our value rating up to a 10.
Who Is It For?
The 50-500mm is an ideal choice for anyone who needs good image quality and a long reach but wants to travel light. It's especially good for wildlife photographers, and it can also be used for sports, although a larger maximum aperture would be desirable.
If you wish to use a larger variety of lenses and already own lenses covering you through short-telephoto, you might want to into the Sigma 150-500mm F5-6.3 as an alternative to the 50-500mm. While its lower magnification suggests that it's based on a previous-generation optical formula, it can be purchased new for only $1069.
If you are a professional, do a lot indoor photography, or are looking to get the absolute best image quality and handling, however, this lens isn't for you. Consider the Sigma 120-300mm F2.8 as an alternative, as well as the Sigma 500mm F4.5 prime.
If you need weather-sealing, the closest you can come to this lens is the Pentax DA* 60-250mm F4.
Conclusion
We are happy to see that Sigma's second version of the 50-500mm introduced HSM in the Pentax mount and lowered the minimum focusing distance. It's a great all-around telephoto lens for the more serious amateur, and performs very well despite its large and unusual zoom range. Have something to add to our review? Post your own!
| | |
| --- | --- |
| Sharpness | |
| Aberrations | |
| Bokeh | |
| Autofocus | |
| Handling | |
| Value | |
| Overall | |