Aug 27, 2011
Sigma 8-16mm F4.5-5.6 DC HSM
Review
This is an in-depth review of the Sigma 8-16mm f/4.5-f/5.6 DC HSM lens; the model tested had the Pentax-K mount.
Introduction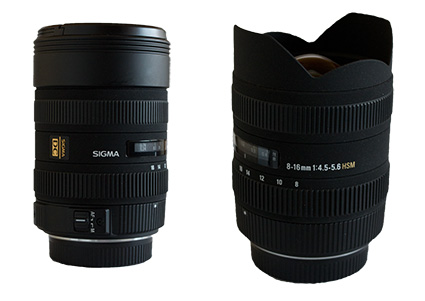 The Sigma 8-16mm f/4.5-5.6 DC HSM is presently the widest rectilinear lens out on the market: at 8mm it is field-of-view is 114°. This means that if a 1.70m (5'7'') person with arms wide open sits away from it near its closest focusing distance of 24cm (9.4 in) we will see in the frame the fingertips of both hands! It is a DC lens, meaning it is for APS-C format sensors, unsuitable for full format (35mm).
It is likely a more useful lens for interior rooms, when you want to fit a large spread of people in the frame or would like to create the impression of a large ambient for realestate. Two other applications comprises creative purposes: photographing near subjects ( ~ 30 - 100 cm away) against a background with more than usual exaggerated size of the subject and the effect of converging vertical lines. It is unlikely that you will find the Sigma 8-16mm useful at its lower end of the zoom range for landscape photography since from 8-12mm it will cover a significant part of the ground close to your feet (less than 1 m away from you). Thus for landscape in its widest setting its use seems to be limited to the occasion when you are very close to the edge of a cliff. Of course, that does not stop you from using the lens at 14mm-16mm for general landscapes. But even for this zoom range an inconvenient is that the lens does not accept filters. The lens cap does not attach directly to the lens, rather you first need to slide in a plastic tube that fits around the hood. At the end of this tube you will find what looks like a 72mm filter thread, but placing the tube in front of the lens will produce a circular black halo around all pictures which is mostly pronounced at 8mm. In the gallery we present the halo for 8mm , 12mm and 16mm. Still, you might be able to use filters with an universal ring plus a holder, available from manufacturers like Cokin and LEE.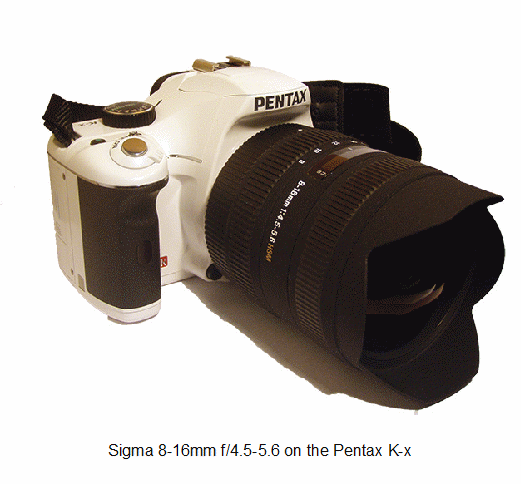 Although focusing is not critical for such wide angle lens, it comes with an ultrasonic motor (denoted SDM by Pentax in its lenses). This means the lens will not autofocus in bodies older than the Pentax K10, such as the *ist series, K100D and K110D.
Build quality is characteristic of Sigma's EX lenses, albeit this one is not officially an EX lens. It fits somewhere between the build quality of Pentax DA and DA Limited lenses, tending more to the latter. The outside barrel is made from metal with plastic controls.
The front element is in a slightly protruded bulb shape and the lens does not accept any filters by default. The built in hood design seems good enough to protect the front lens element though.
Now a note about the lens cap. For this lens we've found the lens cap plus tube combination very convenient when exchanging the lens: it is even easier than clip-on caps since all you need is to slide the front tube into the lens hood.
Features in a Nutshell
8mm minimum focal distance, 114° angle of view.
Focusing via built-in ultrasonic motor.
Built-in fixed petal shaped hood.
Quick-shift manual focus override.
Specifications
| | |
| --- | --- |
| Optical construction | 15 elements in 11 groups |
| Angle of view | 114.5 to 75.7 |
| No. aperture blades | 7 |
| Min. focus distance | 24 cm (9.4 in) |
| Max. magnification | 1:7.8 |
| Dimensions | 75 x 106 mm |
| Weight | 555 g |
| Filter size | Does not accept filters |
| Hood | built-in, petal shaped |
| Auto focus | Ultrasonic motor |
| Min. aperture | f22 |
Sample Photos
Full-size sample photos are available for viewing here.
Angle of View
The unique feature of this lens is its angle of view. Below we show the difference in angle of view along the 8 - 14mm focal range. The central prominent white desk in the picture was somewhere like 1.2 - 1.5 m (4' - 5') away from the camera.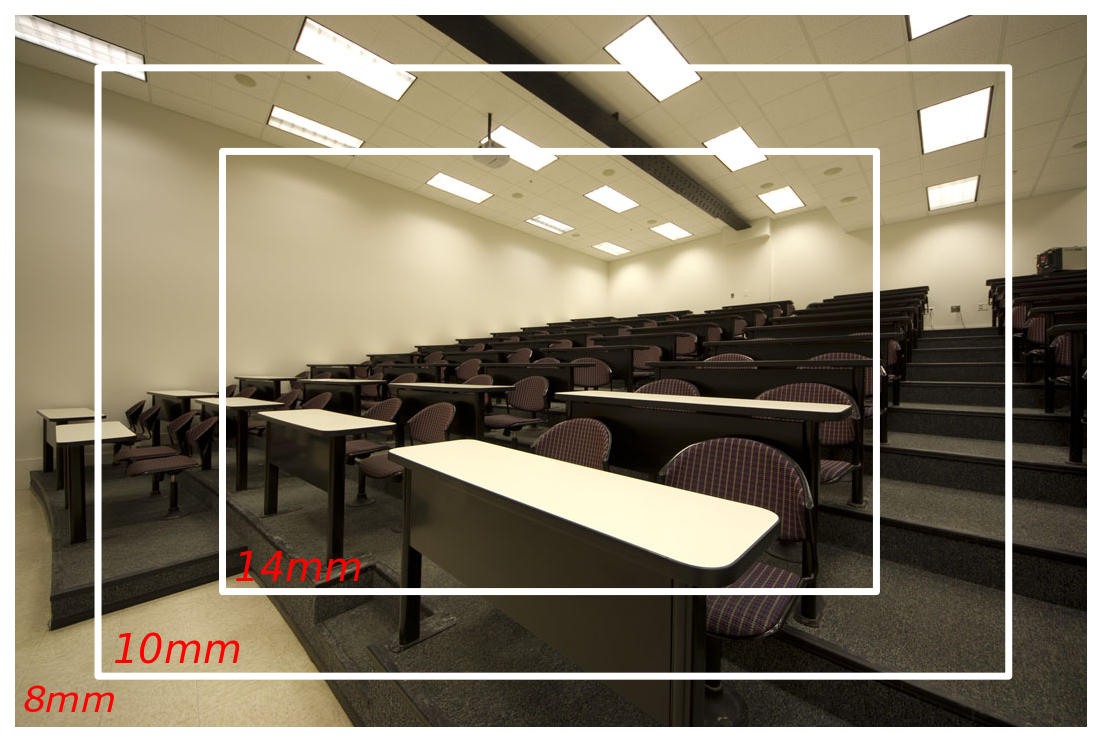 No focal length in EXIF below 10mm
On the Pentax K-x and Pentax K-7 cameras, and likely any older camera, focal lengths below 10mm are not registered in the files' EXIF. In our review gallery all photos without a focal length were taken at 8mm.
Analysis
In what follows we took as a model of presenting the data the reviews of photozone.de, so that our results should be approximately comparable to theirs. The major difference may come from the exact placements of center, border and extreme measurements: our center is probably almost identical to photozone.de, but we may differ on our exact placement of "extreme border". Here we tried to place the extreme border as close to the edges of the frame as possible. Our MTF-50 is displayed in line widths/picture height (LW/PH). More details in how we measured the lens can be found in the appendix.
Sharpness
The Sigma 8-16mm is capable of producing high sharpness at the center of the image when compared to similar lenses like the Sigma 10-20mm f/4.5-5.6 EX DC and the Pentax DA 15mm f/4 Limited, albeit not as sharp as the latter. The Pentax DA 12-24mm f/4 AL ED is sharper than the Sigma through out its zoom range, although this comparison is not entirely fair since the Pentax 12-24mm isn't as wide. We were however disappointed with the low resolution found at the extreme borders, specially at 8mm, where wide open the resolution is very poor. In the inside border however the resolution is fair. Wide open at 8mm the image quality at the center is "so-so". At 16mm however the sharpness across the picture is very good for a lens of this class. The lens seems to achieve its peak performance around 12mm from f/4.5 to f/8.
8mm
| | | | |
| --- | --- | --- | --- |
| | | MTF-50 (LW/PH) | |
| f | center | Border | Extreme |
| 4.5 | 1623 | 1123 | 711 |
| 5.6 | 1920 | 1498 | 1074 |
| 8 | 2056 | 1778 | 1436 |
| 10 | 1989 | 1517 | 1034 |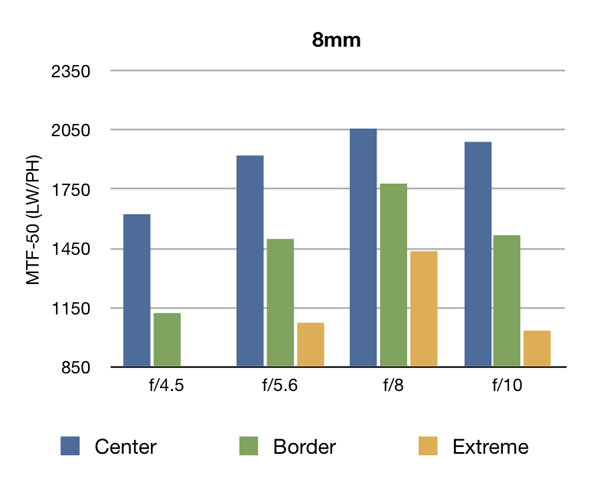 12mm
| | | | |
| --- | --- | --- | --- |
| | | MTF-50 (LW/PH) | |
| f | center | Border | Extreme |
| 4.5 | 2239 | 1644 | 1357 |
| 5.6 | 2039 | 1555 | 1302 |
| 8 | 2082 | 1757 | 1391 |
| 10 | 2043 | 1796 | 1487 |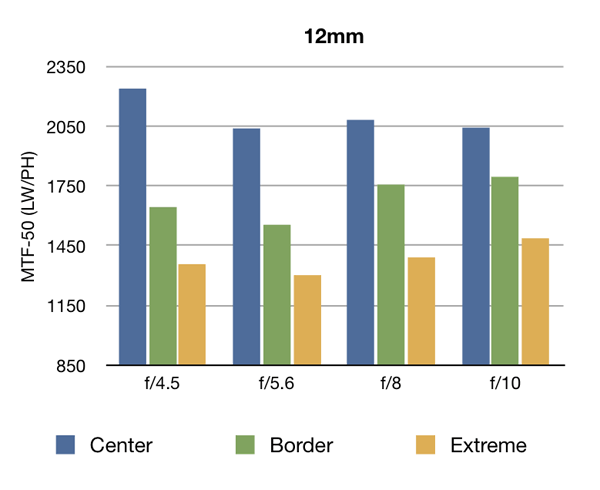 16mm
| | | | |
| --- | --- | --- | --- |
| | | MTF-50 (LW/PH) | |
| f | center | Border | Extreme |
| 5.6 | 2072 | 1937 | 1783 |
| 8.0 | 2012 | 1916 | 1826 |
| 10.0 | 1979 | 1797 | 1733 |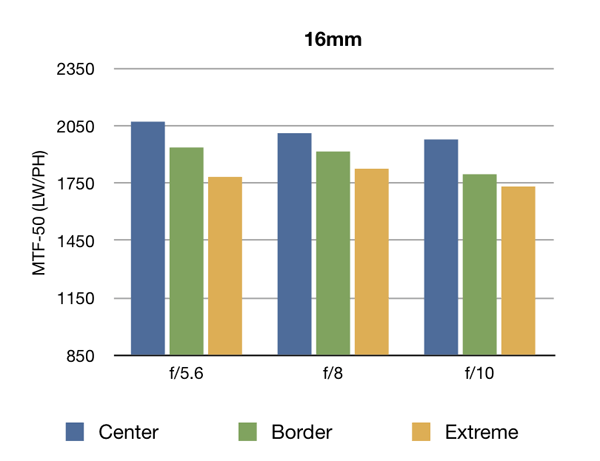 Vignetting
Being an ultra-wide angle lens we would expect the Sigma 8-16mm to suffer from severe vignetting. At 8mm it is useful to stop down to f/8 to alleviate the issue. At 8mm f/4.5 the extreme border shadow is as high as 1.5 f-stops below the center brightness. Our vignetting graph summarizes the situation. The vertical axis is the ratio of light intensity of the extreme border to the center in (negative) f-stops. At 12mm vignetting starts to improve and becomes comparable to the Pentax DA 15mm f/4 Ltd, and better at 16mm.
| | | | | |
| --- | --- | --- | --- | --- |
| f | 4.5 | 5.6 | 8 | 10 |
| 8mm | 1.67 | 1.69 | 1.47 | 1.35 |
| 12mm | 0.95 | 0.99 | 0.88 | 0.90 |
| 16mm | | 0.59 | 0.58 | 0.61 |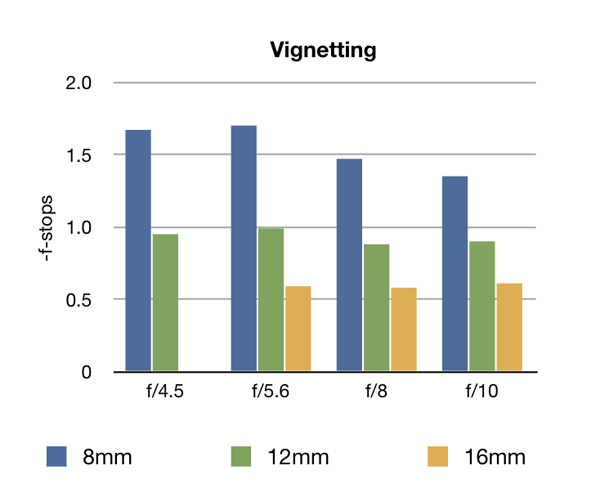 Chromatic Aberration
Chromatic aberrations are below noticeable levels in the Sigma 8-16mm. We present our results in terms of average area of chromatic aberration in pixel width at the image border as measured by the Imatest software for comparison to photozone.de measurements. We also present the measurement in terms of a percentage distance to center as described in the Imatest documentation. We present this latter indicator with the scale suggested by Imatest for the severity of CA. From 12mm onward the effect is negligible for the 12 MP sensor, but at 8mm it becomes visible at 100% of the picture (i.e. if you print very large sizes and look for CA!)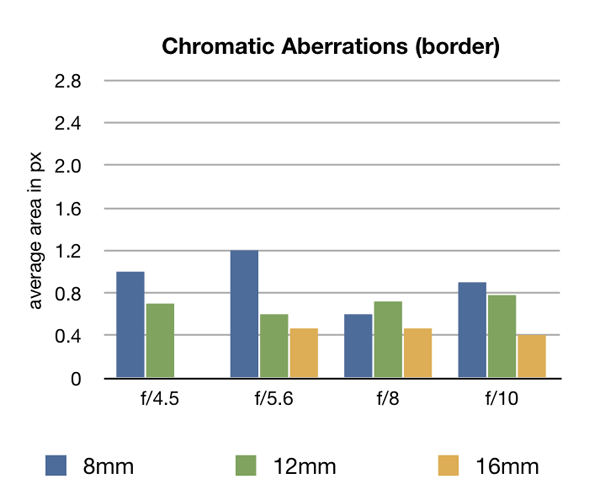 | | |
| --- | --- |
| CA in percentage distance to center | Meaning* |
| below 0.04 | Insignificant. |
| 0.04 - 0.08 | Low, but can be seen at 100%. |
| 0.08 - 0.15 | Moderate, visible at high print magnifications. |
| above 0.15 | Strong, highly visible at high print magnifications. |
(*) Meaning suggested by Imatest software documentation.
Distortion
The Sigma 8-16mm presents moderate but noticeable barrel distortion at 8mm. This quickly becomes irrelevant at 12mm onward. At 16mm the distortion is mostly pincushion, but it is irrelevant to the human eye. We fitted distortion charts to the cubic approximation between the distorted and undistorted radius using Imatest, in which case the amount of distortion is quantified by the parameter denoted k1. You can compare our results directly to the photozone.de graphs which also show k1. Distortion is irrelevant for absolute values of this parameter below 0.01.
| | | |
| --- | --- | --- |
| Focal Length | k1 | SMIA TV Distortion |
| 8mm | 0.0779 | -4.24% (barrel) |
| 12mm | 0.0391 | -2.39% (barrel) |
| 16mm | -0.0037 | -0.87% (barrel) |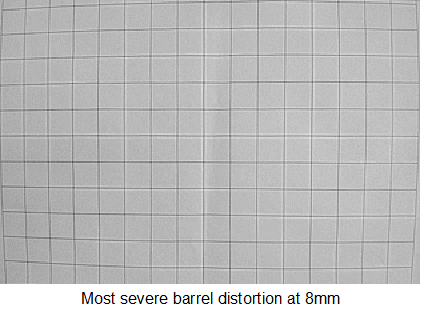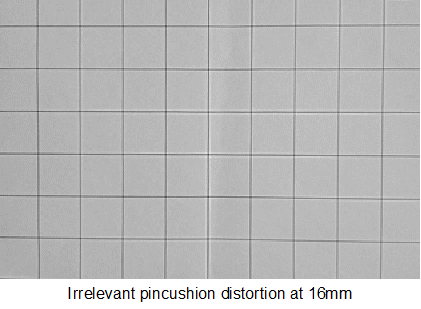 Auto-Focus
Auto-focus with such a wide angle lens is not really critical. At 8mm f/4.5 in the Pentax APS-C sensor, the hyperfocal distance is only 72 cm away. We found that the Sigma HSM is very quiet compared to the slotted drive of Pentax DA lenses, but it is very slow. We performed a test of auto-focus speed by placing the camera in front of a white featureless background and measured the time it took for focus motor to move from infinity to closest focusing distance and back to infinity. Our result compared to the Pentax DA 40mm f/2.8 is shown below. This latter lens relies on the camera slotted drive to focus, so it was in principle supposed to be slower. Also compare our result for the Sigma with the Pentax DA* 50mm f/1.4 with a reported 1.6 s for AF period. The number in parenthesis is the uncertainty associated with the measurement (one standard deviation of the sequence of measurements).
| | |
| --- | --- |
| Lens | Period of AF |
| Sigma 8-16mm f/4.5-5.6 | 1.43(17) s |
| Pentax DA 40mm f/2.8 Ltd | 1.09(7) s |
Conclusion
Overall the Sigma 8-16mm f/4.5-5.6 performed well for an ultra-wide angle lens. For its class, it is very good optically, it even outperforms the Pentax DA 15mm Ltd as tested by photozone.de on some configurations, but perhaps not the Pentax DA 12-24mm f/4 ED AL, both compared at 12mm. For landscape photography where one is likely to desire filters, the Sigma requires a more than average investment via the large wide-angle rectangular filters with universal ring adapters -- i.e., no screw-in filters. But for all other uses of wide angle lenses, the SIgma is sharp, presents insignificant CA and is versatile. The HSM auto-focus motor is quiet but slow, which is not a big deal for a wide angle. Build quality is excellent, near Pentax's Limited lenses series and the lens is compact and light. It is a very good lens for interior rooms. At the time of this writing, the lens price tag seems fair: it is the same price of the Pentax DA 12-24mm f/4, but the loss of quality in sharpness comes at the price of wider angle of view.
Pros
8 mm focal length good for interiors and perspective exaggeration, very close hyperfocal distance.
Sharp in the center in the entire zoom range for its class.
Irrelevant barrel/pincushion distortions and CAs.
Quiet ultrasonic motor and quick-shift MF system.
Good build quality.
Cons
Very soft along the corners compared to modest wide-angle lenses.
Max aperture is only f/4.5.
Suffers from severe vignetting at all settings.
No easy way to use filters.
Appendix: Testing details
We followed the same guidelines of image testing suggested by Imatest software documentation, also similar to photozone.de. We measure center, border and extreme at approximately the same locations as photozone. Please refer to the photozone FAQ on lens testing for more details. All images were taken in RAW DNG format in Pentax K-x, then converted with Adobe's Camera Raw 6.1 to JPEG with maximum quality (12 in Photoshop scale of JPEG export). The pictures were then analyzed with Imatest 3.7 "SRF", "Distortion" and "Fallout" units.
Rating
| | |
| --- | --- |
| Sharpness | |
| Aberrations | |
| Autofocus | |
| Handling | |
| Value | |
| Overall | |
Ready to take those ultra-wide-angle shots with the 8-16mm? B&H has it in stock for $699! Also, if you currently own the lens and would like to write your own review, please visit our Third-party pentax user lens reviews section.