Aug 27, 2011
Sigma 85mm F1.4 HSM
Review
Sigma has finally delivered an important lens which has been missing from the Pentax lineup for almost a decade: the new 85mm F1.4 EX HSM. Before its release, Pentax owners had to rely on the legacy FA* 85mm F1.4, or its slightly slower and shorter cousin, the FA 77mm F1.8 Limited. This is exciting news, as the Sigma delivers all the latest technologies for less than the price of a used FA* lens, and makes no sacrifices in optical quality. Read on for our complete evaluation of this impressive new lens!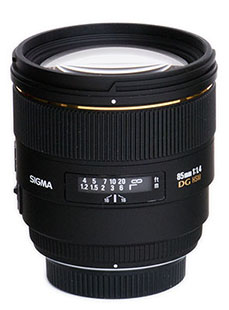 Table of Contents
Overview
The lens covers the full 24x36mm format, not just APS-C. It has no aperture ring but can still be used on most K-mount film bodies (on some film bodies the exposure modes will be restricted to P and Tv). The optical design includes a lens element of SLD (Special Low Dispersion) glass which Sigma claims improves contrast. Our tests confirm that this lens indeed has high contrast right from F1.4.
From the Pentax lens line-up this Sigma compares to the FA 77mm F1.8 Limited which is still in production, and to the FA* 85mm F1.4 [IF] , which is discontinued.
The 85mm focal length is ideal for head/shoulder portraits on an APS-C camera, and is also suitable for sports, if you can get relatively close to the action. The large maximum aperture allows for low light sports photography and for a shallow depth of field which is often desirable in portraits.
Specifications
Lens mount: PENTAX K AF3
Autofocus: HSM (Hyper Sonic Motor). Screw drive autofocus is not supported
Optical construction: 11 elements in 8 groups
Aperture blades: 9
Diagonal angle of view (24x36mm format): 29 degrees
Diagonal angle of view (APS-C format): 19 degrees
Maximum aperture: F1.4
Minimum aperture: F16
Minimum focus distance: 85cm
Filter size: 77 mm
Maximum magnification: 0.11x
Diameter x max. length: 84mm x 87.6mm (3.3 x 3.4")*
Weight: 730 g*
Cap Type: Clip-on
Lens hood: Bayonet type with extender for APS-C (included)
Aperture ring: No
Diaphragm control: Fully automatic
Focal length: 85mm
Image circle: Covers the 24x36mm format
*Without hood.
What's in the Box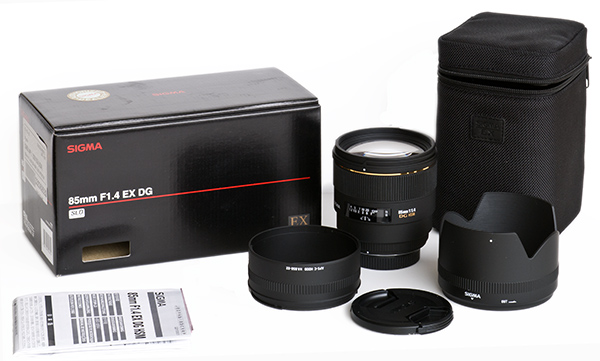 The box contains the following:
The lens with front and rear caps
Lens hood
Lens hood extender for APS-C
Case
Serial number card (not shown)
Operating manual and warranty conditions
Construction and Handling
The lens is of excellent build quality. The lens barrel and focusing rind are made from polycarbonate, but with very tight tolerances. Since the lens is of internal focus design it doesn't extend when you focus and the front element does not rotate, which makes using a polarizing filter a breeze.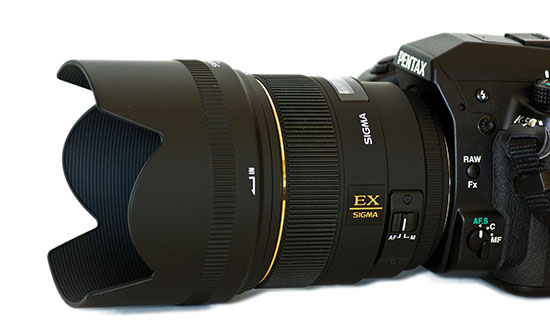 The focusing ring is nicely knurled and easy to locate with your fingers without you having to look for it. There is a gear mechanism built into the focusing system which facilitates accurate manual focus. The lens has "quick-shift" which allows for manual touch up of focus when the lens is in autofocus mode. A sliding switch on the left side of the lens changes focus mode between auto and manual. You can leave the switch on the camera on auto at all times since you need only to operate the switch on the lens to change focus mode.
There is a narrow knurled surface near the mount designed to grip when mounting the lens. This area is in part obstructed by the flash housing and built-in grip of the camera, so we would have liked a wider surface here so as to get a better and more secure purchase. Instead we resorted to gripping the lens barrel on each side of the focusing window, but the surface here feels less solid and has no ribs. And the lettering might eventually wear off.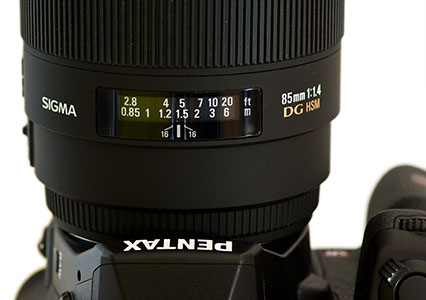 The lens is huge by Pentax standards and as a consequence has a relatively large filter diameter of 77mm which means more expensive filters. Here the Sigma is shown side by side with the Pentax FA* 85mm F1.4 [IF] , which has a filter diameter of 67mm.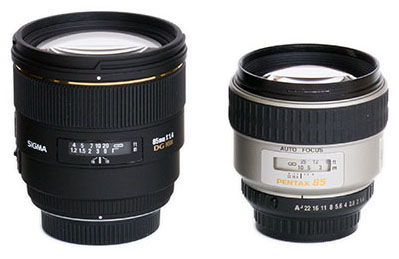 Sigma provides a petal shaped lens hood. We like that; the longer petal shape does a better job of shielding stray light than the round hood of the Pentax. While the hood is designed for compatibility with full frame cameras, Sigma has also thought about APS-C DSLR users. On an APS-C camera the angle of view of the lens is much smaller (19 degrees as opposed to 29 degrees on full frame), so the hood can be moved further out so as to shield for those extra 10 degrees by attaching the included extender as shown below.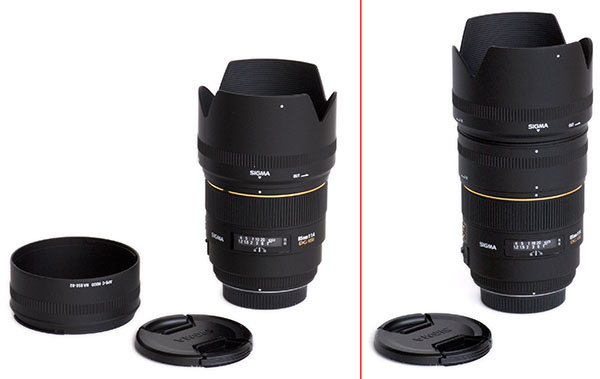 We're not too fond of this arrangement, however, as the rig becomes quite big. Furthermore, storing the lens becomes cumbersome and time-consuming unless you have a camera bag which can accomodate the lens with the extended hood attached. Storing the lens in the provided carrying case requires that the hood and extender be separated from each other and from the lens; the extender is then placed reversed on top of the lens (adding more than an inch to the length), and finally the hood is placed reversed over the extender. To fit this rig in the included lens case requires that a thick padding be removed from the bottom of the lens case. With the padding in place the case will hold the lens with the hood reversed, but no extender. Kudos to Sigma for having thought about all this, though, as cumbersome as it may be.
While on the topic of lens hoods: As mentioned earlier the build quality of the lens is excellent, but we find that the hood is made of too thin material to our taste; only time will tell if it will hold up in daily use. The hood as well as the extender has a knurled ring to grab when mounting/dismounting which is a nice touch.
When it comes to handling the rear lens cap is a nuisance like on other newer sigma lenses. It can only be bayoneted in place in one way, and it is tricky to get it aligned correctly; you cannot just probingly turn it and turn it until it engages like you can with a Pentax rear lens cap. Perhaps not a problem in daylight when you can see the marks that you must align on cap and lens, but in a hurry or in darkness it is a pain and you end up dropping the cap more often than you want. This nice lens deserves better and we recommend that you replace the Sigma cap with a genuine Pentax cap.
Our final complaint regarding handling is the focusing ring which turns the opposite way of Pentax lenses. Not an issue of course if you mainly use autofocus, or if you're only shooting with Sigma lenses.
Before closing this section the lens case deserves mentioning since it is a notch above what is oftentimes included with lenses. It is nicely padded, has a zippered closing and can be affixed to a belt. It would have been a bonus if a carrying strap could be attached, but there are no hooks for a strap.
Image Quality
We start out with taking a look at sharpness, where we didn't find anything to be concerned about. Bokeh is probably of more interest to the target group of this lens.
Sharpness
The Sigma is a solid performer in this department; there is really nothing to complain about. As a refernce we compared it to the Pentax FA* 85mm F1.4 [IF]. These two lenses have almost identical sharpness throughout the f-stop range and the variations, if any, are most likely due to slight differences in our focusing on the chart.
The test images were made with the Pentax K-5 on a tripod. The images were shot in RAW with no postprocessing other than cropping to a size 1050 x 1050. The resolution was not changed, so the images are "100% crops".
Some users on PentaxForums have observed that the focal point of the Sigma shifts with the aperture set. In other words, even if you focus 100% accurately with the lens wide open, focus will be off at certain other apertures. If this was the case it would show as a color shift on the test chart for those apertures. We can actually see that effect in the charts above in the range F2 to F5.6 for the Sigma (more so than the Pentax). However, the focus shift is very slight and we doubt that it will play any role in practice when you're phographing 3D objects and not flat test charts. We wouldn't worry about it.
We focused manually on the needles on the right hand edge of the cactus.
Bokeh
Bokeh is probably the most important characteristic for buyers of this lens. The lens must render the out-of-focus areas nicely with no harshness. The Sigma has nine aperture blades so that's promising. We shot the motive below at all full F-stops from F1.4 to F16 with the Sigma as well as with the Pentax FA* 85mm F1.4 [IF]. The Pentax has nine aperture blades just like the Sigma and is also an internal focus lens. We used this motive which is rich on foreground and background clutter: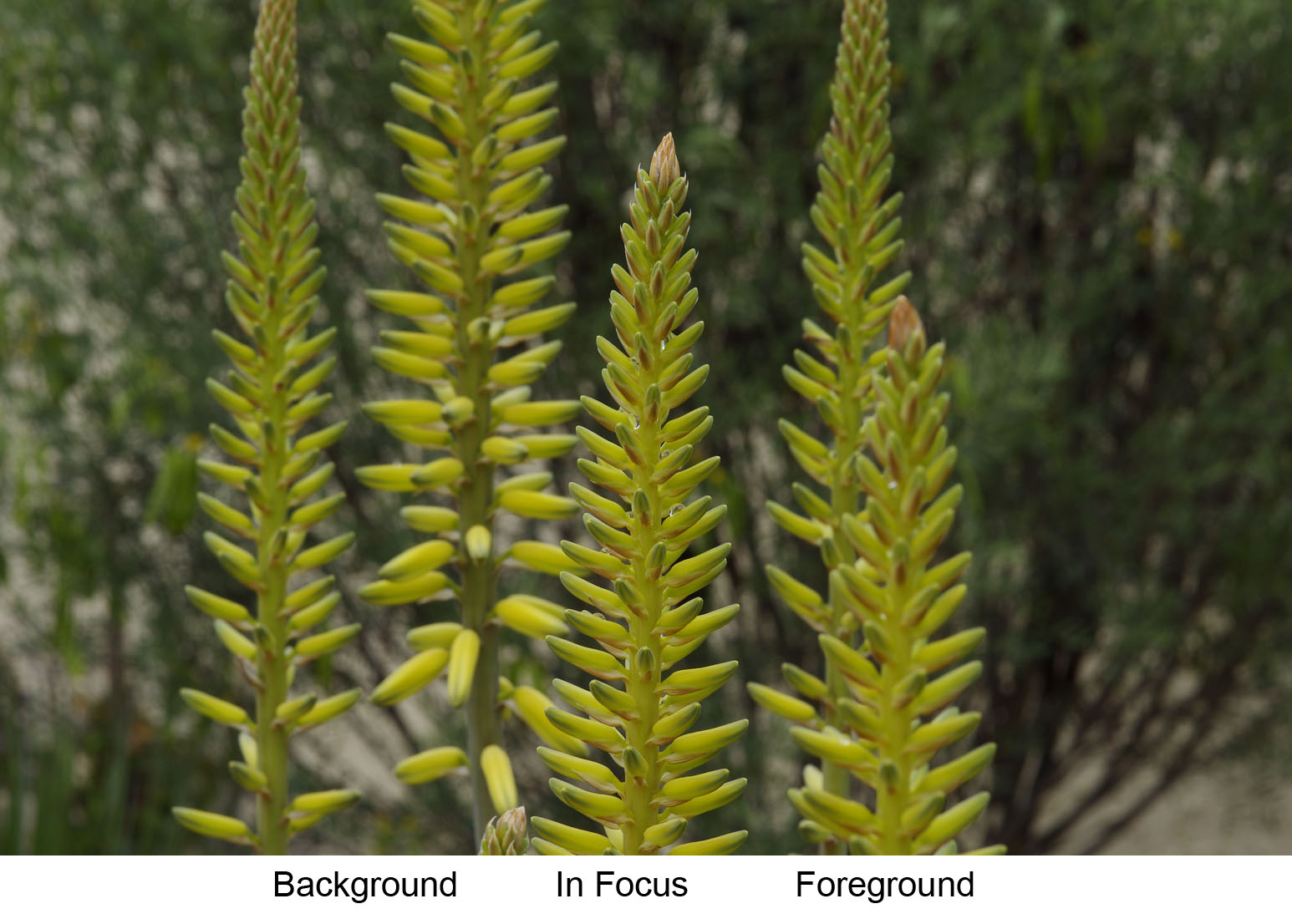 The images were shot with a Pentax K-5 on a tripod, manual focus, ISO 200. The Pentax images are ever so slightly out of focus but that doesn't take away from evaluating the bokeh.
Neither lens disappoints; the two lenses have an almost identical and pleasing bokeh. The Sigma produces slightly more contrasty images which makes the bokeh of the Sigma a tiny bit rougher than the Pentax. But the differences are really minimal.
Vignetting
The Sigma doesn't produce dark corners (vigntetting) except at F1.4 where we meassured the corners to be about one third of a stop darker than the center. At F2.0 vignetting is measurable but imperceptible to the eye. At F2.8 vignetting is gone. Even on a full-frame camera, we would expect vignetting to be a non-issue from F2.0 onwards but we have not verified this.
Distortion
We were not able to detect any distortion in our brick wall test.
Color Fringing
This is the only area where the Sigma disappoints. It was quite easy to provoke plenty of purple fringing at large apertures in backlit situations. The Pentax FA* 85mm F1.4 [IF] is also known for its tendency to fringing, but the Sigma is slightly worse. Interestingly, the much less expensive Vivitar 85mm F1.4, which we also have under test as we write this review, fares much better.
The examples above are not cropped; they have just been reduced in resolution. The camera used was the K-5.
Close-up Capabilities
The minimum focusing distance is 85cm which is fairly common for an 85mm lens and results in a maximum magnification of 0.11x. It is definitely not a macro lens but you still create some nice photographs of plants and flowers taking advantage of the telephoto effect and the limited depth of field at large apertures. It would have been nice with a lesser minimum focal distance but perhaps the internal focus design doesn't allow for that in a lens with this short of a focal length.
The examples below were shot with a Pentax K-5 at ISO 400, autofocus, handheld. Click the thumbnails to see the full size version.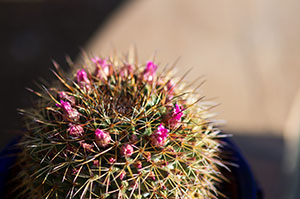 F1.7
F5.6
Auto Focus
Autofocus is accurate and silent, driven by a focusing motor in the lens. Sigma calls their technology for HSM (Hyper Sonic Motor). The lens mount is KAF3 which means that there is no support for drive shaft autofocus; on cameras predating the Pentax K10D and K100D Super, the lens will have to be focused manually.
The speed of the autofocus compares to that of the FA* 85mm F1.4, we didn't detect any significant difference other than the Pentax being very noisy! Both lenses boast internal focus which reduces the mass that need to be moved when focusing and thus helps speed up autofocus.
The lens has quick shift so that the focus can we fine tuned in autofocus mode without having to flip any switches. The focusing ring has a gear mechanism providing a large throw which makes accurate fine tuning of focus a breeze.
The accuracy of autofocus is impressive. At F1.4 the depth of field is very shallow and unforgiving, but the lens nailed focus almost as good as was possible with manual focus. The camera used was the K-5 and the photos are not cropped; they have just been reduced in resolution.
Sample Photos
The lens is a solid performer also as a walk-around short tele. These photos were shot using autofocus, hand held with a K-5 with shake reduction enabled. Again we see that autofocus is spot on and no EV compensation is required. The aperture is calibrated perfectly throughout the entire aperture range. The aperture set is the aperture you get.
Click on a thumbnail to view the entire image (not cropped but resolution reduced).
Conclusion
We like this lens for its bokeh and fast and accurate autofocus. We also like that the lens is full frame so that the investment in this lens is protected should Pentax release a full frame camera body. Full frame coverage is also a nice bonus for photographers who shoot 35mm film in between digital. The only major draw back we can find is the heavy color fringing in backlit situations.
If we should evaluate the Sigma 85mm F1.4 lens against the Pentax FA* 85mm F1.4 it would be draw. The Sigma has silent and more accurate autofocus than the Pentax but suffers slightly more from color fringing in backlit situations. In any event, it is an excellent lens.
This lens is quite expensive at US $969 (MSRP $1,400), but that actually compares quite favorably to the Pentax which we have seen sell second hand for between $900 and $1,400 depending on condition.
This lens is an excellent purchase if money is no object. Otherwise, or if you only occasionally have a need for a fast 85mm lens, it might be worth while to look into alternatives such as the manual focus Vivitar Series 1 85mm F1.4 (also sold as Bower and Samyang branded) which can be had for a third of the price of the Sigma, or - if you can forego half a lens stop and still want autofocus - the Pentax FA 77mm F1.8 Limited. Both these alternatives are full frame lenses like the Sigma.
| | |
| --- | --- |
| Positives | Negatives |
| Excellent image quality | Heavy color fringing in backlit situations at large apertures |
| Smooth bokeh | Relatively large and bulky |
| Silent and accurate autofocus | Focus ring reversed |
| Easy to manually focus | |
| Excellent build quality | |
| Hood and case included | |
| Internal focus | |
Who is This Lens For
This lens is for portrait and nature photographers, who need the shallow depth of field which large apertures offers. It is also relevant to consider this lens of you are into low light photography, be that sport or street photography.
Rating
| | |
| --- | --- |
| Sharpness | |
| Aberrations | |
| Bokeh | |
| Autofocus | |
| Handling | |
| Value | |
| Overall | |
Tell us what you think about this lens! Post a review in our user review database!