Aug 20, 2011
Fast Sports Zoom Lenses for Pentax
70-200mm Sigma & Tamron
There is one lens question that never ceases to be asked on our forum, and that is: "Which zoom should I get for sports for my Pentax DSLR?". Why is this the case, you might ask? Well, it turns out that there's a big gap in the Pentax lens lineup: no fast telephoto zooms that are appropriate for sports are currently available from Pentax.
You can't say that zoom lens is optimal for action photography unless it boasts a constant F2.8 aperture throughout its zoom range. Furthermore, you don't want any lens short of 200mm, as it typically won't let you capture the action at its best - heavily cropped photos are lacking in detail and won't look appealing.
Pentax current offers two high-quality zooms that are supposed to be meant for this purpose: the Pentax-DA* 50-135mm F2.8 and the Pentax-DA* 60-250mm F4. While we won't refute that both these lenses are great, the two claims we've just made above unfortunately disqualify them from being considered sports zooms. The 50-135mm is simply too short, while the 60-250mm is a stop too slow. Even with today's excellent sensor noise control, a high ISO doesn't eliminate the frequent necessity of stopping down to F2.8, especially indoors.
Sigma & Tamron 70-200mm F2.8, Pentax FA* 80-200mm F2.8
Fortunately, reputable third-party lens manufacturers make up for Pentax's shortcomings in this area. Sigma and Tamron both produce 70-200mm F2.8 lenses, and these are perfect for sports! The 70-200mm focal length, coupled with an F2.8 aperture, is just right, as it allows for flexible zooming and has sufficient reach to let you to get up close and personal with your subjects while not long enough to necessitate tripod use. In this article, we'll be taking a look at these lenses and even comparing them to a legacy Pentax lens- the FA* 80-200mm F2.8, which has been out of production for a good seven years now. This Pentax lens was a golden standard back in the day, and is still treasured by many DSLR owners who were lucky enough to find one. Its price and limited availability on the used market make it out of the question for the everyday photographer looking for a sports zoom, however!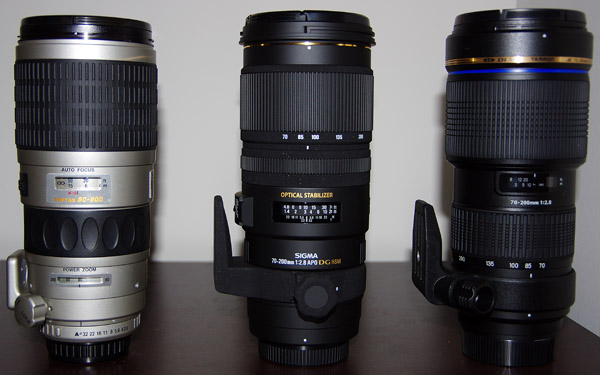 The lenses we will be examining are shown above. It's important to note their exact names, as both Sigma and Tamron have produced multiple variants of their 70-200mm lens, and the ones we're looking at are the latest models. From left to right: SMC Pentax-FA* 80-200mm F2.8 ED [IF], Sigma 70-200mm F2.8 APO EX DG OS HSM, Tamron 70-200mm F2.8 Di LD (IF) Macro.