Aug 27, 2011
Vivitar (Samyang) 85mm F1.4
Review
The Vivitar 85mm F1.4 is a fast manual focus 85mm lens at a very reasonable price point and it is a good alternative to the Sigma 85mm F1.4 EX HSM autofocus lens (in-depth review here) if you can forego autofocus. No Pentax counterpart is currently in production; the closest Pentax option would be the FA 77mm F1.8 Limited autofocus lens.
This 85mm F1.4 lens is also marketed under the brand names of Samyang and Bower. These three lenses only differ in their external design and markings.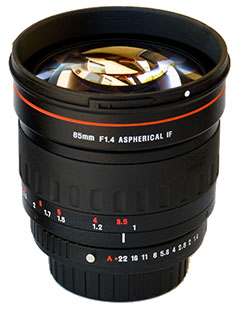 Table of Contents
Overview
The lens covers the full 24x36mm format, not just APS-C. It has an aperture ring with an "A" setting and can therefore be used on any Pentax K-mount film body with no restrictions in operating mode. Naturally, the lens also works all Pentax DSLR cameras; in this case the aperture ring should be left in the "A" position and the aperture should be controlled from the camera. The lens has internal focus which is not that common for a manual focus lens. The lens thus does not extend when you focus closer.
The 85mm focal length is ideal for head/shoulder portraits on an APS-C camera, and is also suitable for sports, if you can get relatively close to the action. The large maximum aperture allows for low light sports photography and for a shallow depth of field which is often desirable in portraits. However, the lack of autofocus works against the use of this lens for sports.
Specifications
Lens mount: PENTAX KA
Autofocus: No
Optical construction: 9 elements in 7 groups
Aperture blades: 8
Diagonal angle of view (24x36mm format): 29 degrees
Diagonal angle of view (APS-C format): 19 degrees
Maximum aperture: F1.4
Minimum aperture: F22
Minimum focus distance: 100cm
Filter size: 72 mm
Diameter x max. length: 76mm x 71mm (3" x 2.8")*
Weight: 510 g (18 oz)*
Cap Type: Clip-on
Lens hood: Bayonet type (included)
Aperture ring: Yes
Diaphragm control: Fully automatic
Focal length: 85mm
Image circle: Covers the 24x36mm format
*Without hood.
What's in the Box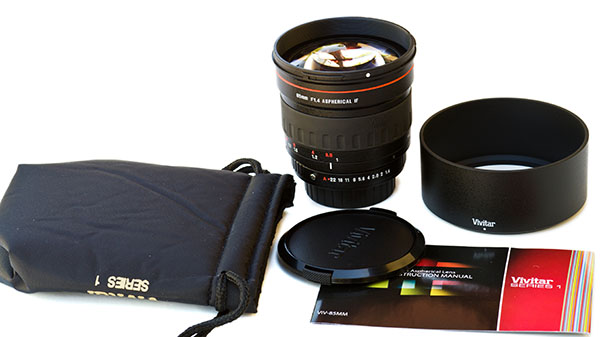 The box contains the following:
The lens with front and rear caps
Lens hood
Pouch
Operating manual
Construction and Handling
The lens is of very good build quality although not quite at the level of the recently tested Sigma 85mm F1.4 EX HSM. The lens barrel and focusing ring are made from polycarbonate, but with reasonably tight tolerances. Since the lens is of internal focus design it doesn't extend when you focus and the front element does not rotate, which makes using a polarizing filter a breeze.
The focusing ring is somewhat slippery and doesn't provide as good as a grip as one might want on a manual focus lens. Most of the lens barrel is covered by either the focusing ring/distance scale or the aperture ring so it takes a little practice to find where to hold on to when changing lenses.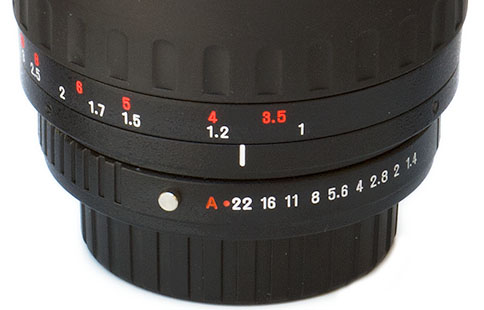 Thanks to the large maximum aperture the focusing screen is bright and the depth of field very narrow (at F1.4). This makes accurate manual focus quite easy: the image simply snaps into focus.
Vivitar is including a traditional round lens hood. Although a round hood doesn't do as good of a job as a petal shaped hood we had no problems with stray light and lens flare during our tests. The hood is designed for full frame use and not as long as would have been possible had it been designed for APS-C use, but, as stated above, the hood is perfectly adequate also on an APS-C camera. The hood is made of relatively thin plastic and is not as confidence inspiring as the lens itself. We advise that it be handled with some care.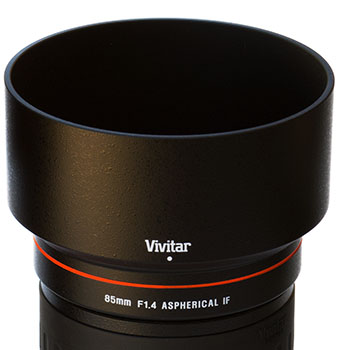 The lens slightly larger than the discontinued manual focus smc Pentax-A* 85mm F1.4 lens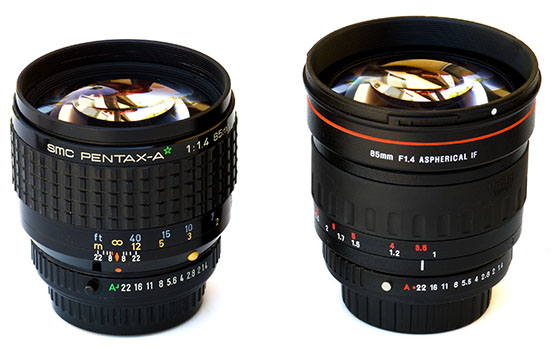 and significantly smaller than the Sigma, in particular with the hood mounted.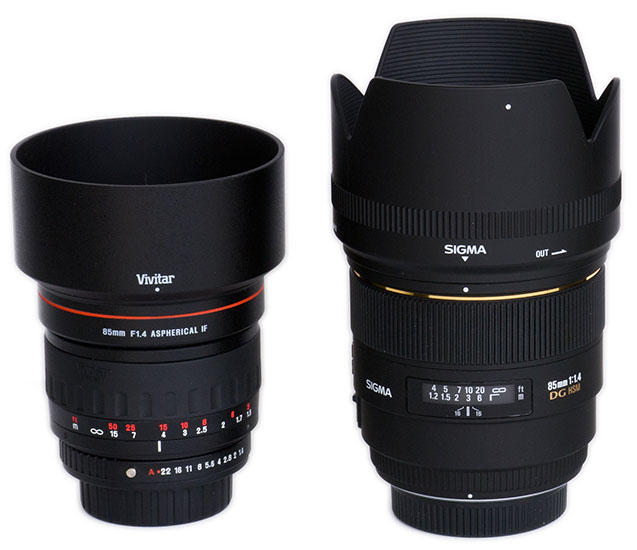 Image Quality
We start out with taking a look at sharpness, where we didn't find anything to be concerned about. Bokeh is probably of more interest to the target group of this lens.
Sharpness
As the charts below show, the Vivitar holds it own against the Sigma. The Vivitar and Sigma charts were shot under different light, so differences in color rendition and contrast can't really be evaluated from the charts
The test images were made with the Pentax K-5 on a tripod. The images were shot in RAW with no postprocessing other than cropping to a size 1050 x 1050. The resolution was not changed, so the images are "100% crops".
It is more relevant to study how a 3D object is rendered with this type of lens. Using our K-5 on a tripod we ran through the aperture range F1.4 to F22 at ISO 400. The images were shot in raw and sharpened slightly in Photoshop. They have been cropped but not reduced in resolution ("100% crops").
We found that the lens performed very well in this test regarding sharpness. We leveled out the exposure in postprocessing somewhat; the aperture mechanism is not calibrated well, and as the F-stop changes, so does the brightness of the image (we naturally compensated with the shutter speed for the change in aperture value). The Sigma lens did not exhibit this behavior - it was calibrated perfectly.
We focused manually on the needles on the front of the cactus.
Bokeh
Bokeh is probably the most important characteristic for buyers of a fast 85mm lens. The lens must render the out-of-focus areas nicely with no harshness. The Vivitar has eight aperture blades which is a good start. We shot the motive below at all full F-stops from F1.4 to F16 with the Vivitar as well as with the Sigma 85mm F1.4 EX HSM. The Sigma has nine aperture blades and is also an internal focus lens. We used this motive which is rich on foreground and background clutter: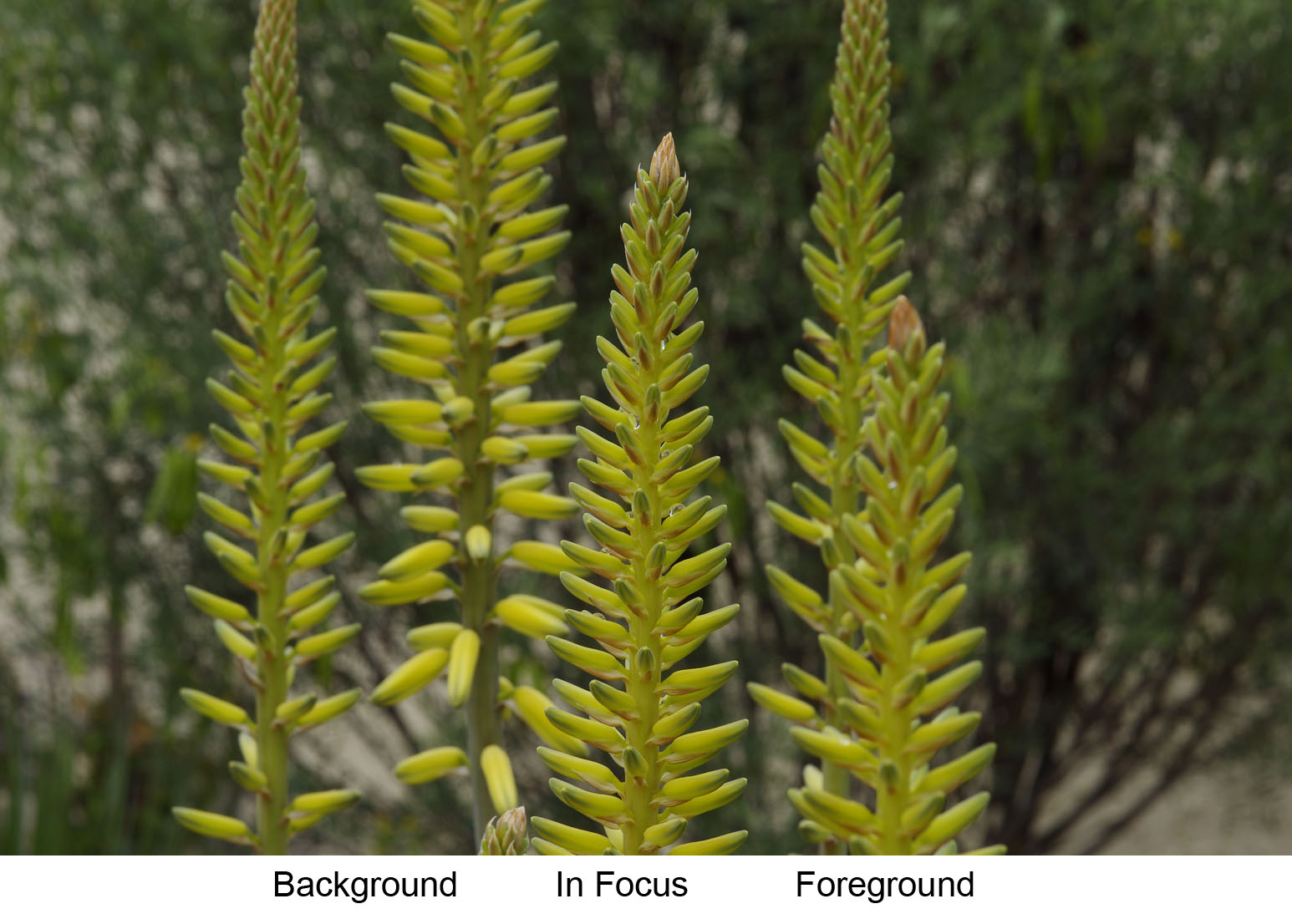 The images were shot with a Pentax K-5 on a tripod, manual focus, ISO 200. The first Vivitar image is slightly out of focus but that doesn't take away from evaluating the bokeh.
The Vivitar has a nice bokeh, but perhaps slightly harsher than the Sigma. Judge for yourself.
Vignetting
The Vivitar doesn't produce dark corners (vigntetting) except at F1.4 where we measured the corners to be about one half of a stop darker than the center. At F2.0 vignetting is measurable but imperceptible to the eye. At F2.8 vignetting is gone. Even on a full-frame camera, we would expect vignetting to be a non-issue from F2.0 onwards but we have not verified this.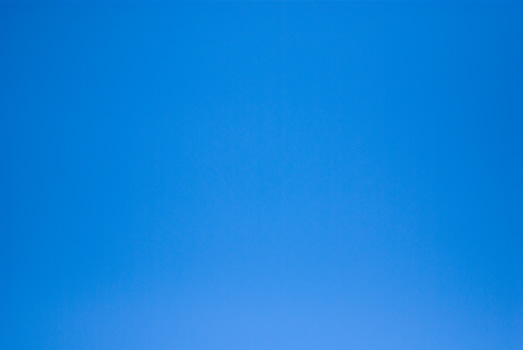 F1.4 - click to enlarge
Distortion
We were not able to detect any distortion in our brick wall test.
Color Fringing
Much to our surprise the Vivitar excels in this department. Compared to the Sigma, the Vivitar exhibits very little color fringing in backlit situations.
The examples above are not cropped; they have just been reduced in resolution. The camera used was the K-5.
Other
The bokeh test images above reveal two other characteristics: The color rendition of the Vivitar is cooler than the Sigma, and the aperture mechanism is not as perfectly calibrated as is the Sigma: Images shot at F22 comes out much too dark and images shot at F16 slightly too dark. We measured F16 to be one third of a stop too dark and F22 to be slightly more than two thirds of a stop too dark. You'll have to remember to dial in positive exposure compensation when you use these two F-stops.
Close-up Capabilities
The minimum focusing distance is 100cm. This is on the long side; we would have expected 85cm (or better) as a minimum. One purpose of a fast lens is to take advantage of the narrow depth of field to isolate details. A workaround is to attach a close-up lens to the front to get closer to the subject. Below we illustrate the difference between the Vivitar set at 100cm (left) and a Sigma 85mm lens set at 85cm. You will have to decide for yourself if you can forego the closer focus capability.
The examples below were shot with a Pentax K-5 at ISO 400, autofocus, handheld. Click the thumbnails to see the full size version.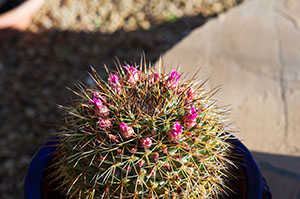 Vivitar at 100cm, F5.6

Sigma at 85cm, F5.6
Sample Photos
The lens is a solid performer as a portrait lens and also works well as a walk-around short tele. These sample photos were shot hand held with a K-5 with shake reduction enabled.
Click on a thumbnail to view the entire image (not cropped but resolution reduced).
Conclusion
This lens is excellent value for anyone looking for a fast 85mm lens and who can forego autofocus. The image quality is in top, bokeh is pleasant and there is actually not much to not like about this lens. Similarly or lower priced alternatives would be slower second hand Pentax manual focus lenses with a max. aperture of F1.8 or F1.9.
It is a bonus that the lens is full frame so that the investment in this lens is protected should Pentax release a full frame camera body. Full frame coverage is also welcome for photographers who shoot 35mm film in between digital. Since the lens has an aperture ring it will work on any Pentax film SLR without restrictions.
You might also be interested in reading the review by PentaxForums user tranq78's of this lens in it's Samyang branding.
| | |
| --- | --- |
| Positives | Negatives |
| Excellent image quality | Aperture mechanism poorly callibrated at F16 and F22 |
| Color fringing well controlled | Longish closest focusing distance |
| Smooth bokeh | Flimsy lens hood |
| Hood and pouch included | Handling could be better |
| Internal focus | |
Who is This Lens For
This lens is for portrait and nature photographers, who need the shallow depth of field which large apertures offers. It is also relevant to consider this lens if you are into low light photography such as street photography. The lens is relatively inexpensive and purchase can be justified also if you only occasionally need a lens this fast.
Rating
| | |
| --- | --- |
| Sharpness | |
| Aberrations | |
| Bokeh | |
| Handling | |
| Value | |
| Overall | |
Tell us what you think about this lens! Post a review in our user review database!